'Celebrity Big Brother' Star Miesha Tate Has a Gorgeous Family
Is Miesha Tate married? The mixed martial artist and former UFC champion is joining the 'Celebrity Big Brother' house, but is she leaving a family behind?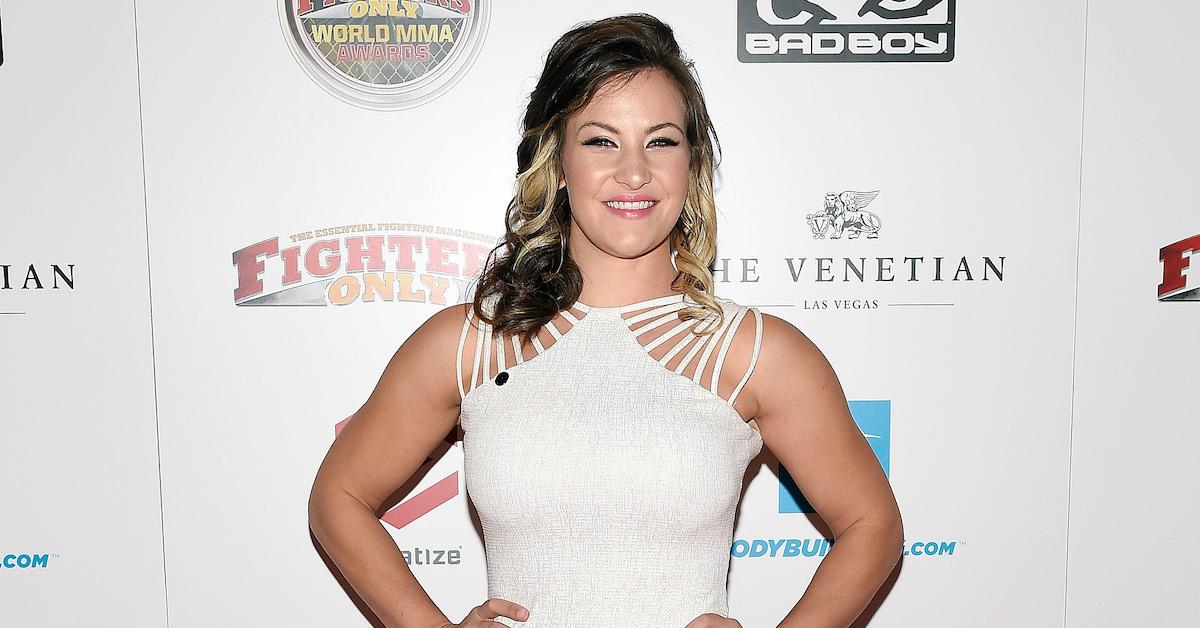 Mixed martial artist Miesha Tate is going from the fighting ring to the Big Brother house. The former Ultimate Fighting Championship (UFC) winner was announced as part of the cast of Celebrity Big Brother Season 3 alongside other names like Lamar Odom, Cynthia Bailey, and Todrick Hall.
Article continues below advertisement
Fans of the professional fighter are excited to see more of her personality and whether she is able to play a strategic enough game to win the coveted $250,000 prize. But what about Miesha's personal life? Is she leaving a family behind while she goes off to film the show?
Article continues below advertisement
Is Miesha Tate married?
Miesha Tate is widely thought of as one of the greatest female athletes to compete in the UFC Octagon. At 5'5" and weighing in at 135 lbs., Miesha's nickname in the ring is "Cupcake," but given her ranking in the league, it seems like there's nothing sweet about entering the ring with her.
According to her UFC stats, Miesha currently holds the No. 8 position in the UFC Women's Bantamweight Rankings, right behind superstar fighters like Holly Holm, Aspen Ladd, and Ketlen Vieira.
But what about her personal life? According to Screen Rant, Miesha is currently married to fellow Mixed Martial Arts (MMA) fighter Johnny Nuñez.
Article continues below advertisement
Miesha made the relationship public in January 2018 and by June of that same year, the couple announced the birth of their first child together, daughter Amaia Nevaeh Nuñez.
Two years later, Miesha and Jonny's daughter had a sibling. The couple welcomed their second kid in June 2020, a son they named Daxton Wylder Nuñez. The couple currently lives in Tacoma, Wash., with their kids.
Article continues below advertisement
For his part, Johnny seems smitten by Miesha. On June 21, 2020, he dedicated a Father's Day post to his wife, who he referred to as his "rock." "I can't help but to admire the strength and courage this woman has brought to my fatherhood experience," Johnny said in the caption. "She made so many sacrifices. She even prepared me so much, that I feel like I was gonna be laboring with her."
Johnny went on to say that he wouldn't be the father that he is without Miesha's support and he ended the post, "I salute you on this Father's Day, momma." Johnny has since gone on to make Miesha Mrs. Nuñez. He proposed to her on May 24, 2021 at their friend's ranch with their two kids in the background.
Article continues below advertisement
Many people thought that after Miesha had her kids, she would leave her fighting days behind her. But she's actually said her kids were her motivation to go back to the sport after she had announced her retirement in November 2016.
"There are definitely times when I think about it and I'm like, 'I really want to make my kids proud," she told BJPenn.com. Miesha said she doesn't "necessarily want [Amaia] to be a fighter," but wants "want her to believe she's capable of doing whatever it is she sets her mind to."
As for her son, Daxton, she wants to teach him to appreciate strong women. "I want him to see that and see how … daddy's not jealous, how daddy does his thing, how daddy's great, and mommy's great, and they're both great, and they're great together."