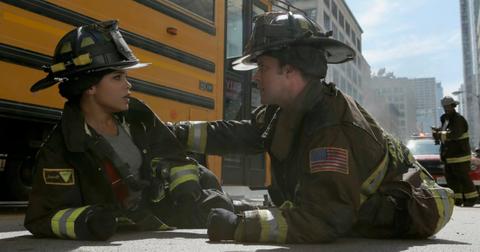 Fans Don't Have to Wait Long for a "Dawsey" Reunion on 'Chicago Fire'
By Allison Cacich

Nov. 6 2019, Published 3:47 p.m. ET
Ever since Monica Raymund left Chicago Fire at the end of Season 6, fans have wondered if she'd be willing to come back to the series, which is now in its eighth year. 
In a recent interview, show creator Derek Haas finally revealed whether we'll ever see "Dawsey" together again — or if it's time to say goodbye to Gabby Dawson for good.
Article continues below advertisement
Is Monica Raymund returning to Chicago Fire?
Viewers are getting an early Christmas present in the form of a Dawson guest appearance during the upcoming winter finale, which airs on Nov. 20. "[She's] back in town to help raise money for her aid organization and stops by Firehouse 51 to see Otis' memorial and to reconnect with everyone," Derek explained to EW.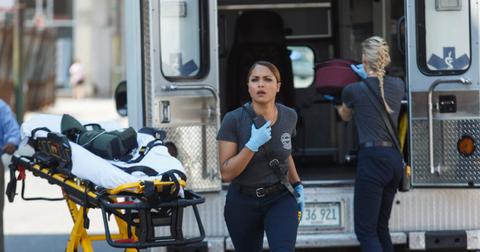 Article continues below advertisement
In a separate conversation with the publication, Monica teased the scene we've all been waiting for. "Fans can expect sparks to fly from the Dawson and Casey reunion," the brunette beauty shared.
"Dawson and Casey will always have an unbreakable bond, and their love is a special love that I think will forever stay alive. The fans don't want to miss this episode — we get to see Dawson and Casey's love in a new light."
Monica also talked about what it was like to return to the drama's Chicago-based set. "Coming back to the show was a homecoming for me," she explained. 
"The cast of Chicago Fire will always be my family, and it was so wonderful to work with them again," she added. "It was such a positive experience returning to the family, and I'm so happy and grateful for a chance to work with all of them again!"
Article continues below advertisement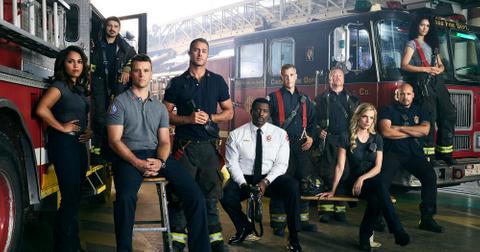 Derek said having Monica around was as "amazing as it always was. She's delightful inside and out. And an incredible actress."
What happened to Monica Raymund on Chicago Fire?
Article continues below advertisement
The 33-year-old decided to leave the series after her six-year contract was up. "I felt like I was hungry to explore a different role, a different story. I wanted to explore a different world," she told the Chicago Tribune in a September 2018 interview. 
"I had been in Chicago for five years and, just personally, where I was in my life, I was ready to create my home and kind of plant some roots in Los Angeles," she continued.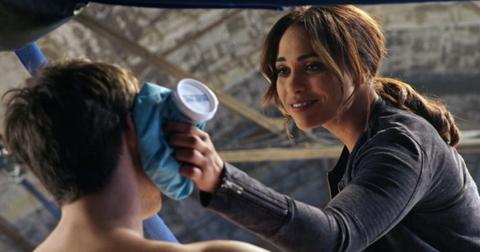 Article continues below advertisement
"It's kind of a double-edged sword because on the one hand, it's wonderful to be employed for that long and to have job security. And to be able to delve into a storyline and to flush it out over that amount of time. To get that opportunity is extremely rare and special."
Derek told Us Weekly that he actually pitched Dawson's return less than a year after Monica's departure. "I kind of held on to the information because you don't know if stories are going to be what you imagine… as you start to write them out," he admitted. 
"I texted Monica, probably two months ago, and just said, 'Hey, winky face. Can you come back for the winter finale?' It's hilarious, she's like, 'You're nothing if not persistent.'" We're so thankful he is!
New episodes of Chicago Fire air Wednesdays at 9 p.m. ET on NBC.