Natti Natasha Confirms #Pinatti Baby Is on the Way at Premio Lo Nuestro
Are Natti Natasha and Raphy Pina pregnant? They announced their engagement in early February, and now they are expecting. Here's what we know.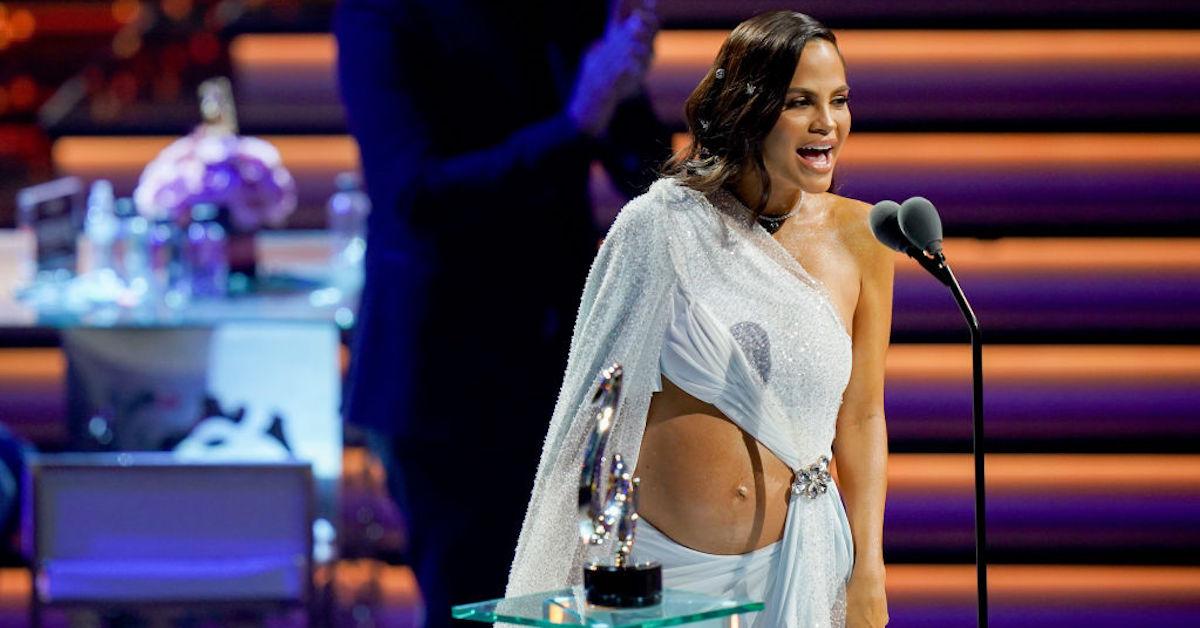 We recently learned that Dominican pop star and reggaetonera Natti Natasha (real name: Natalia Alexandra Gutiérrez Batista) and longtime manager Raphy Pina (real name: Rafael Antonio Pina Nieves) had gotten engaged, but these days, the rumor mill is working overtime to figure out whether Natti Natasha is pregnant.
So, are the "Diosa" singer and her fiancé expecting? Here's everything you need to know.
Article continues below advertisement
Is Natti Natasha pregnant?
On Feb. 1, Natti Natasha announced her engagement when she posted a photo of her massive round-cut engagement ring glimmering in the ocean light. "I also wanted to shout it from the rooftops," she captioned her photo in Spanish, adding in English, "I SAID YES."
Article continues below advertisement
Fans rushed to congratulate the star, writing versions of "#Pinatti forever" in her and Raphy's comments, while others began to wonder about the possibility that Natti Natasha and Raphy might have a baby on the way.
"Someone needs to confirm in Natti Natasha is pregnant," one person wrote on Twitter, while another screamed in capital letters: "NATTI NATASHA IS PREGNANT."
Natti Natasha confirmed her pregnancy at Premio Lo Nuestro.
Telemundo's Suelta La Sopa initially broke the news that Natti Natasha and Raphy Pina are indeed about to be parents together.
Lucho announced in Spanish on Feb. 3 that the show's favorite couple was about to grow their family: "Absolutely confirmed, Natti Natasha is in the first semester [sic] of her pregnancy."
Article continues below advertisement
While many on the program were cracking up about the fact that Lucho must have meant "trimester" not "semester," the host went on to explain how he learned this news. "How did I learn this? Some friends of mine, movie producers, were making a movie in the Dominican Republic and they considered bringing on Natti Natasha, since she is Dominican," he revealed.
Article continues below advertisement
"They called her, or got in touch with her team, to see if she wanted to take part in the film, at least guest starring," Lucho continued. "And that's when they told my producer friends that it wasn't going to be possible at the moment, that they appreciated the offer, but that she was currently expecting."
Natti Natasha confirmed the news during her performance at Premio Lo Nuestro on Feb. 18.
Natti donned a white jumpsuit for her performance of "Antes Que Salga El Sol" with Prince Royce, and throughout the song, lovingly cradled her new baby bump.
Article continues below advertisement
Natti Natasha's baby is Raphy Pina's fourth child.
The Puerto Rican executive has two sons and a daughter from a previous marriage. His ex-wife, businesswoman Carolina Aristizabal, was married to Raphy for eight years from 2011 to 2019.
Raphy takes every opportunity to post fun photos of his kids on his Instagram page, mainly noticing how fast they're all growing.
Regarding his daughter, he penned the following message in Spanish on Feb. 11: "On the 17, she'll turn 16 and I want to remember her this way. What do you think!!! Please agree with me, she's always finding a way to read my comments. #TBT."
It looks like this beautiful family is continuing to grow in amazing ways.