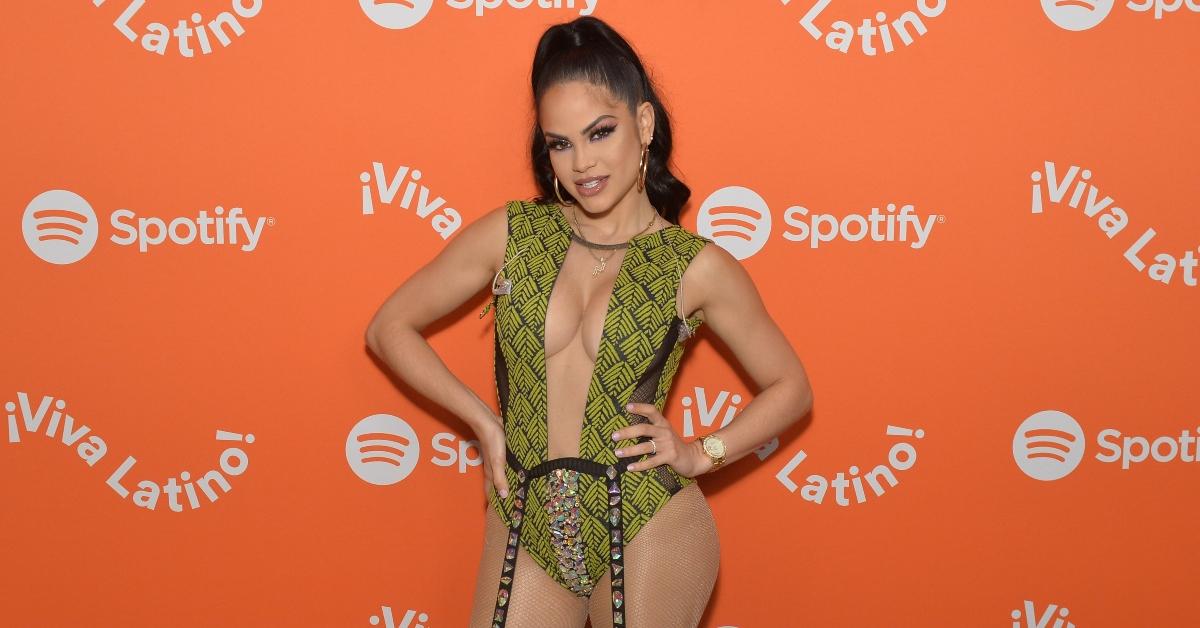 Natti Natasha and Her Manager Raphy Pina Are Engaged!
Over the years, there have been many speculations about the identity of Dominican pop star and reggaetonera Natti Natasha's boyfriend.
Between rumors of Rob Kardashian, Don Omar, or even Anuel AA being the 34-year-old singer's significant other, the gossip mill was working overtime to pin down Natti Natasha's special someone.
Article continues below advertisement
But a Feb. 1 announcement has cleared up any doubts. Natti Natasha (real name: Natalia Alexandra Gutiérrez Batista) has revealed that she's engaged! Keep reading for everything you need to know about the latest in the "Sin Pijama" singer's dating life, and with whom she plans to tie the knot.
Article continues below advertisement
Who is Natti Natasha's boyfriend? Or should we say, fiancé?!
After revealing their love for each other in the late January music video to Fran Rozzano's "Inédito," Natti and longtime manager Raphy Pina's relationship became social media official when the couple took to Instagram to announce their engagement.
On the morning of Feb. 1, the Dominican beauty shared a photo of her round-cut engagement ring glimmering in the light of a beachy sunrise. "I also wanted to scream it to the world," she captioned her photo in Spanish, adding in English: "I SAID YES."
Article continues below advertisement
The who's who of Latin pop culture immediately took to the musical star's comments to wish her and the Pina Records jefe their best. "#Pinatti Forever," wrote Paco Lopez, while others like J Balvin, Cazzu, Francisca Lachapel, Natalia Rivera, and Luis Fonsi were also sure to shower the newly engaged couple with love.
Article continues below advertisement
Who is Raphy Pina?
Record producer Rafael Antonio Pina-Nieves, better known as Raphy Pina, is the president of Pina Records, which, in addition to representing Natti Natasha, also manages artists like Plan B, R.K.M. & Ken-Y, and Daddy Yankee.
Master Joe & O.G. Black, MC Ceja, Nicky Jam, Sir Speedy, Don Omar, and Arcángel also count themselves as having been signed to Raphy's Pina Records in the past.
Natti Natasha and Raphy Pina already have a song written about their love.
If you look closely, you'll spot Natti Natasha and Raphy in Fran Rozzano's new hit song "Inédito," where Natti plays the piano and is then accompanied by her tatted fiancé on the instrument.
But there's actually more to this story: in an interview with People en Español, Fran explained that Natti Natasha and Raphy were actually the inspiration behind his track.
Article continues below advertisement
"When I discovered how beautiful their relationship is, how much they support one another professionally and the feeling there is between them, it was inspiring," he said. "It was a great surprise to me when Raphy came to me and said, 'I really identified with 'Inédito'.'"
After hearing that Raphy liked his new song, Fran revealed to him that he and his girlfriend had actually been the inspiration behind the catchy tune, and invited them to appear in the music video.
"'Inédito' is you two," he told the music manager. "We hugged. I told my family what was happening and they couldn't believe it. It seemed like fate. It was a magical connection."