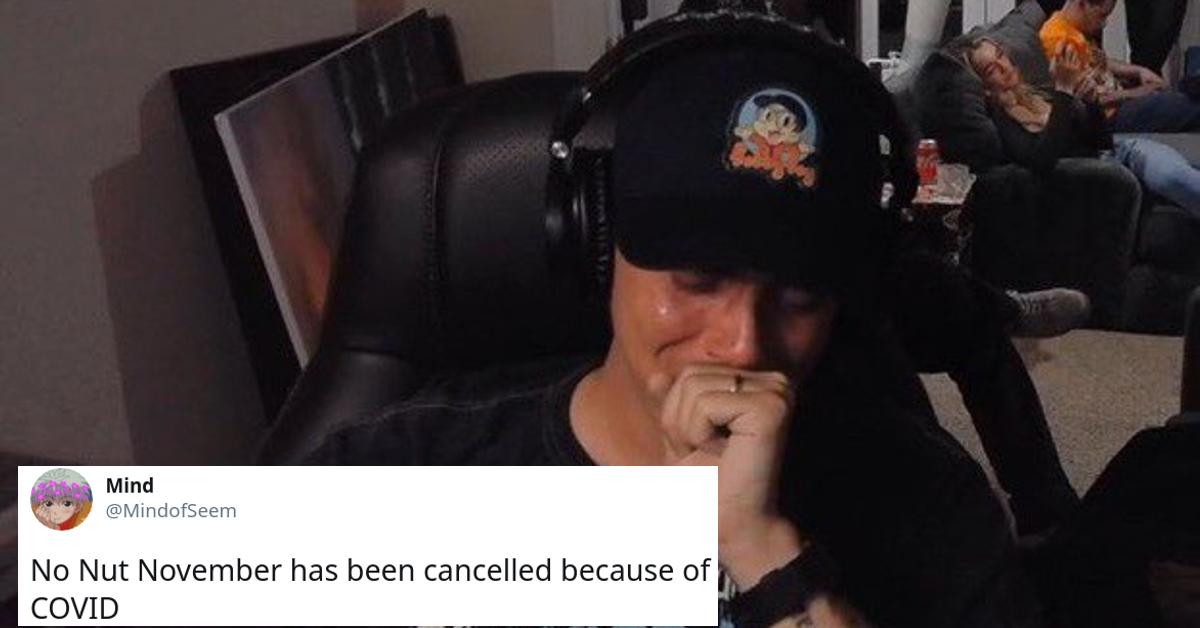 No, 'No Nut November' Is Not Canceled Due to COVID, So Stay Focused
By Mustafa Gatollari

Nov. 4 2020, Published 11:11 a.m. ET
It seems like everything is being thrown out the window now that COVID-19 has come into the picture and run amok on everyone's lives. But No Nut November? It's kind of ridiculous that people are wondering whether it's canceled due to COVID.
Article continues below advertisement
No, No Nut November is not canceled due to the COVID-19 pandemic.
If you're unfamiliar with "No Nut November" or NNN, it's a personal challenge that men issue themselves online to go one month without ejaculating. There are supposed to be a litany of salubrious effects from practicing abstinence for 30 days straight, which includes improved concentration and mental clarity, heightened athletic performance due to high testosterone stores, and boosts in self-confidence.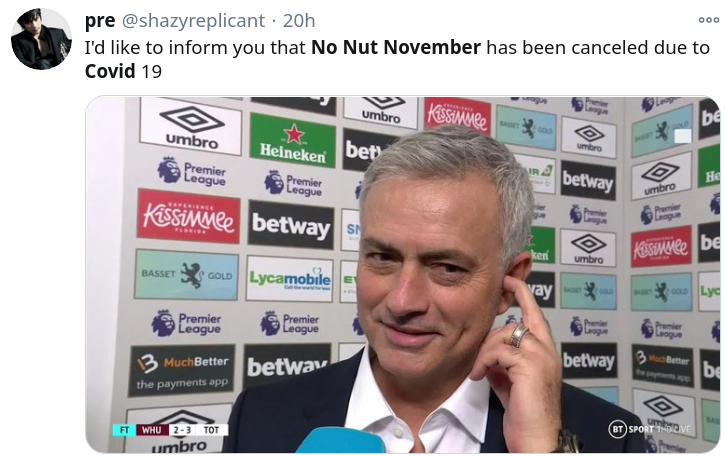 Article continues below advertisement
The rules of NNN seem simple enough where COVID shouldn't affect them.
The self-confidence boost is probably most likely achieved through the pride one feels for being able to practice self-control for prolonged periods of time, but does that mean that the personal challenge is no longer occurring due to these uncertain times? Well it depends on who you ask.
Obviously, you can still practice abstinence if you're locked up indoors for the most part and maintaining social distancing, but according to some folks on the internet, that isn't the case.
No nut november is not cancelled dew to covid-19 stop being a little bitch

— Spookies (@deadnormies) October 29, 2020
Article continues below advertisement
There are tons of jokes and memes being shared on Reddit that cheekily list the multitude of "legitimate" reasons as to why NNN is being canceled due to COVID.
PSA: Since its November (in the US) its No Nut November but due to COVID-19 No Nut November has been CANCELLED! Thank you for reading this PSA! pic.twitter.com/usEYEiLJpe

— SuperStar (@SuperStar846) November 1, 2020
Article continues below advertisement
What soon ensued was a discussion as to why people voluntarily put themselves into the type of headspace that they need in order to actually "succeed" in completing No Nut November. Some people said that it was a challenge formulated by a bunch of people who couldn't get laid in the first place and wanted to share their misery with everyone else.
Article continues below advertisement
Yo can we cancel "No Nut November" and start embracing non-stop nut november lmaoooo 🤣

— iiccyyMane 🥶🥵❄️ (@iiccyydior2xx) November 1, 2020
Is COVID one of the legitimate NNN "passes"?
Then, there are those who are trying to legitimately argue that NNN should be canceled because of COVID-19 due to all of the other hardships individuals have endured due to the COVID-19 pandemic. We've been forced to abstain from a lot of life's pleasures because of this pandemic, so why should we have to endure not ejaculating?
So, some would argue they get a "pass" for NNN.
Article continues below advertisement
Article continues below advertisement
Does NNN count for girls?
While there are probably a ton of meninists who would argue that it's "not the same," the majority of NNN participants would welcome women participants in the challenge with open arms. Well, maybe don't get too close because physical contact after a few weeks of not having any would probably make completing NNN very difficult.
Wait does nnn count for girls too or have I been challenging myself for no reason

— Nanette👌 (@Raspberry0987) November 2, 2019
Article continues below advertisement
So, are you competing in NNN? Or are you more like Israel Adesanya and think that the practice is absolutely ridiculous and in many cases, even harmful?