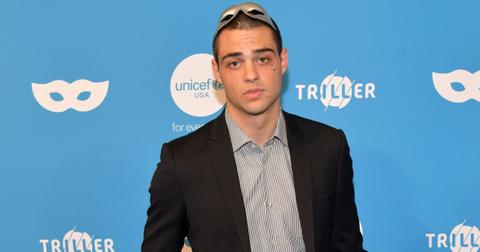 Noah Centineo Is off the Market, but Fans Are Still Curious About His Sexuality
By Nakeisha Campbell
We all know by now that the swoon-worthy Noah Centineo is officially off the market. The To All the Boys I've Loved Before star is now in a relationship with Instagram celebrity and model Alexis Ren, and guys, they couldn't be any cuter.
The pair made their red carpet debut at the UNICEF Masquerade Ball at Kimpton La Peer Hotel in California. But though the actor is now taken, fans are still curious to know about his sexuality.
Has he ever opened up about it? And has he ever dated guys? Let's first take a look at his past relationships.
Noah reportedly dated Kelli Berglund.
To be fair, there's little to no evidence that they were together. Still, the Lab Rats star posted cutesy photos of her and Noah together back in 2013. They could've just been close friends, but since they weren't as well-known at the time, it's possible that they secretly dated.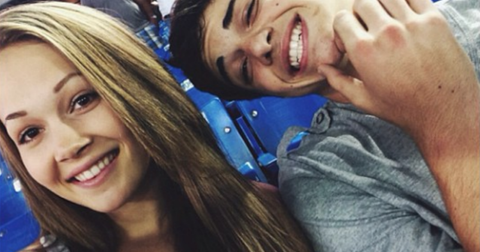 He was in a relationship with Lauren Kolodin in 2015.
He dated the singer briefly and they made no effort to hide the fact that they were together. In fact, the two had an adorable Twitter exchange where they expressed how much they miss each other. Noah initiated the cuteness, also sharing a photo of the two of them together. However, it's unclear how long their relationship lasted.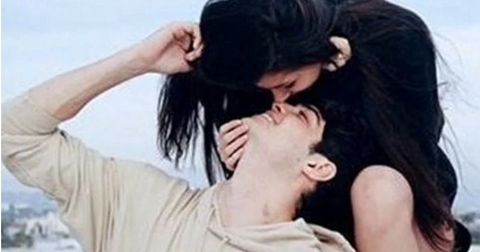 He reportedly dated Disney Channel actress Angeline Appel.
They apparently shared PDA pics on Instagram that have since been deleted, but according to J-14, they were officially dating in 2016. Angeline did guest star on The Fosters in that same year, which might explain how they met and got close. Plus, on Instagram, Angeline still has a cute video of the two of them being silly and cute.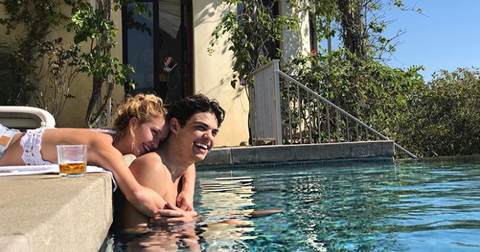 She captioned the video: "Do it for the vine", "I ain't gon' do it" "Do it for the vine", "I ain't gon' do it" "Do it for the guy", "I just might do it" 💕
Fan accounts have also reposted old pics of the two being intimate, so it definitely looks like they were serious. But it's unclear how long they dated.
Noah is now dating Alexis Ren.
The two were first spotted at an airport in Palm Beach, Florida in May, where they were showing some PDA. Once source shared: "[Noah] was with a group of five people: two girls and two guys, plus him. As he walked away, he wrapped his arm around [Ren] and kissed the side of her forehead and kept her in a tight side-hug as they walked to the valet. It looked pretty lovey to me."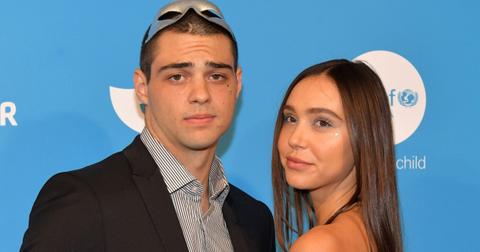 Fans also caught on after noticing that both of them were posting similar pictures to their Instagram accounts. From the looks of it, they've been dating for a few months now.
Is Noah Centineo bisexual?
Fans suspected that the actor was bi when he shared a photo of himself kissing his male bestie, Chase Austin, on the mouth in 2017. The photo has since been deleted, but fans immediately took this as confirmation that he was gay. However, he clarified in his caption that they had a platonic friendship and that there was nothing wrong with sharing that kind of intimacy.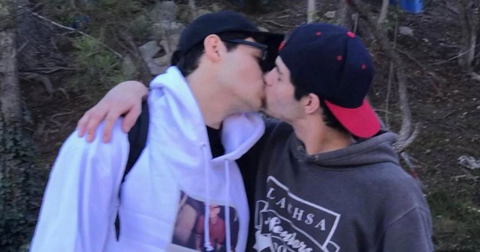 He said, "Kiss your friend's faces more, destroy the belief that intimacy must be reserved for monogamous relationships. Be more loving. EMBRACE PLATONIC INTIMACY. Embrace vulnerability use Emotionality as a radical tactic against a society which teaches you that emotions are a sign of weakness."
The actor has only dated women in the past, but never directly addressed his sexuality. So in short, as of now, no one knows what he identifies as or if he wants to label himself.
However, we do know is that he's seriously enjoying his new romance with Alexis. We couldn't be happier for the lovebirds!