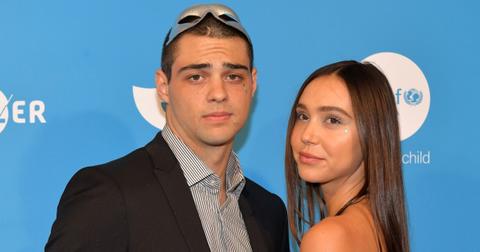 Sorry, Ladies — Noah Centineo Is Off the Market
By Sara Belcher

Updated
Recent celebrity heartthrob and Tumblr-esque tweeter Noah Centineo has captured the hearts of at least one of your girlfriends. His role as Peter Kavinsky in To All the Boys I've Loved Before made this celeb look like a sweet and lovable guy and everyone you know wanted to date him.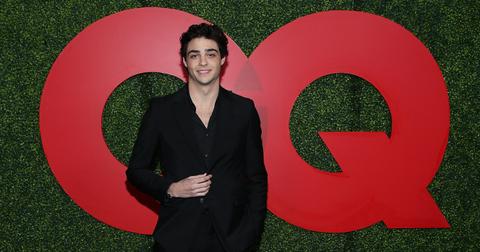 Who is Noah Centineo dating?
Sorry, ladies, but your celeb crush is officially taken. He's dating influencer and former DWTS contestant Alexis Ren — and things are quite serious. 
According to Us Weekly, someone noticed that Noah met Alexis at the airport back in September of 2019. He was seen kissing her on the forehead when she got off her flight, and holding hands with her while waiting for her baggage.
A different source said that they'd spotted the two leaving a restaurant together, where they walked with their arms around each other and Noah kissed Alexis' cheek. 
The couple *finally* confirmed things publicly when they stepped out on the red carpet for the UNICEF Masquerade Ball during Halloween season. 
The two rolled up to the red carpet holding hands, and it was clear that they weren't keeping their relationship private anymore. As for how serious this picture perfect duo is? They've professed their love for one another.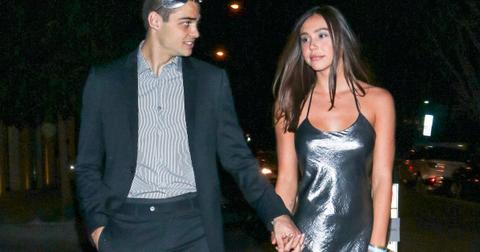 While attending the REVOLVE Awards in November, Alexis confirmed that she's just as in love with Noah as every person who has seen To All the Boys I Loved Before. 
"I love that man," she told Entertainment Tonight. "I love that man with all my heart, so I'm just really grateful to be his partner." 
She also said that they had been dating since early 2019, and that she has not seen the Netflix movie that made a beau a household name. 
"I'm really bad at keeping up with films," she said, much to the chagrin of probably everyone who watched TATBILB. "I'm so [proud of him]. He's the best." 
Who is Alexis Ren?
Alexis is an American model — you've seen her on the cover of Maxim, and she was also named Sports Illustrated's Rookie of the Year in 2018. She also had an appearance on Dancing With the Stars, where she and her partner placed fourth on the show overall.
She's been Instagram famous for as long as we can remember, but she first got her fame when a photo of her went viral on Tumblr, back when she was just 15. Talk about using the internet to your advantage.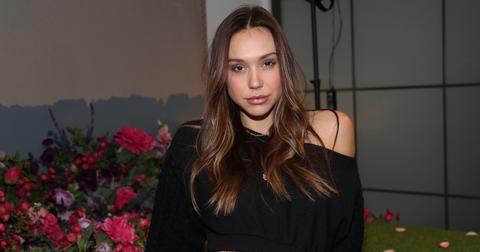 Previously, Alexis had dated her DWTS partner Alan Bersten, but the pair split back in December 2018. At the time, the pair had been on good terms, and claimed it was their conflicting schedules that made it hard for them to stay together, insinuating that maybe they would get together again later. But Alexis' relationship to Noah makes that impossible.
It's OK, we think Noah and Alexis are cuter together, anyway.
No, Noah and Lana Condor have never dated.
After To All the Boys I've Loved Before premiered, fans were ready to ship Noah and his co-star Lana Condor together in a heartbeat, citing the two's undeniable chemistry.
But the pair have never dated — and have both said that they have no desire to date. Lana admitted that she had a huge appreciation for her co-star, telling Elle "I love Noah. I think he's the greatest guy in the world. I mean who wouldn't? He's the internet's boyfriend."
But notice how she was sure to call Noah "the internet's boyfriend" and not "her boyfriend."
In a different interview with E! News in August of 2018, Noah told the interviewer that Lana was just his "homegirl." 
"I think we look at each other more like brother and sister," he said.
Lana has also been in a happy relationship with actor Anthony De La Torre for a few years, making the possibility of some off-screen chemistry between the two impossible.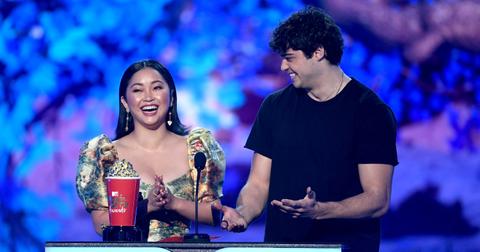 But, don't fret. Noah and Lana are set to appear in To All the Boys: P.S. I Love You on Feb. 12, although things aren't going to be perfect between their characters (thanks to John Ambrose McClaren). 
Perhaps Noah and Alexis will make another red carpet cameo together (fingers crossed).