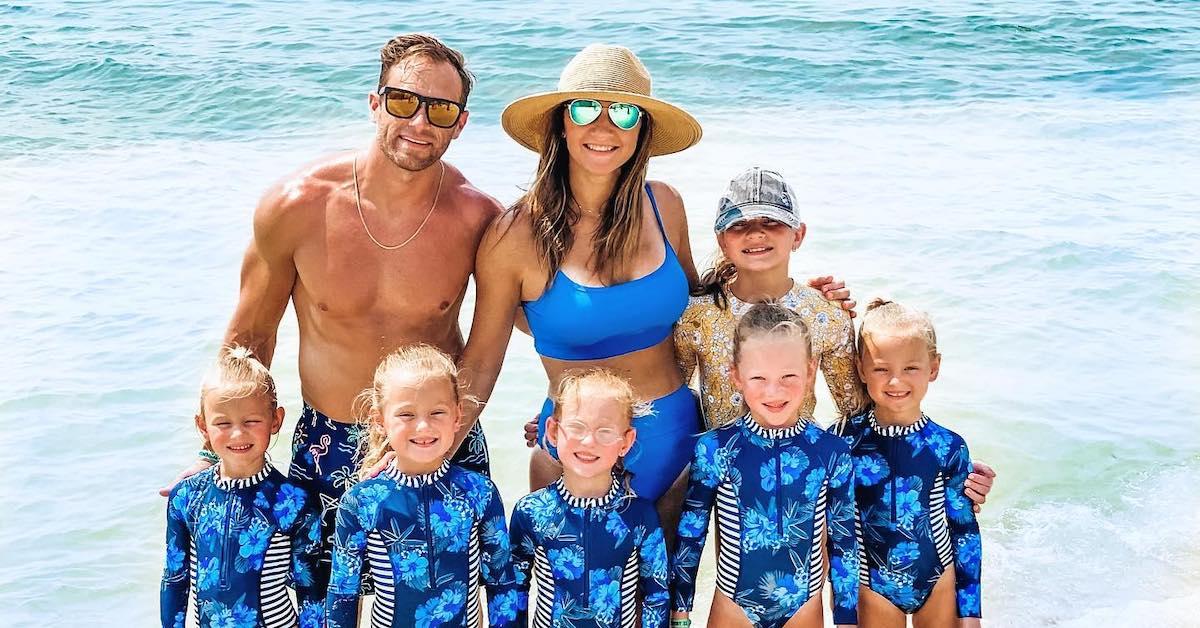 Is 'OutDaughtered' Canceled? Adam Busby's Comment Leaves Fans Fearing the Worst
When OutDaughtered first started airing on TLC in May 2016, viewers instantly fell in love with Adam and Danielle Busby and their brood of six little girls — including a set of quintuplets. Fans have watched the Busbys adjust to life with multiples and the logistical struggles of caring and providing for so many little ones. However, radio silence in recent months when it comes to the series has left them wondering: Is OutDaughtered canceled?
Article continues below advertisement
Is 'OutDaughtered' canceled?
The Season 8 finale aired in May 2021, meaning it's been almost a year since a new episode of OutDaughtered has aired on TLC. Naturally, fans have been wondering whether Season 9 is in the works, or whether this is the end of the reality TV line for Adam, Danielle, and their brood of energetic daughters.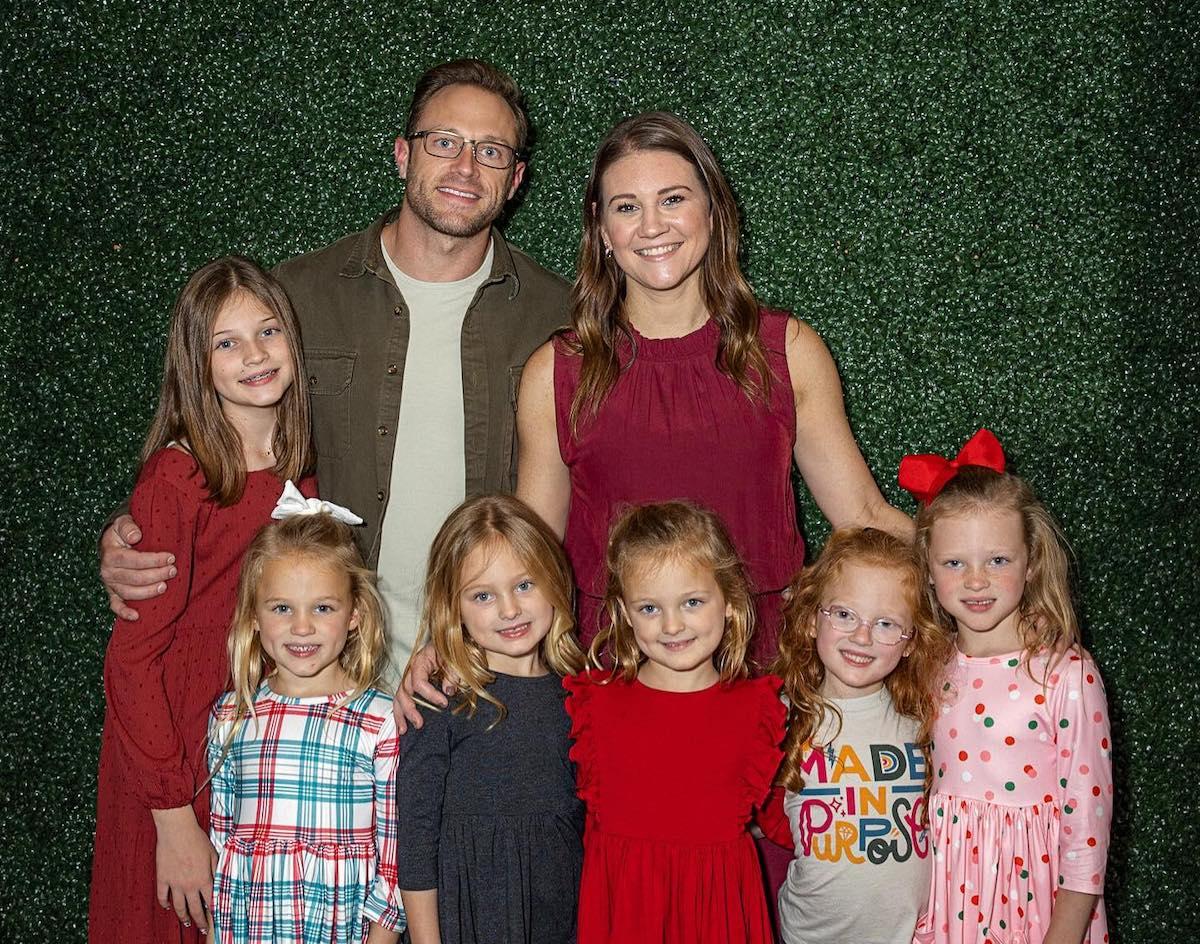 Article continues below advertisement
In late March 2022, an Instagram follower asked the question on everyone's minds. They wrote, "Will OutDaughtered ever be back on? I miss your show so much!" alongside a crying-face emoji.
Adam popped in with a reply that many feared was coming. "We need to make a video about this soon, just to give our fans our thought process and why we haven't spoken on this yet," he commented. "It would be too difficult to text in the comment section."
He continued, "It's 100 percent a decision that we made with our kids' and our family's best interest at heart. Thank you so much for loving our family!"
Article continues below advertisement
TLC has not made an announcement either way about the cancelation or renewal of OutDaughtered. Considering the network tends to wait to advertise upcoming seasons until right before they start airing, many fans of the Busbys have hope that a Season 9 could still eventually happen.
With Adam's recent comment, though, it isn't looking too promising.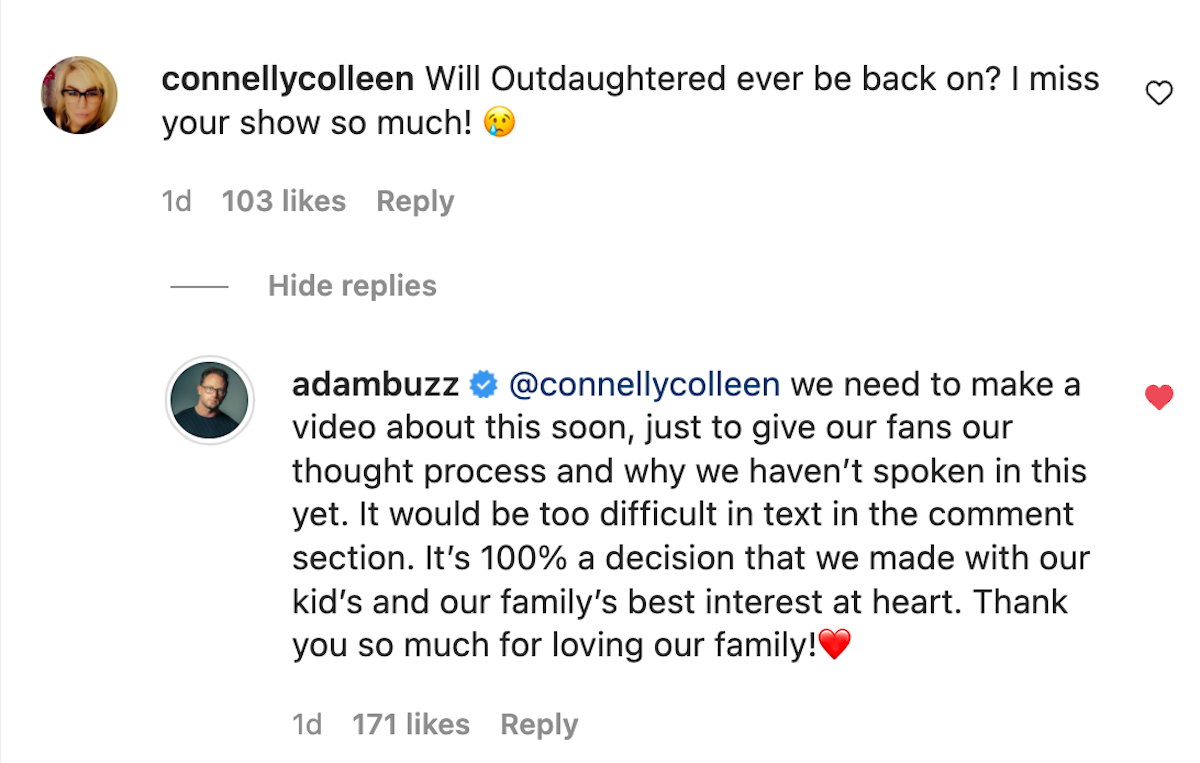 Article continues below advertisement
Season 8 of 'OutDaughtered' highlighted Danielle's health problems.
One reason Adam and Danielle might want to step back from the TLC spotlight — aside from wanting more privacy as their daughters get older — could be Danielle's ongoing health issues, which were highlighted in Season 8.
"I knew it was serious because I have never felt this ever in my life," Danielle told producers about her trip to the emergency room. "I didn't know if I was having a heart attack. I literally felt like my arm was going to literally explode. That's what it felt like inside."
After Danielle received some fluids and had an echocardiogram done, doctors weren't able to offer much of an answer to why she was experiencing debilitating migraines, numbness, and pain. Danielle later wore a heart monitor and had another EKG, among other testing, which revealed she could have an atrial septal defect — something that would require open-heart surgery.
Not much about her health issues has been shared since then.
Article continues below advertisement
Adam and Danielle are opening up a retail store.
If you take a closer look, there's another reason the Busbys might be stepping away from OutDaughtered. In December 2021, they announced they would be opening a new business — a boutique called Graeson Bee Boutique, which offers "coordinating looks for the whole family."
"So proud of this amazing wife of mine. Excited for this new chapter as we open our first @graesonbee retail store in League City," Adam revealed via Instagram. The boutique will open in spring 2022.
Article continues below advertisement
At this point, it's not clear whether there will be a Season 9 of OutDaughtered. (Hopefully, fans will know for sure soon!) The good news is Adam and Danielle are extremely active on Instagram and YouTube — so even if the show is officially canceled, fans will still be able to stay updated on what the Busbys are up to.