Richard Glossip Is a Long-Time Death Row Inmate — Is He Still Alive?
Richard Glossip has had nine different scheduled executions delayed thanks to stays by the Supreme Court. Is he still alive or did his time run out?
Very few death row inmates have the kind of profile that Richard Glossip has received. Glossip has had nine scheduled executions and three last meals during his time in prison. He has spent much of his time in prison attempting to plead his case before a wide array of different courts.
Article continues below advertisement
Many who have followed Glossip's story wonder if he's still alive. He has avoided death nine times. Is he still alive or did his time run out? Keep reading for all the details.
Is Richard Glossip still alive?
Thanks to a recent stay of execution from the Supreme Court, Glossip remains alive and imprisoned. Glossip and his team of lawyers are hopeful that he can get his sentence overturned completely, but this stay at least means that he's out of any immediate danger while the Supreme Court considers whether to hear his case in full.
Article continues below advertisement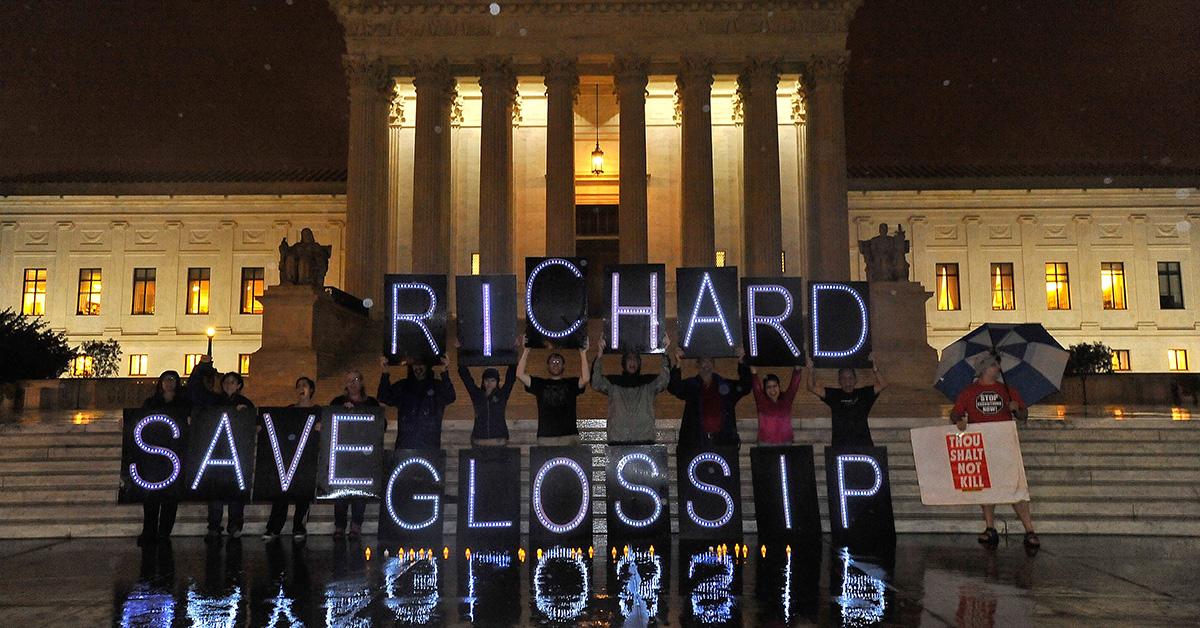 "There is nothing more harrowing than the thought of executing a man who the State now admits has never received a fair trial," said attorney Don Knight, who represents Glossip, following the news of the Supreme Court stay. "Thankfully, for the time being, Mr. Glossip is out of peril. Our hope is that the Court will reverse the decision of the (Oklahoma Court of Criminal Appeals) and vacate Mr. Glossip's conviction once and for all."
Article continues below advertisement
Glossip was convicted of executing a 'murder-for-hire' plot.
The actual facts of Glossip's case involve the murder of Van Treese, a father of seven who was beaten to death with a baseball bat by Justin Sneed. Sneed cooperated with authorities and testified against Glossip, claiming that Glossip had hired him to commit the murder. Glossip only had a single speeding ticket in his criminal record prior to the accusation, but was ultimately found guilty and sentenced to death.
In the years since that conviction, numerous investigations into Glossip's case have raised doubts about whether he's actually guilty. Sneed has sent letters recounting his testimony, and it was also discovered that the prosecution destroyed evidence in the case that didn't point towards Glossip. All of this has led Glossip to seek an appeal, arguing that he never received a fair trial. Both the Oklahoma attorney general and his defense agree that this is the case.
Article continues below advertisement
Glossip's court battles are ongoing.
The stay from the Supreme Court came after the Oklahoma Board of Appeals voted to proceed with Glossip's execution. Exoneration is fairly rare, and has occurred less than 200 times in the last 50 years. Even so, Glossip has continued to maintain his innocence. He continues to fight for his right to a fair trial in which all of the facts available are presented as evidence.
"I've never been on a plane … So they want to get me on a plane and take me somewhere," Glossip told CNN of what he wants to do if he's freed. "And I've never seen the ocean, so we want to go do that."
"There's just a lot of little silly things that other people would probably blow off, that I think we all take for granted," he said. "And I'm here to tell everybody, don't ever put off what you need to get done … Do it now, because nobody's promised tomorrow."