The Newly Announced 'J6' Film Tackles the Jan. 6 Attack on the U.S. Capitol
The Jan. 6, 2021, attack on the U.S. Capitol serves as the plot of 'J6,' a feature film from Billy Ray and Adam McKay. Here's what we know so far.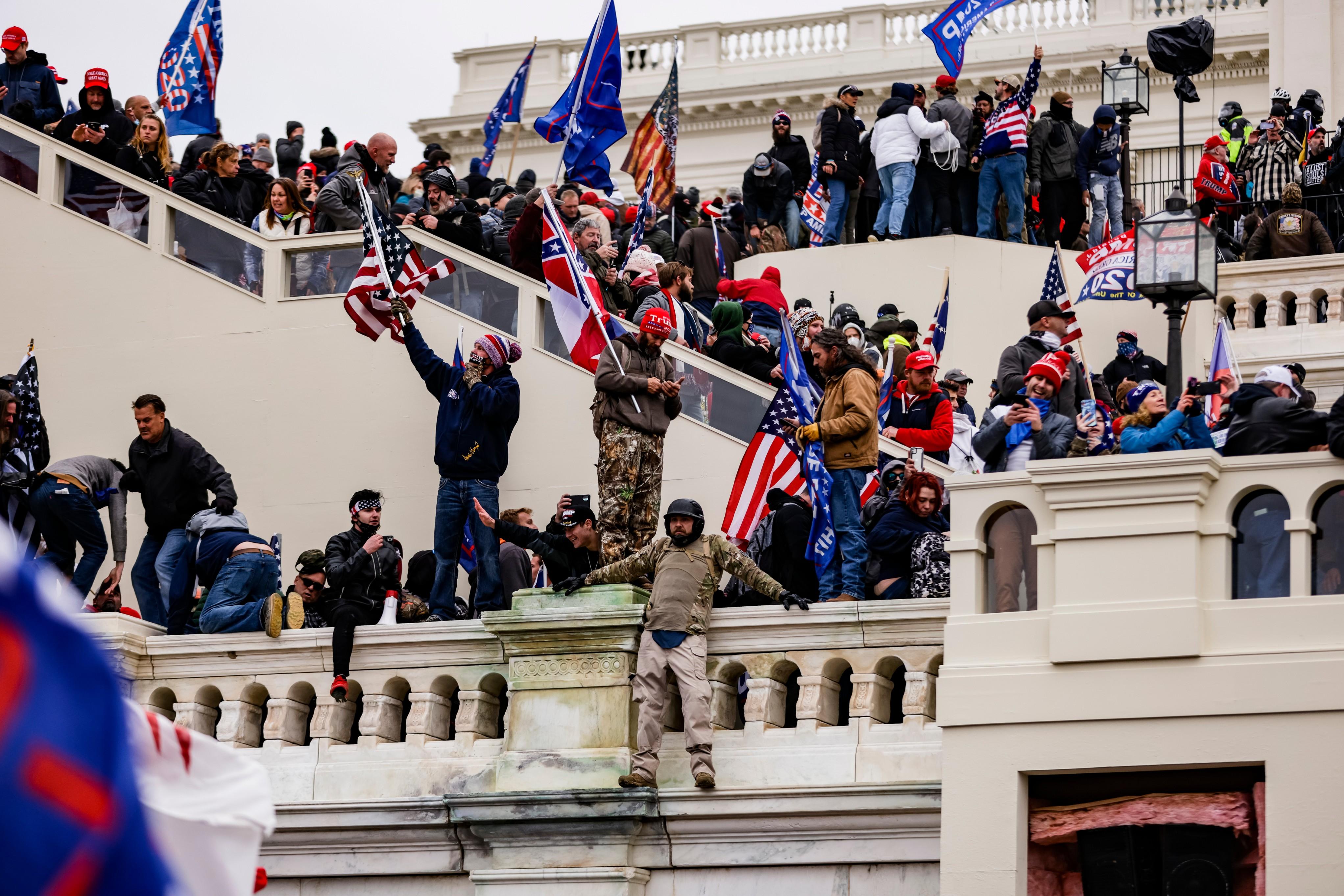 Hollywood sure does love profiting off some of the most traumatic events in history, and it seems the Jan. 6, 2021, attack on the U.S. Capitol is next in line. Considered the most severe assault on democracy since the 1814 burning of Washington, the horrific riot consisted of nearly 2,000 pro-Trump supporters seeking to overturn President Joe Biden's presidential election victory.
Article continues below advertisement
The mob was able to walk in without resistance from law enforcement and occupied the facility for several hours. The domestic ambush led to the assault of police officers, vandalized and ransacked property, and marked the first time a Confederate flag was inside the historic building.
The riot resulted in five casualties, hundreds of injured patrons, and more than $30 million in damages. Per Insider, 753 people were arrested and charged for their involvement.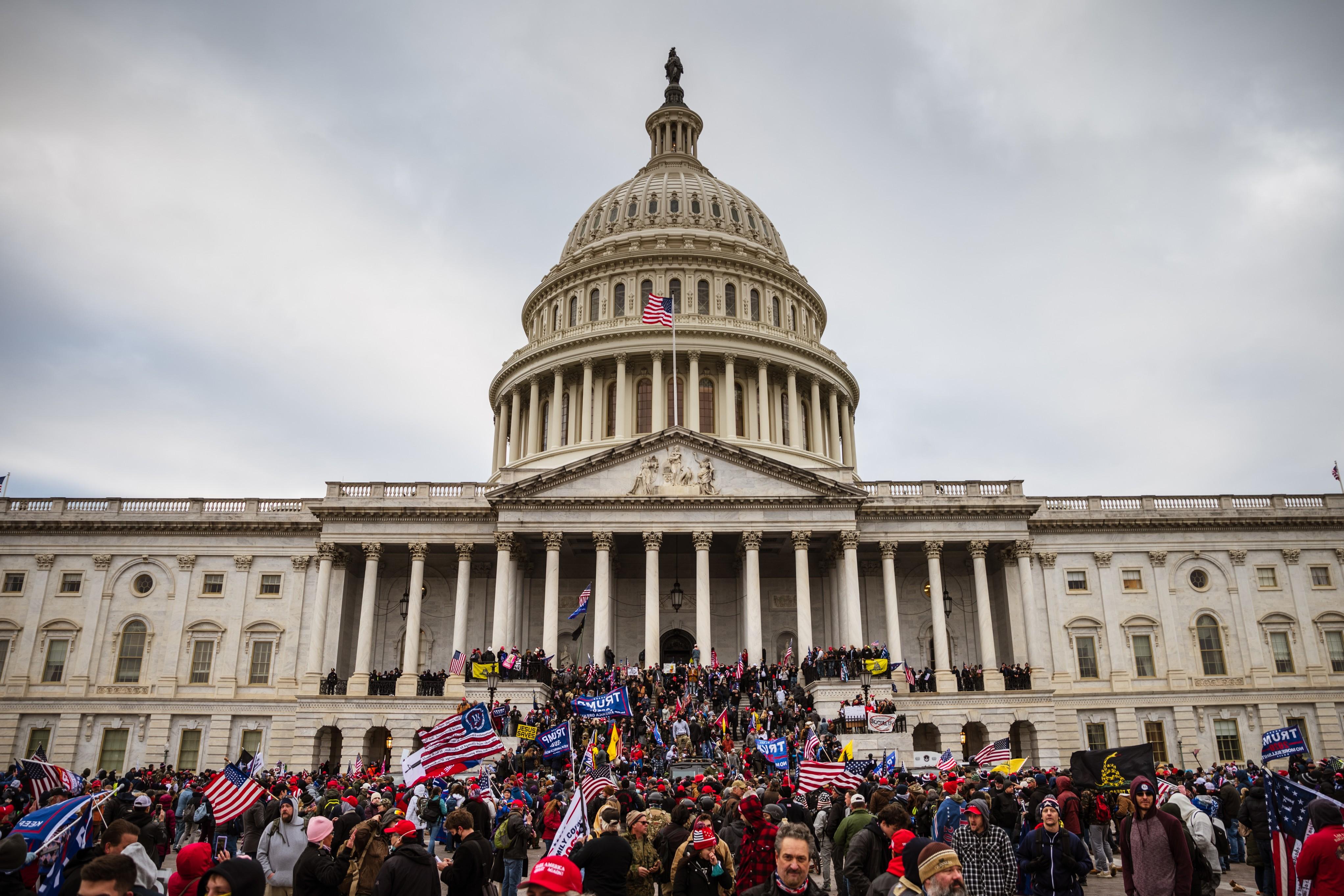 Article continues below advertisement
This is a day that most thought would merely exist as a traumatic historical event; however, in typical Hollywood fashion, the entertainment industry is deciding to exploit it in a new feature film titled J6. Here's everything we know so far.
'J6' is in early development, so a release date is TBD.
Don't expect J6 to hit theaters or premiere on a streaming service anytime soon because it's in the very early stages of development. Deadline broke the news on Jan. 20, reporting that filmmaker Billy Ray (Shattered Glass, Richard Jewell) will write and direct the upcoming movie.
Article continues below advertisement
He previously conceived the flick as a limited series, similar to his political miniseries The Comey Rule. Following the events of Jan. 6, Billy traveled to Washington D.C. and interviewed several central figures while memories were still fresh.
Article continues below advertisement
Deadline notes these individuals include Capitol police officers Michael Fanone — who aided the scriptwriting process — and Harry Dunn. Also, Billy turned to members of Congress, who were trapped inside the Capitol when the invasion occurred.
"The goal was to do a ground-level view of a momentous day," Billy told Deadline. "It's about protesters who became rioters and cops who became defenders of democracy. Someone else can tell the story of the chaos at the White House on that day. I wanted to stay in the trenches."
Article continues below advertisement
Joining Billy on J6 is Adam McKay, who has recently switched from a comedic filmmaking style to developing more political satire projects, including Don't Look Up.
Adam spoke with Deadline about J6 and said, "Billy has written a screenplay that is not only harrowing and terrifying but is sure to become the definitive cinematic document on that gut-wrenching day."
Article continues below advertisement
The internet is not pleased, claiming it's "too early" for a movie.
Not everything needs to be constructed into a feature film or television series, especially the tragic events of Jan. 6, 2021. Thankfully, most of the internet agrees.
One Redditor wrote, "I watched it live on TV. I don't need to see it again." Another Reddit user added that they "don't see [the movie] working." Others commented that J6 is bound to be controversial and that Hollywood executives need to stop taking advantage of every complex real-world issue.
Article continues below advertisement
Twitter users aired their thoughts as well — in response to Deadline's tweet, one user said, "This is one time where the phrase 'too soon' is applicable." Another user replied, "Hollywood stop making [money] on tragic events that happened like less in a year."
A third Twitter user bellowed, "Anything to make a buck in the entertainment industry, am I right?!" They continued, "This is completely unnecessary. Can y'all hold off on trying to exploit domestic terrorism for money until the Jan. 6 commission and DOJ [are] done with their investigations?"
Will any major film studios want to purchase the rights to J6 after numerous pessimistic reactions? Do you think J6 will halt development and production due to backlash? Let us know!