Jake Angeli, The Guy From the Capitol Riot With a Viking Hat, Was Arrested
When pro-Trump protesters stormed the U.S. Capitol on Jan. 6, 2021, it was like a scene from a movie. And, as tons of news networks covered the footage of violent rioters breaking windows and scaling the walls outside of the building, one man in particular stood out to many. You might recognize him as the guy dressed in nothing but tan pants, face paint, and a furry Viking hat, but he has now been identified as Jake Angeli.
Article continues below advertisement
He didn't lead the hordes of people who made their way up the steps and through the doors and windows of the Capitol, but Angeli was seen in many videos and photos documenting the historic day. In one video posted on TikTok, Angeli spoke to a reporter about it being President Trump's right to be put back into office rather than Joe Biden being eventually sworn in as the new president of the United States. Now, Angeli is recognized as one of the many faces of the riot.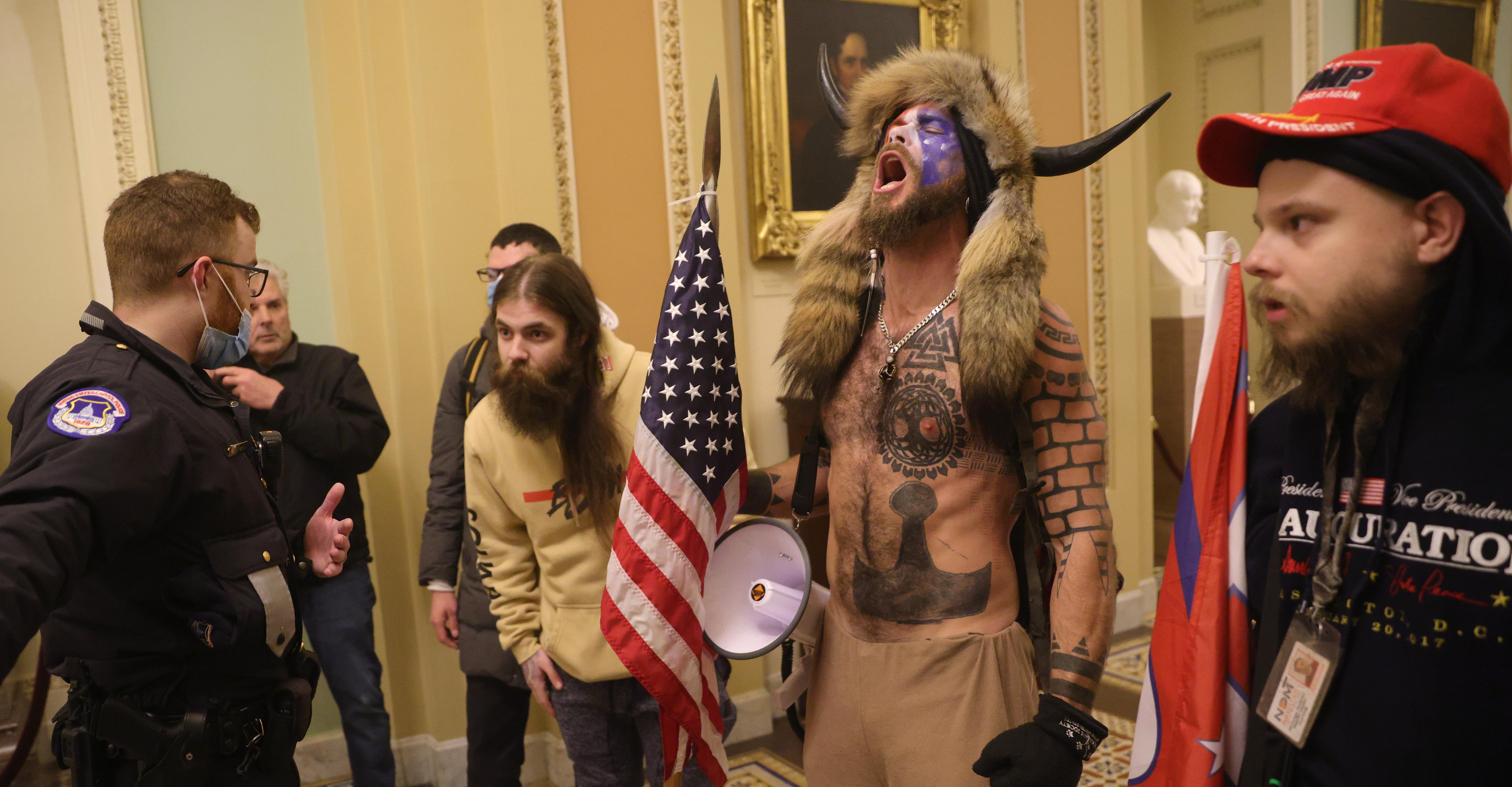 Article continues below advertisement
Who is Jake Angeli from the violent U.S. Capitol riot?
The rioting protester, whose real name is Jacob Chansley, goes by the stage name of Jake Angeli and, before the Jan. 6 Capitol riot, he had an acting profile on Backstage.com. It has since been removed and it seems almost impossible to find any of Angeli's former social media profiles at this time. There are, however, several photos floating around the internet of Angeli at different pro-Trump events, so even if he is an actor of some kind, his support for Trump seems to be very real.
Angeli is from Arizona and, over the course of 2020, had been seen at plenty of right-wing political events in support of Trump. Some even refer to him as the QAnon Shaman. Although his Backstage profile credited him for his talents as an actor, public speaker, and singer, Angeli has been more about performance art of sorts, as he has made the rounds in costume and makeup at different rallies in Arizona, where he became recognized plenty during the 2020 presidential campaign.
Article continues below advertisement
Some people think Jake Angeli is a QAnon conspiracy theorist.
Angeli was seen at some events holding up signs that read "Q sent me." He also gave an interview to Arizona Central in May 2020 about his criticisms of the media and support of the sitting president. He explained that he felt the president needed to know he had support from "good patriotic Americans" and that he saw them standing up for him.
Article continues below advertisement
"One thing I can say is that a lot of the people in the media that level a lot of scrutiny at Donald Trump, level a lot of accusations at Donald Trump, could not handle a percentage of the amount of scrutiny and the amount of allegations that are being leveled at him from so many different levels," Angeli said at the time. "And I think it's important that the president of the United States knows that his people support him."
Article continues below advertisement
Was Jake Angeli arrested in relation to the U.S. Capitol riot?
At first, although it was reported that dozens of people were arrested in relation to the riot, according to NPR, many of the initial arrests were actually due to curfew violations. After the attempted attack on the Capitol, D.C. Mayor Muriel Bowser initiated a 6 p.m. curfew, which many chose to ignore. Later, however, Angeli, along with many other notable faces in the insurrection, were arrested.
On Jan. 9, 2021, the U.S. Justice Department announced that Angeli had been arrested and charged with knowingly entering or remaining in a restricted building or grounds without lawful authority and with disorderly conduct for his part in the Capitol riot.
Because his face paint, horned headdress, and tattoos were so recognizable and those who had seen him at various pro-Trump events in Arizona throughout 2020 also recognized him, it didn't take long for the FBI to identify and locate Angeli.