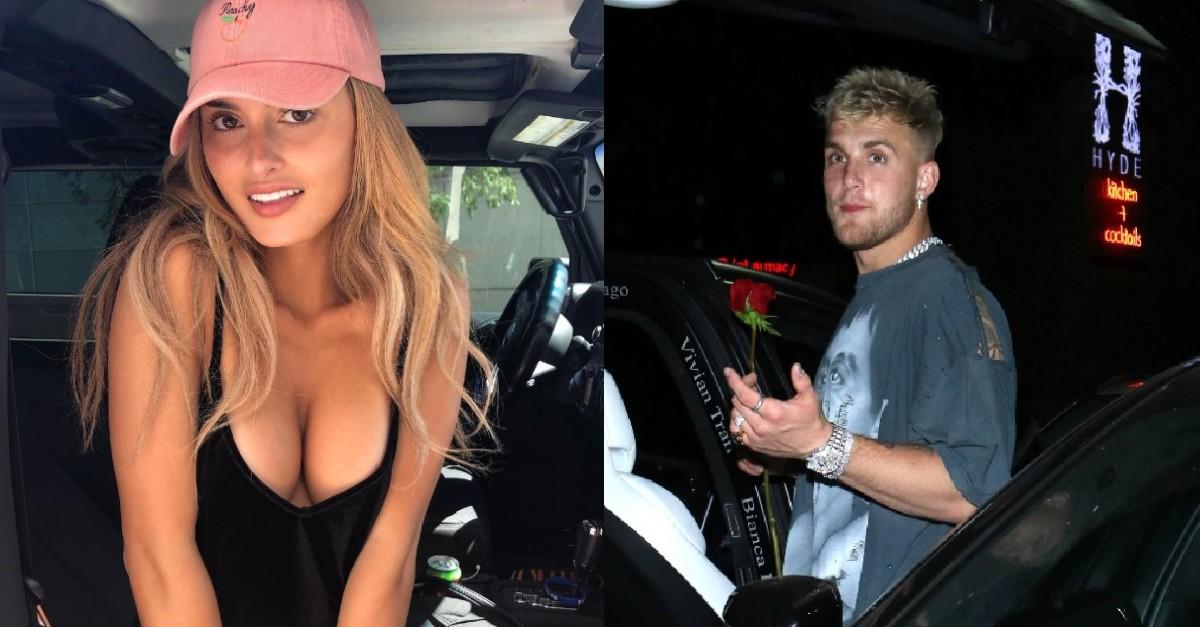 Meet Julia Rose, 'World Series Flasher' and Jake Paul's New Girlfriend
"Bro so what," read the caption of a nonchalant snap Jake Paul posted on Instagram on Thursday, February 6.
Having broken up with Tana Mongeau earlier this year, the photo shows Jake seeking solace in the arms of model and Shagmag founder, Julia Rose. The casual post sent half of the internet into a state of unmediated frenzy, and Tana was no exception. Ready to find out how she reacted to the news about Jake's new girlfriend?
Article continues below advertisement
Jake's new girlfriend happens to be best buddies with Tana.
Jake got up close and personal with the young celebrity during a brief trip to Miami, FL, where they hit up a few nightclubs and also spent some quality time at the beach.
Jake made sure to document their time in thorough detail — creating a photo of them exchanging a swift peck on the cheek at a select hotspot, in addition to a video capturing the model lounging on a sunning chair.
While these suggest a blossoming romance, there is one wild-card photograph that hit most internet users unexpectedly.
On Thursday, Jake and Julia paid a visit to one of the finest strip clubs Miami has on offer, where they met up with an old acquaintance, Tana. Unknown to Jake, his new boo and his ex-wife cooked up a clever prank as a surprise, and they started making out right in front of him.
Article continues below advertisement
The resulting photos show the two women having a fantastic time, with a slightly baffled Jake standing in front of them. To wrap up the night, Julia also posted a picture of her getting cozy with Jake's ex.
Article continues below advertisement
This wouldn't be the first time Julia Rose exhibited genius content creation skills.
Dubbed by the press as the World Series flasher, Julia had her fair share of scandalous incidents in the past. In October 2019, the model teamed up with close friend and confidante Lauren Summer to organize an unconventional flash mob for breast cancer awareness. The duo attended the World Series Game 5 held at Nationals Park, Washington, D.C. As the camera panned around during a commercial break, they lifted their tops, leaving little to the imagination.
Article continues below advertisement
They were escorted away from the stadium immediately, and they also received an indefinite ban from all Major League Baseball stadiums. However, the action was conducted in a bid to generate more attention to Shagmag, a digital outlet of adult content whose proceeds are used help pay medical bills for breast cancer patients, according to the creators.
Article continues below advertisement
Some might recognize Julia from Season 4 of Are You the One? an MTV reality show calling on contestants to figure out who their perfect match might be. Instead of natural instincts, the show aims to highlight the power of algorithmic predictions, giving each competitor the mighty task of working out who they are destined to be with.
In the show, Julia pursued short-lived affairs with John Humphrey, Giovanni Rivera, and Cam Bruckman, before learning that the latter was her perfect match. Unfortunately, the relationship didn't last long, and soon, they were sent home.