James Corden Revived Punk'd with Ugly David Beckham Statue
James Corden pretty much brought Punk'd back on the air with this amazingly elaborate prank.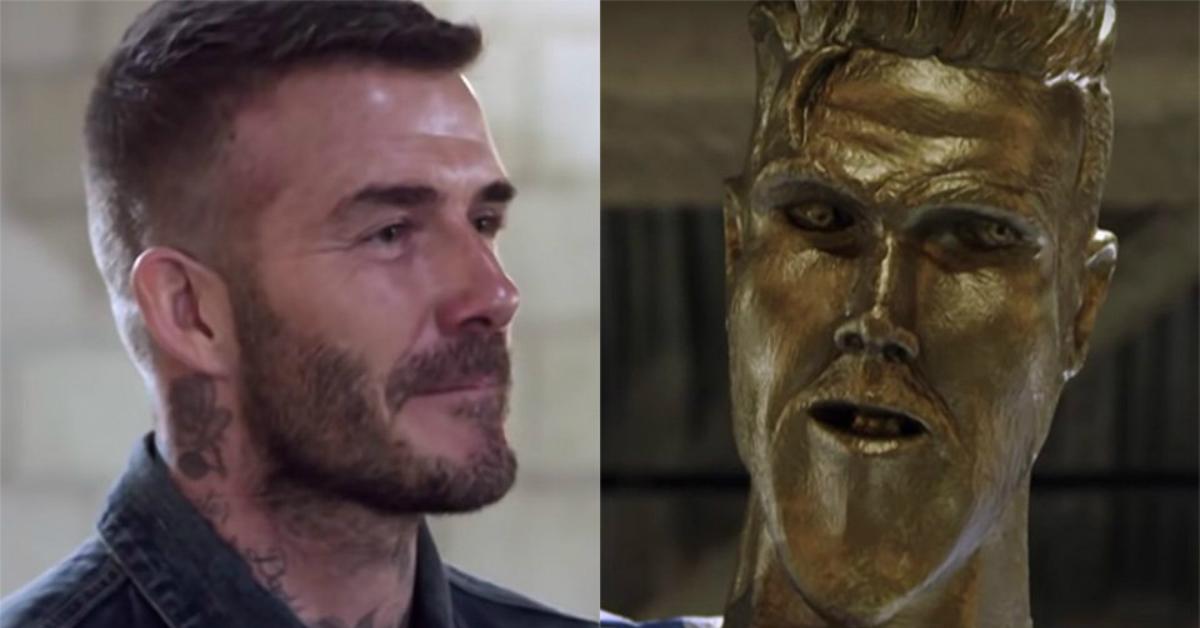 James Corden just pranked David Beckham and it was the perfect combination of strategic planning, comedy, soccer references, and early 2000s TV nostalgia.
You might remember a little TV show called Punk'd where Ashton Kutcher leveraged his stardom and chumminess with a bunch of Hollywood celebrities to put them in awkward situations and prank the heck out of them.
Article continues below advertisement
It resulted in some pretty epic moments — some of them kinda mean, but for the most part, they were downright hilarious. It was prank TV gold.
The show went off the air for reasons that I'm assuming are all directly related to the release of The Butterfly Effect and its horrible Director's Cut ending, and I've been saying for a long time that show needs to come back in some form.
The key though is to get a guy that you're not going to be too mad at when they punk you. Someone who's instantly likable and loved by everyone, but also has a bit of a mean streak in them, enough to pull off a wonderful prank.
It looks like James Corden's taking that Candid-Camera celebrity angle and running with it, at least for this bit involving David Beckham, which took three months of preparation to pull off.
Article continues below advertisement
James and his production team staged an elaborate unveiling of David Beckham's new statue at the L.A. Galaxy stadium, cementing his legacy as one of the premiere figures of soccer (football) history and one of the most illustrious players to ever take the field for the SoCal sports club.
Here's the kicker: the statue is absolutely hideous.
Article continues below advertisement
Seriously, the longer you look at this thing, the funnier it gets and then you start to pick up some not-so-tiny details that should've been a dead giveaway this thing was a total joke. I mean, the screwy left-eye should've set off alarms in David's head. Also, the fact that it looks more like a cross between Stinky from Hey Arnold! and Nigel Thornberry than it does one of the most attractive sports stars on the planet was a good hint, too.
Article continues below advertisement
The best bit was the reveal itself and Beckham's reaction to the thing. You can see he's truly horrified when it first comes to light, and he slow claps, seeing the monstrosity before him, doing his best to be polite.
Do you think he had one of those meta moments, asking himself, "Do I really look like that? Is that how people see me? Has the world gone mad? Have I gone mad?"
I don't believe that's the case, I honestly think he was just trying to not be mean.
Article continues below advertisement
After the unveiling, Beckham walked around with the statue's designer (an actor) and confessed it was "slightly different" than what he remembered from his conversation regarding the actual statue in Chicago.
You see, the L.A. Galaxy were actually working on a statue at the time, so Corden and his crew thought it'd be a good idea to swoop in and replace it with the hideous monstrosity that made the English legend so uncomfortable at first glance.
Article continues below advertisement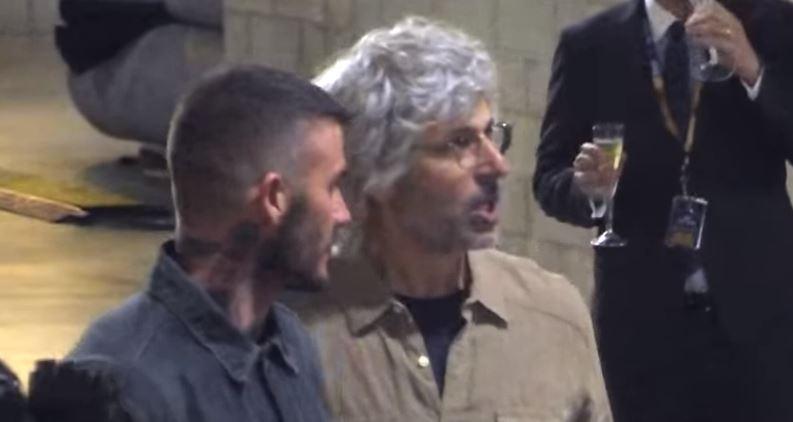 Beckham, in private with the "creator," starts pointing out the ridiculous flaws of the statue, "I mean, look at my chin," and when he's brought around the side to check out another angle, he points out the weird eyes on the piece as well. He does admit that the hair looks good, but then points out just how big his butt is on the statue.
"I mean, look at my ass."
'Well that's how it looks in motion.'
"...it definitely doesn't look like that."
Article continues below advertisement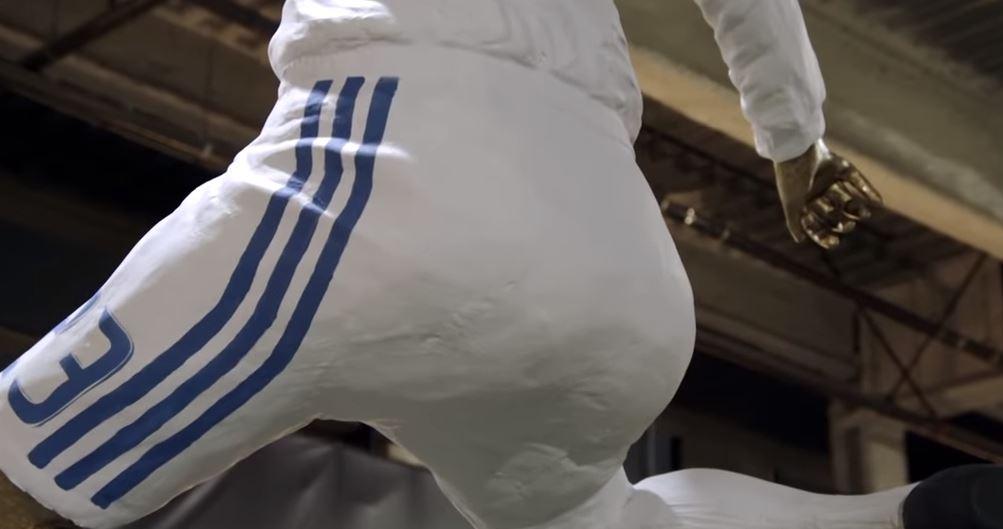 Beckham finally called some trusted colleagues over to ask what they think of the statue. One of them keeps it cool while the other can't help but burst out laughing. It's clear he isn't happy with the statue at all. Honestly, who would be?
Article continues below advertisement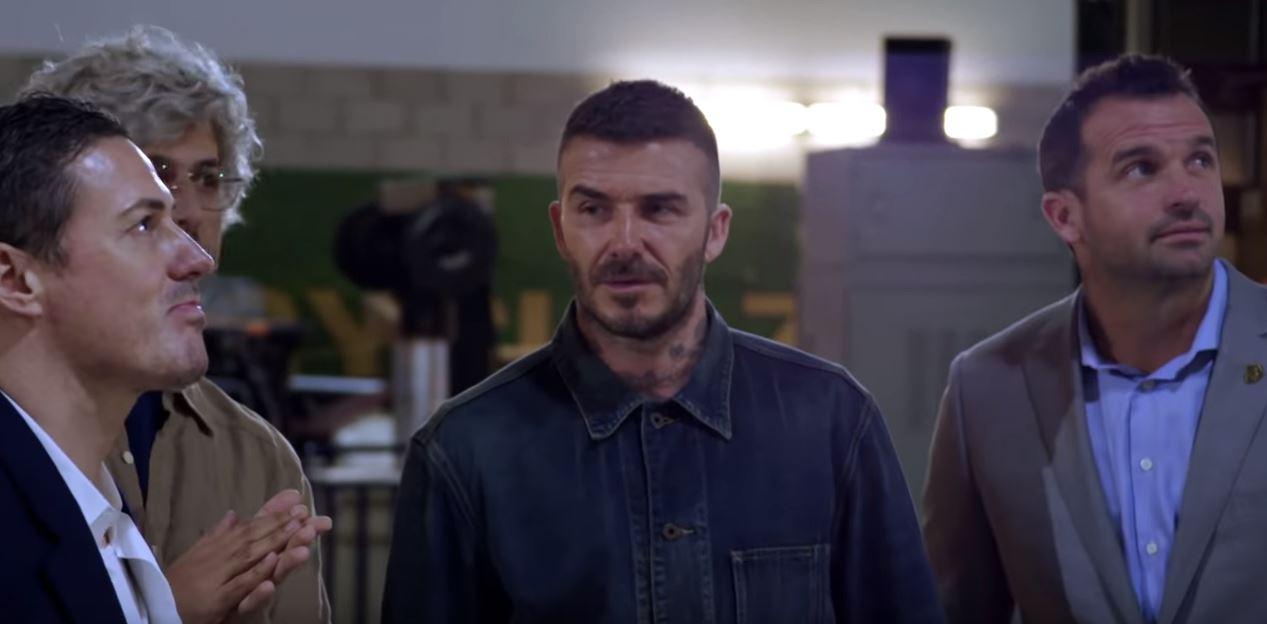 Beckham ultimately says he doesn't see "any way" the statue can go out as it is and Corden can't believe how polite the athlete's being. After the creator asks him to stand back and look at the statue to maybe see it in a different light, Beckham responds that he'll have to stand behind "a van" to appreciate it.
Article continues below advertisement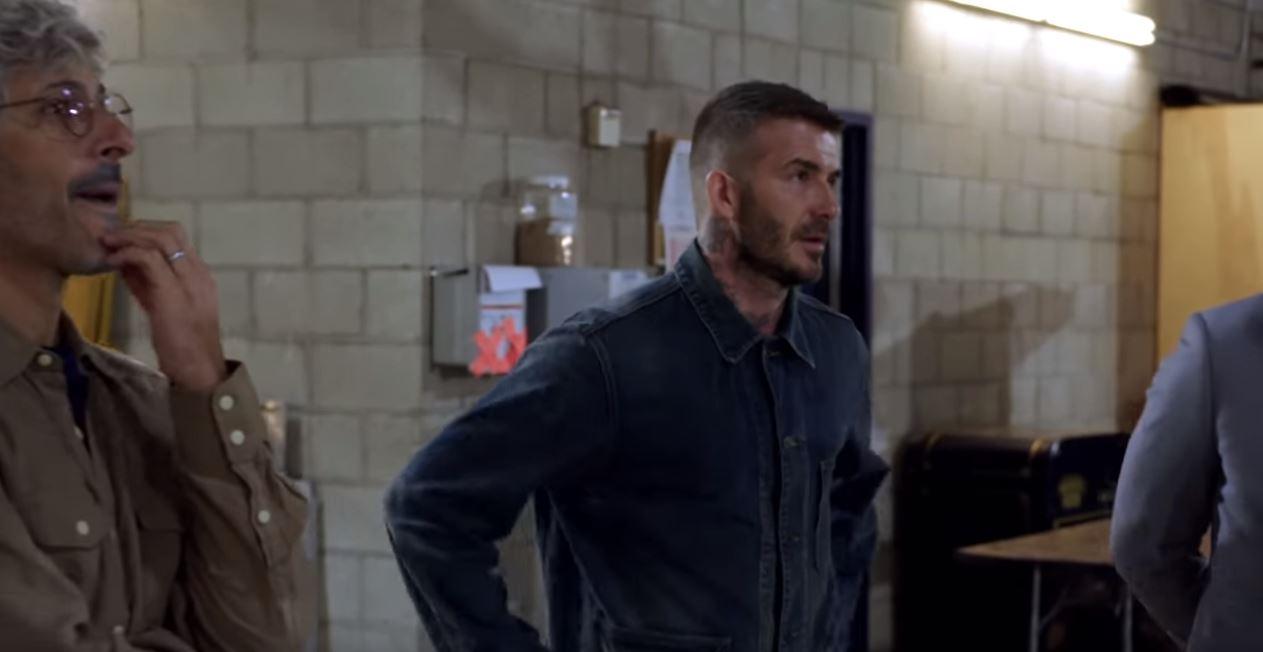 His anger understandably mounts and he requests that all the cameras be turned off. He starts explaining how much the statue means to him and his family, and even tells the director he doesn't mean to offend him and his work, but that his kids would "probably cry" if they saw it. Once the conversation shifts to putting the statue in front of the stadium, his frustrations increase, especially considering it took a year to build. He starts walking away to calm himself down.
That's when a forklift moves the statue and breaks it.
Article continues below advertisement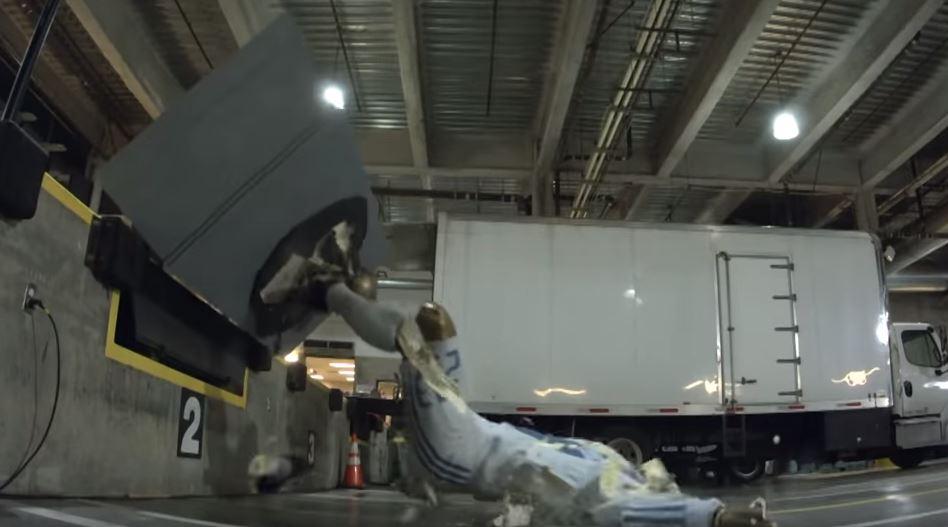 After it breaks, Beckham turns back to the forklift driver and says, "you've probably done me a favor there." Once James Corden runs out, Beckham smiles, instantly realizing what's going on. He takes the whole prank like a true sport and starts shaking his head and rattling off expletives of relief.
Article continues below advertisement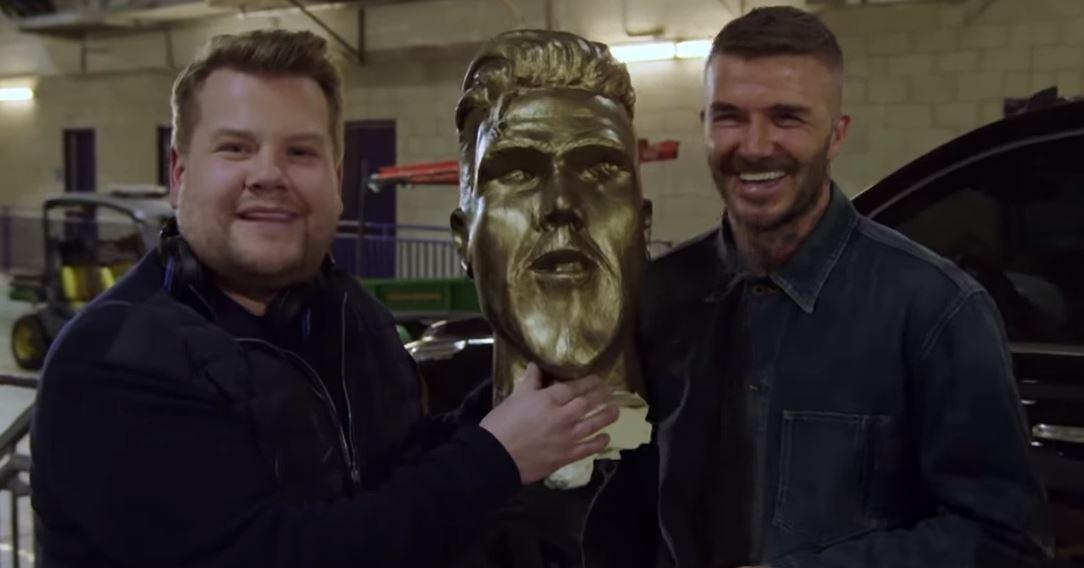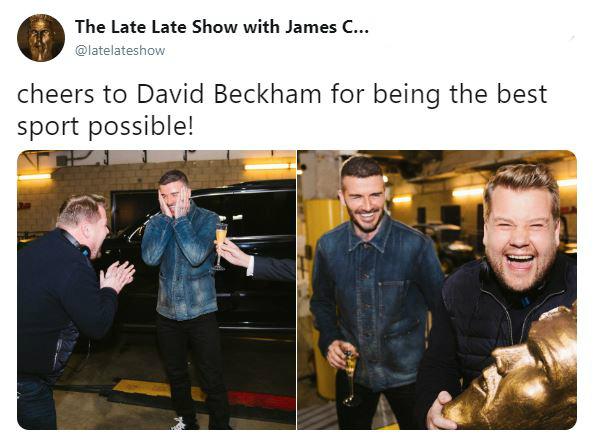 Article continues below advertisement
In case you're wondering, the actual statue did ultimately get unveiled at the stadium, and it's a little less Stretch-Armstrong-ey than the freakazoid of the first unveiling.
Article continues below advertisement
Fans of soccer and terrible statues will probably remember the atrocity that was the Cristiano Ronaldo statue unveiled at a Madeira airport. To say it was unflattering would be an understatement.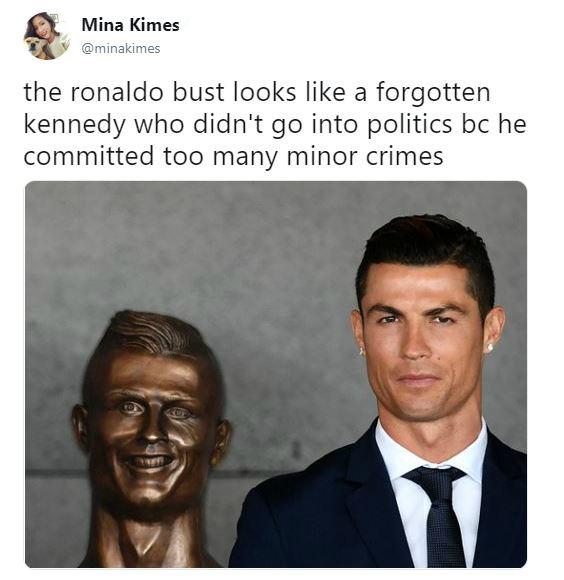 Honestly, it's just as bad as Beckham's, but the difference is David's was made to look horrible on purpose. At least the guy got a chance to redeem himself and the second effort was way, way better.