Jane Lynch Says She and Wife Jennifer Cheyne "Work So Well" Together
Jane Lynch's wife is a screenwriter named Jennifer Cheyne, and the 'Weakest Link' host says Jennifer makes her "grateful all day long."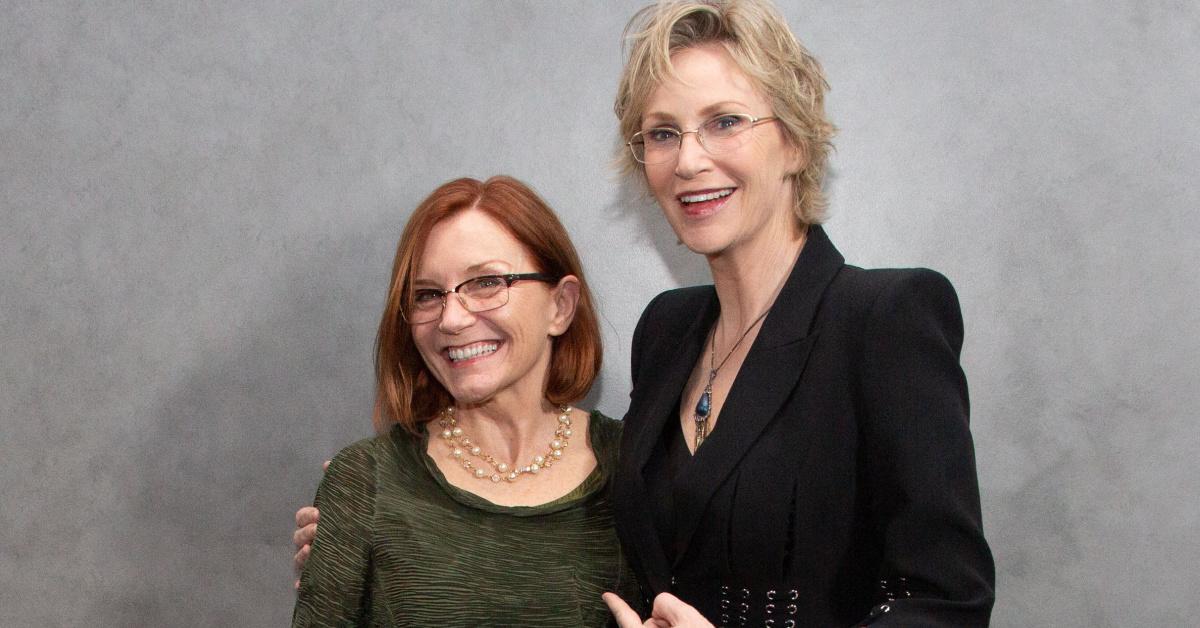 No weak link here! Actress-turned-TV host Jane Lynch is smitten with her wife, screenwriter Jennifer Cheyne. A quick scroll through Jane's and Jennifer's respective Instagram accounts shows that they're obviously living their best life together and as happy as can be. Here's what we know about Jane, Jennifer, and their relationship.
Article continues below advertisement
Jane Lynch's wife, Jennifer Cheyne, is a screenwriter.
On her Stage 32 profile, Jennifer wrote that she minored in creative writing at UC Berkeley and then got an online MFA in screenwriting. "I have been writing for many years but homed in on screenwriting because of its visual nature, as well as its ultimately collaborative nature," she explains.
In fact, Jennifer already has a script to her name. "I have written Mary Astor's Diary, based on the true story of a 1936 Hollywood/child custody scandal at the time of the Hays Code," she wrote.
Article continues below advertisement
And Jennifer didn't stop there. "I am currently working on two next stories," she writes, "one an original mother-daughter dramedy (can we say that word?) two-hander, and the other a drama based on a true story about an unlikely horse champion and his unlikely champion rider in the show jumping world," she told readers.
Jennifer closed out her bio by saying that she lives in Los Angeles "with my sweet son Harry and my fabulous wife, Jane Lynch."
Article continues below advertisement
Jane and Jennifer tied the knot in 2021.
Jane raved about Jennifer — and her handiness — in a September 2020 People interview. "My partner makes me thankful all day long," she said. "She figures out how to deal with [everything]. She's like, 'I don't need to hire a handyman.' Although she's very, very feminine and soft, she's got a thing of tools that she brings out, and she can fix almost anything. Plumbing, and loose shutters, and our air conditioner. That's the greatest thing about her, because I get overwhelmed, and I have no patience with details. She's very methodical, and she takes things very slowly."
Jennifer is also a credit card miles whiz, Jane said. "We have all these miles racked up, and we have some things we want to buy," the actor explained. "I said, 'Figure out how we can use miles to buy this stuff.' And she figured it out. So now I'm like, 'I'm so grateful for you,' because I couldn't figure that out."
Article continues below advertisement
Jane spoke about the couple's wedding ceremony during a 2022 appearance on Live With Kelly and Ryan. "We went down to the Santa Barbara Courthouse, which is where we live, and her son became a minister of Universal Life Church," Jane said. "And the three of us said our little vows to each other and signed the papers, and it was really nice. I shed a tear. I was a little surprised."
Article continues below advertisement
Jane and Jennifer reconnected a decade after breaking up.
Jane told Parade in November 2019 that finding love in her fifties "has been a blessing" — and the Glee alum also described her and Jennifer's origin story. "Jennifer and I were partners for a couple of years in the early 2000s," she said. "We broke up and then reconnected a decade later and just fell back together so easily and lovingly."
The two women are also "different people" nowadays, as Jane told the magazine. "We don't have the same insecurities we used to have," she said. "We live very peacefully. We have our own routines and separate spaces to retreat to within our home, but then we'll have coffee together in the morning and meet for a meal."
Jane also praised Jennifer to People, saying, "She's really smart. We work so well, and we're really grateful that we found each other."