Janitor Was Fired for Leaving Work Early and It Was Caught on Video!
A video has resurfaced online and it shows the moments a janitor was fired for leaving work 8 minutes early. Here's how the altercation went down.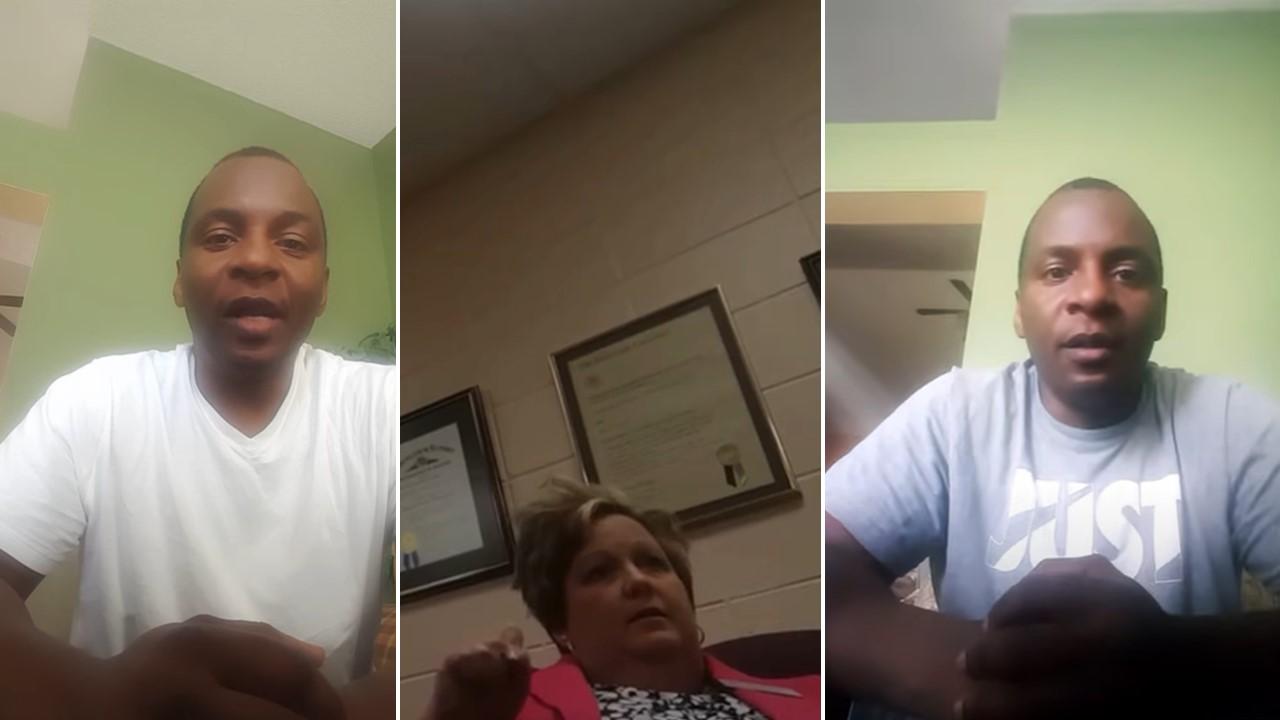 A janitor was fired, or forced to resign, from his job for leaving his post eight minutes early. The incident, which was posted to TikTok by @sarah_conner1, shows the moment a man named Jonathan Holley was let go from his position at Webb Bridge Middle School. The clip starts with an official, later identified as the school's principal Susan Opferman, suggesting that Jonathan left work at 2:45 p.m. Jonathan attempts to explain himself, but Susan continues to reprimand the him.
Article continues below advertisement
"Jonathan, stop talking," Susan yelled. "What are your hours? Tell me again." Jonathan explained that he left work before 3:00 p.m. because he was scheduled to come in early the next day. "You don't adjust your hours just because you feel like it," Susan added. The uncomfortable conversation continues as Jonathan attempts to explain himself but to no avail. He also suggested that the principal was singling him out, as others left at the same time as him.
Article continues below advertisement
In an update video, Jonathan provided further context to the video. Jonathan said he was forced to resign after the incident and claimed that he was pushed out by the school's administration. "I did no wrong whatsoever," Jonathan said. And while the incident originally occurred in 2016, the video has gone viral again and TikTok users are voicing their opinions.
Article continues below advertisement
People want Susan fired, but she has since resigned.
After the incident occurred, Susan was placed on administrative leave for health reasons unrelated to the viral altercation, according to a statement released by Fulton County school. "Mrs. Opferman was subsequently on medical leave, and while on leave, the school continued to have personnel issues with this employee," the statement reads (per Thrilling). "This employee was not terminated but did resign in May 2016."
Although Susan resigned, that hasn't stopped TikTok users from dragging her online. One person called Susan's actions "appalling" and argued that she shouldn't be in a management role.
Article continues below advertisement
Another called for the children under Susan's care to be checked on. The commentor suggested that Susan may have spoken to the children at Webb Bridge Middle School in a similar tone.
Article continues below advertisement
Others commended Jonathan and all janitorial staff members for their hard work. They are regularly tasked with managing maintenance issues, sanitation, and other problems at schools and often do receive enough praise.
Article continues below advertisement
Meanwhile, one person recommended that Jonathan quit his job as a janitor at the school. They pointed out that leaving work 10 minutes early shouldn't be a big deal.
Article continues below advertisement
A UPS manager was filmed cursing at his employees.
Years after Jonathan was yelled at for leaving his janitorial job early, a video of a UPS worker on a wild rant emerged on TikTok. The video was uploaded by @haitiannbarbiee and has over 1 million views.
Article continues below advertisement
"Try me," the supervisor yells. I will f------ do anything and run all of you in f------ circles… I won't back down to no one." An update video was later shared to TikTok, which provided more context to the ordeal. The manager appeared to be frustrated with his employees who were arguing with each other.