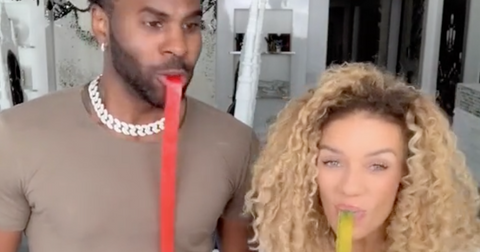 Does Jason Derulo Have a Girlfriend? Here's Who You've Been Seeing in His TikTok Videos
By Lizzy Rosenberg

Updated
Hopefully, at this point in the coronavirus quarantine, you've perused Jason Derulo's TikTok account once or thrice. Some of the pop singer's videos are seriously high quality, while others — such as his infamous corn-on-a-power-drill stunt — were less than impressive, but one thing you've probably noticed about his videos is that many of them feature a blonde, curly-haired mystery woman. We can't help but wonder: does the hunky Cats actor have a girlfriend?
Article continues below advertisement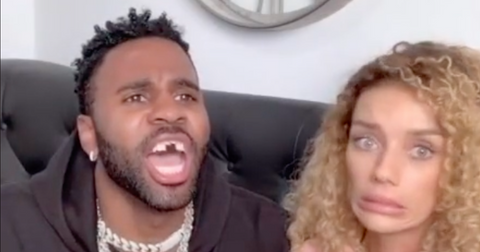 Article continues below advertisement
Who is the woman featured in several of Jason Derulo's TikTok videos?
A number of Jason's TikTok videos, including the fruit roll-up challenge as well as some of his workouts feature a tan, blonde, curly-haired woman, whose name is apparently Jena Frumes. According to Metro, Jena is Jason's live-in girlfriend, and the two have been dating for quite a while now. Jena and Jason are dog parents to an adorable pit-bull named Ice, and clearly, Jena enjoys engaging in Jason's wild TikTok antics.
Jena is a 26-year-old model who moved to Los Angeles from New Jersey, according to Famous Birthdays, and currently, she boasts almost 4 million Instagram followers. Three years ago, back in 2017, she appeared on the popular improv show Wild 'N Out, and prior to her relationship with Jason, she dated famous soccer player, Jesse Lingard. Needless to say, she and Jason seem happy and obviously, they're having a great time in quarantine.
Article continues below advertisement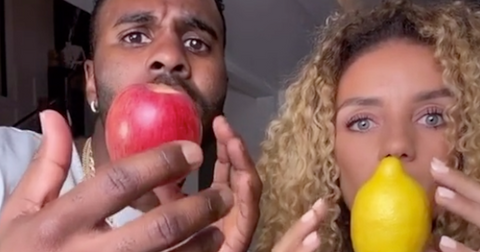 Here are some of the greatest videos Jena and Jason have collaborated on:
Jason's videos that feature Jena are usually pretty awesome. As a fitness junkie, Jena is generally pretty great at doing physical challenges, and she seems to be a good sport about some of the more embarrassing challenges her pop star boyfriend wants to execute. Take a look at some of the videos Jason did with Jena, below.
Article continues below advertisement
Article continues below advertisement
Article continues below advertisement
This isn't Jason's first serious relationship.
We couldn't imagine that Jason could have written his 2014 track "Marry Me" without having some romantic experiences under his belt, and it turns out we were right. Jena isn't Jason's first relationship. According to Ranker, his last relationship was with model Ragon Miller in 2017, though we can't confirm when they actually parted ways. Before Ragon, Jason dated swimsuit model, Daphne Joy, and before that, he dated Jordin Sparks for three years.
Article continues below advertisement
There were rumors that Jason and Jordin had gotten engaged, but they reportedly ended their relationship because there was too much pressure to get married, according to Bustle. Now, Jordin is married to Hawaiian fitness model, Dana Isaiah, so it seems like they're both happier now.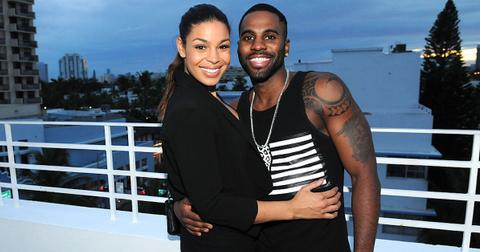 Based on Jason's TikTok videos, it seems as though he and Jena are having a fun time in quarantine together. Here's to hoping, for her sake, that he doesn't keep losing his teeth.