There's Going to Be a Live-Action Remake of 'Frosty the Snowman'... Starring Jason Momoa
Warner Brothers is remaking a live-action version of 'Frosty The Snowman,' and it's going to star none other than Jason Momoa as the snowman.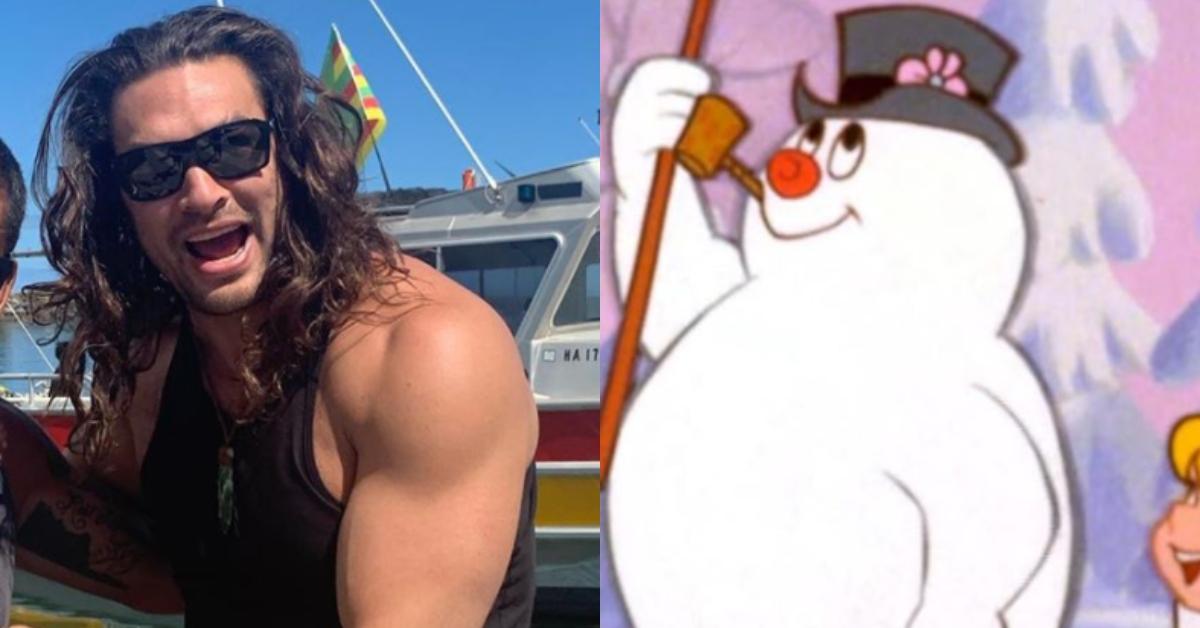 By now, you've probably come close to memorizing the claymation version of Frosty the Snowman as the Christmas classic airs several times during the holiday season each year. But over 50 years after the original film premiered in 1969, the movie is getting a live-action makeover from Warner Brothers... and the best part is that it's starring Game of Thrones' Jason Momoa.
Article continues below advertisement
Yes, you heard that correctly — Jason Momoa is playing the beloved Frosty the Snowman, and fans don't really know what to expect. Stay tuned for what we know about his involvement so far.
Article continues below advertisement
How will Jason Momoa play a live-action snowman?
Like every live-action movie, from The Lion King to Alice in Wonderland and The Jungle Book, the Frosty the Snowman remake will heavily rely on CGI. And since Jason Momoa doesn't resemble an actual snowman — in any way at all whatsoever — he will be embodying a CGI Frosty the Snowman, according to Deadline.
Although his voice is a little deeper and a little sexier than we had imagined for Frosty, producers appreciated his deep connection to family.
"We know Jason as a true human being filled with love, compassion and a deep connection to ohana — all of which is the living spirit of Xmas and Frosty," said producer Greg Silverman.
Article continues below advertisement
Twitter is somewhat conflicted about Jason Momoa taking on the unsexy role of Frosty the Snowman.
Jason is a multi-talented actor with an affinity for all things fantasy, so there's no doubt in our minds he'll nail the role of the beloved Frosty the Snowman. However, some have taken to Twitter to express confusion. How could the macho, sexy Khal Drogo somehow take on the role of an adorable snowman?
Article continues below advertisement
@awesomefuncool said, "I'm both confused and interested," while @b0b0j3ff joked, "So it's announced that Jason Momoa will be playing Frosty the Snowman which is super random."
Check out what mildly confused fans had to say about the film's casting decision below.
Article continues below advertisement
Article continues below advertisement
It's no surprise Jason is taking on a kids' movie, as he has two kids himself.
While most of Jason Momoa's resume is comprised of action shows like Game of Thrones and movies such as Aquaman, he's a charismatic and loving dad, so it comes as no surprise he's able to do kids' movies. In 2007, Jason and his now-wife, Lisa Bonet, parented their first child, Lola Iolani, and one year later in 2008, they welcomed a son whose name is Nakoa-Wolf.
In addition to Lola and Nakoa-Wolf, Jason is also a stepdad to Big Little Lies actress Zoë Kravitz, who happens to be Lisa's eldest daughter from her previous marriage to Lenny Kravitz. Jason and Lisa met in 2005 at a jazz club in the city, but didn't end up officially tying the knot until sometime in 2017.
Article continues below advertisement
We don't know too much more about the Frosty the Snowman remake, but we just really hope Jason's man bun makes it onto the CGI snowman. That would truly make this movie magical.