Jeffree Star Responds to Backlash Over Cremated Palette After It Sells Out
Jeffree Star is known as a makeup guru. However, the Jeffree Star Cosmetics founder has revealed his 'Cremeated' palette, and fans aren't happy..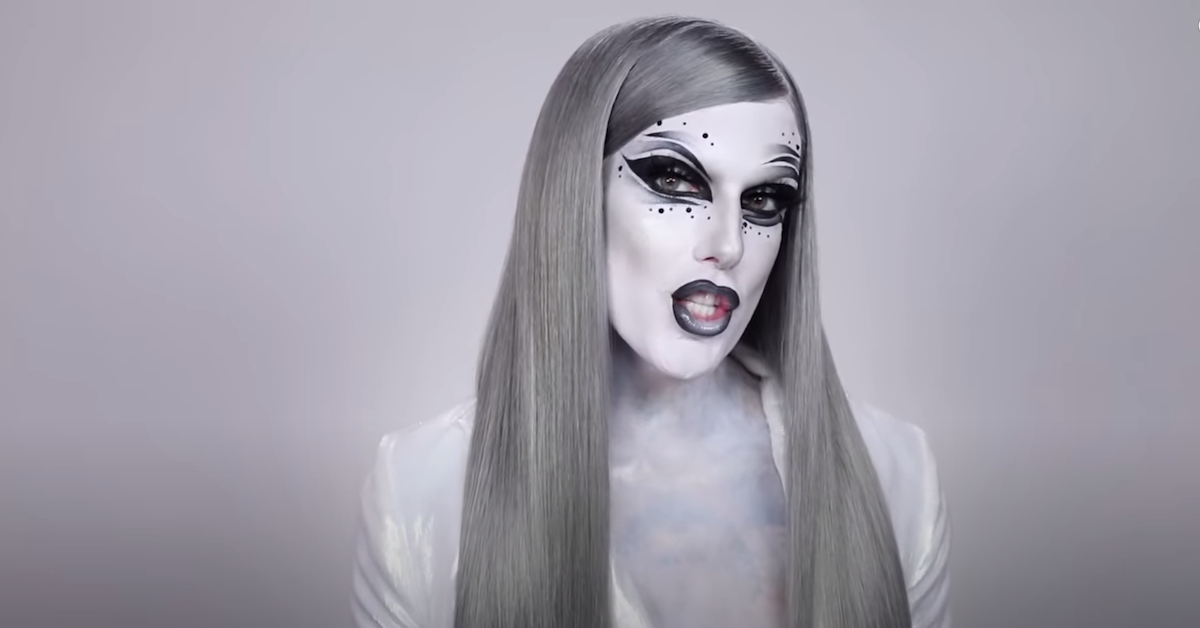 Jeffree Star is known for his fabulous makeup collections. The beauty guru is all about makeup, the ones where we love and can't live without, and the ones that are no good for us. Jeffree has revealed his newest collection, Cremated, and has received numerous responses.
Here's all you need to know about his newest collection, which had been postponed as a result of the novel coronavirus pandemic.
Article continues below advertisement
Jeffree gave a teaser about the new Cremated collection via social media.
He even gave a teaser on his Instagram saying that if you're fan of rainbow colors, then this is not your palette.
"Introducing the #CREMATED eyeshadow palette & collection!!!! This one of a kind spooky @jeffreestarcosmetics 24 pan gothic dream will wake up the makeup world! The FULL reveal video will be on my channel TOMORROW morning!!!! Get ready to be deceased. Extreme payoff. With our iconic mattes & new extreme sparkle metallic formula."
Article continues below advertisement
Jeffree explained the launch of Cremated was postponed because of COVID-19.
On April 19, Jeffree uploaded a video to his channel and talk about all things of Jeffree Star Cosmetics. While wearing a mint green wig, he tested out the latest foundation, moisturizer, and blush launches while speaking in regard to his brand.
The makeup guru also explained that when COVID-19 came up, all of the nonessential businesses in California were shut down until mid-May. As a result, his labs in Italy were also shut down as well.
Article continues below advertisement
In a YouTube video publish on May 16, the makeup star explained that his newest collection was postponed due to the ongoing global pandemic. He commented: "The follow-up was going to be so fun, and then the coronavirus has come and it's f---ed up everyone's plans."
Article continues below advertisement
When Jeffree revealed Cremated, he received mixed reviews from his fans.
Jeffree's latest launch has caused a lot of fans to be very vocal about calling his collection 'Cremated." This is happening during a global pandemic which has killed thousands of people worldwide.
Let's take a look at a sampling of comments people have left on Instagram and Twitter.
One user, catherinetramell1958, said "I love you dearly, Jeffree. But I sort of don't like the name of this palette. My mother died about 13 months ago and it is sort of bad taste. But hey, I will take a look at it."
Another one said on Twitter: "Something about a 'cremation' palette being released during a pandemic when 1) people be dyin and 2) nobody has much expendable income, just doesn't sit right with me."
Article continues below advertisement
And lastly, one user said "When I first saw the name I felt like it was kinda disrespectful because of everyone that had corona and died from it has to get cremated even if they wanted a proper funeral. But overall I think it's gonna be a great palette"
Article continues below advertisement
Article continues below advertisement
Jeffree Star responded to the Cremated palette backlash.
In a YouTube video published on May 20, Jeffree addressed the backlash he received about his Cremated palette — which features metallic shades with names such as, "Death Certificate," "R.I.P.," "Hearse," "Angel of Death," "Inheritance, "Pallbearer," "Mortuary beautician," and more.
"I'm never discrediting anyone's feelings, everyone's allowed to feel how they want and interpret things how they do," he said. "So just know that I only come from a good place."
"For me, this is art, and I never come from a negative place, you guys," Jeffree added. "I created this to make people smile. I created a brand for all the weirdos and people that really didn't feel like they fit in, so no way was this created to be offensive, ever."
Article continues below advertisement
Considering Jeffree's Cremated palette managed to sell out in less than 20 minutes, it's clear the beauty mogul's death-themed line wasn't too offensive. A bit morbid, yes. But then again, Jeffree's never been one to shy away from a bit a controversy.