Jeffree Star Is Refunding Anyone Who Bought His Mini Holiday Edition Mystery Box
Here's why fans are causing drama over what they perceived as a rip off from Jeffree Star's Holiday Edition Mystery Box which dropped on Black Friday.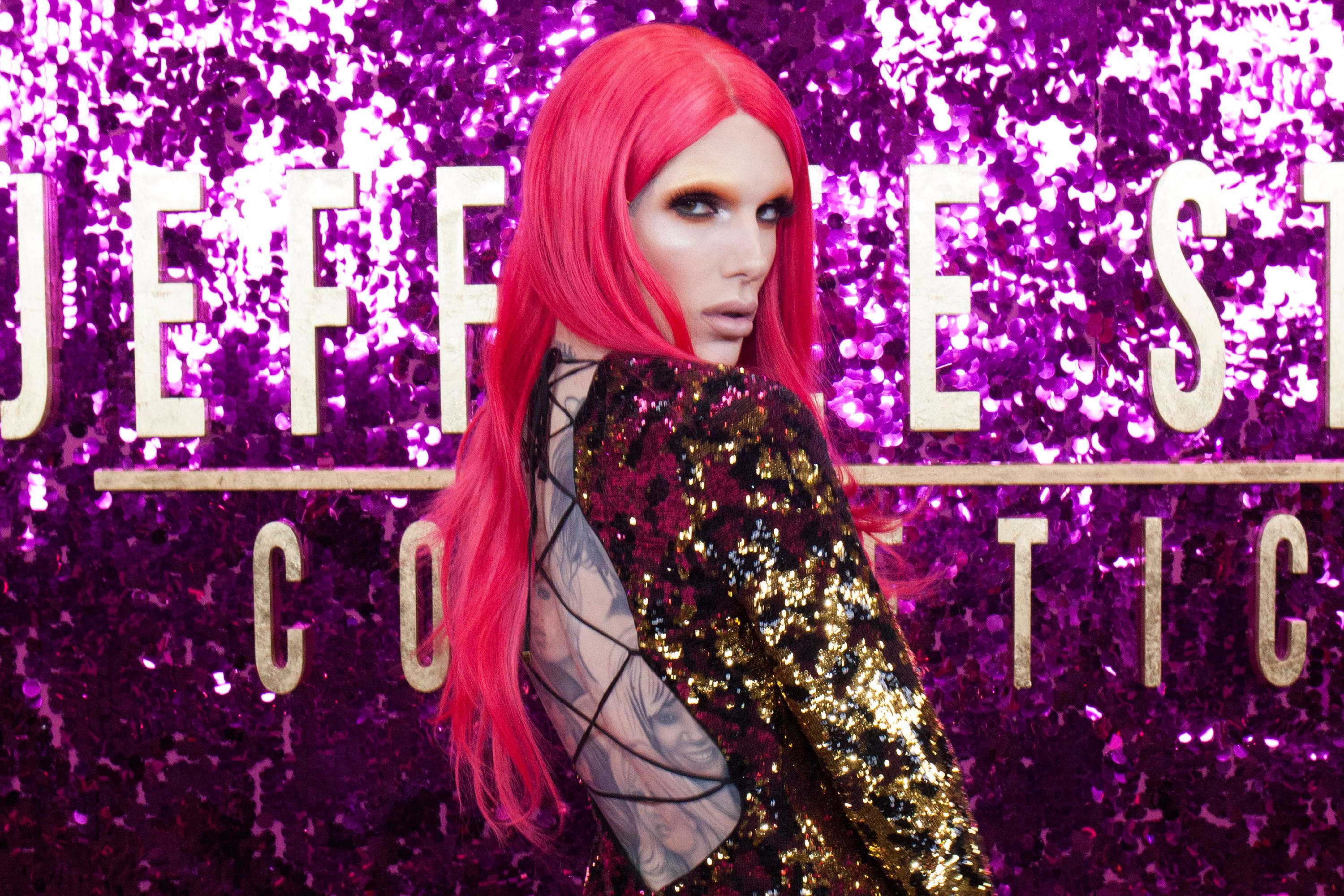 Jeffree Star fans came out for the makeup artist on Black Friday by purchasing his line of Holiday Edition Mystery Boxes. But rather than being excited about the early Christmas present, they were left unimpressed by what exactly the mystery was. Here's why the mystery boxes are stirring up some drama in the Jeffree Star fan community.
Article continues below advertisement
Jeffree Star's Mystery Box drama started because of a set of stickers.
When Jeffree initially announced his Black Friday deal on three different mystery boxes, there was a little confusion. He announced it via a flyer and on his website.
Article continues below advertisement
But the flyer said that "each box contains at least 1 exclusive mystery cosmetic item." The website said that "each tier contains different exclusive items ranging from cosmetics to accessories to apparel. Additionally, the premium and deluxe tiers will feature at least one exclusive cosmetic only available in these boxes." Unfortunately for the makeup artist, it was immediately apparent that most people only saw the flyer and didn't read the website's fine print.
He was sent many tweets asking how the stickers in the mini box, priced at $20 on Black Friday, counted as a cosmetic item. It turns out that the stickers were created in collaboration with a tattoo artist friend of his and Jeffery was rather upset that people were not grateful for having received them.
Article continues below advertisement
He responded to one of the tweets from a girl who stated that she was upset about having only gotten a sheet of stickers instead of a cosmetic product. His response has since been deleted, but, after getting the response from Jeffree, the Twitter handle was deleted.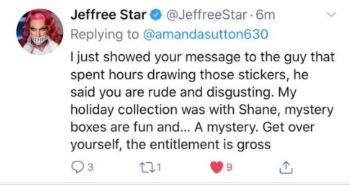 Article continues below advertisement
Jeffree has since changed his attitude over the issue and is addressing the miscommunication.
Although initially upset over the fan reaction to his sticker sheet, Jeffree has decided to refund anyone who bought the mini box under the impression that they'd get a cosmetic product. He published a statement from his Jeffree Star Cosmetics team stating that, not only will anyone who bought the mini box be refunded, but they'll still receive the box as planned.
Despite the drama, most fans have been thankful for the change, responding to the statement saying that the 34-year-old is making the right choice.
Article continues below advertisement
Now fans are divided over another part of the boxes: the highlighter palette. 
Those who received the mystery boxes have shown love for the new Peppermint Frost highlighter palette. But one thing Jeffree couldn't help but notice was that not all the people who ordered the makeup actually used it. Some people are reselling it for upwards of $125.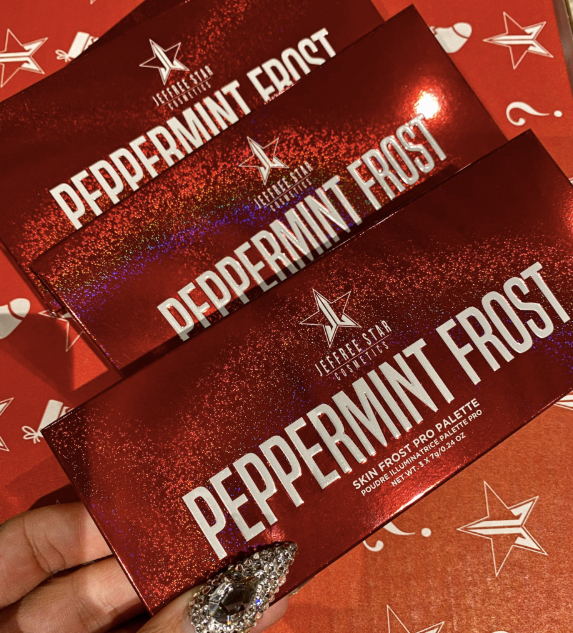 Article continues below advertisement
When he called this out on Twitter and suggested that he sell the item separately for anyone who wants the palette but not the whole mystery box, he was immediately met with backlash. He posted again saying that he had received death threats for making the suggestion because it was billed as an exclusive to the mystery boxes and decided that the Peppermint Frost palette will never be made again.
It seems like Jeffree can't win with these gift sets and only time will tell if more drama arises from the sale.