There's a Rumor That Jeffree Star Owns Morphe, But Here's the Tea
There's been a rumor going around that Jeffree Star owns Morphe, the giant cosmetic company but what's really the truth? We find where the rumor started and the truth.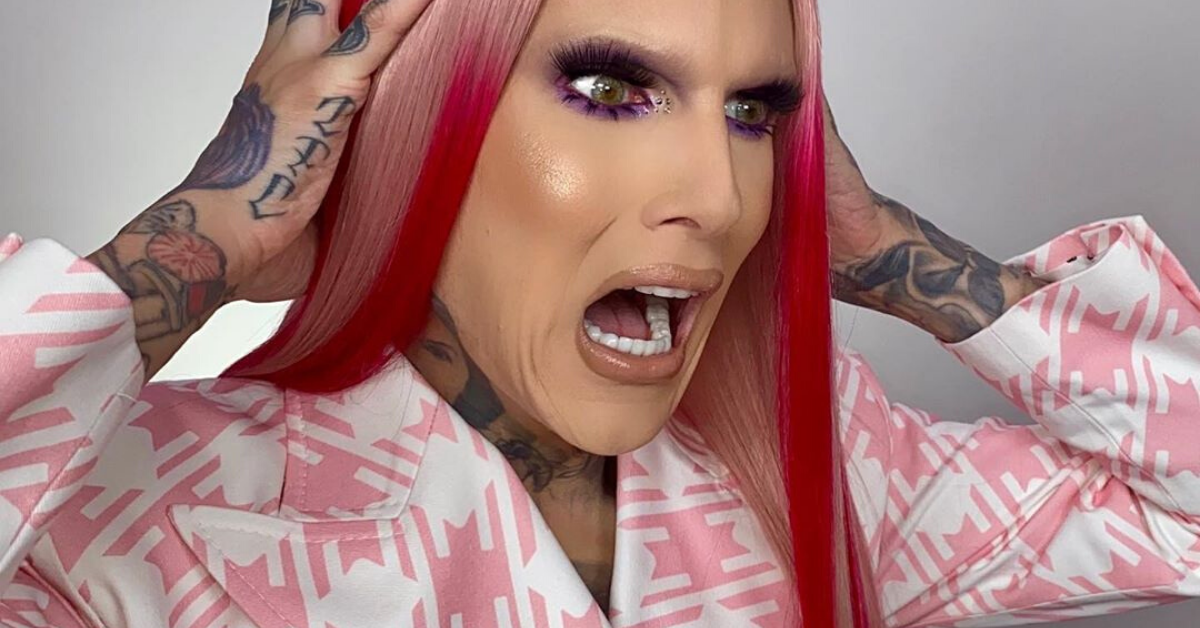 Unless you're in the beauty world, it likely comes as a surprise to hear that there is a lot of drama and rumors swirling within the makeup cosmetics world. With so many companies paired up with major beauty influencers and collaborations that go wrong or others that go so right, many are jealous or suspicious; there is tea to sip for days when you take a more in-depth look into the world. One recent drama-filled beauty stems from a rumor that Jeffree Star owns Morphe, a cosmetic company that launched to be very similar to Sephora.
Article continues below advertisement
Jeffree owns his own makeup company, Jeffree Star Cosmetics, but he has been selling his line in Morphe brick and mortar stores and on their online shop, as well as his own. Then he started doing makeup collaborations with the Morphe, and more questions were asked.
Article continues below advertisement
Where did those rumors that Jeffree Star owns Morphe start?
It is hard to pin down exactly when this rumor started with Jeffree Star because it's not the first time people have questioned who owns it. Two years ago, rumors began popping up on Reddit, wondering if the company was owned by another big beauty guru, Jaclyn Hill, who also does collaborations with the company. But the Jeffree Star owns Morphe rumors spiked this week when another YouTuber posted a video with "proof" that Jeffree does own the other makeup company too.
Skelotim posted a YouTube video to his channel on April 22nd with the title Jeffree Star owns Morphe! In the video, he claims to finally have proof on the rumor that's been circling for quite some time, that Jeffree Star owns Morphe. According to him, Jeffree Star "hasn't spoken bad about Morphe" despite there being "several flops" in terms of products released from the company.
Article continues below advertisement
Skelotim says Jeffree isn't shy about telling another company or brand when they released a product that wasn't good – so Skelotim grew skeptical why Jeffree never spoke poorly of Morphe. And claims the reason for that is because Jeffree owns Morphe. Now he says he has proof it's true.
Article continues below advertisement
What is this "proof" that Jeffree Star owns Morphe?
In the Skelotim video, he shared a clip from another YouTube video where Jeffree Star visits Johnny Dang, a company that makes custom jewelry and customized grillz. In the video, the two begin talking about grillz, which we're assuming Jeffree is visiting to browse for a new custom one. When Johnny Dang asks Jeffree about Morphe, he's curious what it is.
Article continues below advertisement
Jeffree answers, "It's a company called Morphe Brushes, so it's like a company I invested in, and I have my own brand in the store. Kind of like Sephora, but like… better." He then goes on to share how many stores they have across the world – 75 in total this year opening by Christmas. And then the video goes back to talking about grillz.
So, does Jeffree Star own Morphe?
No, technically, it sounds like he's invested in the company, but it doesn't necessarily mean he owns the stores, the company, and the brand. If you take a look at the Morphe website's About page, the company was launched in 2008 by siblings Chris and Linda Tawil.
Article continues below advertisement
When they started, they did so by partnering with several very well-known makeup influencers and "co-created entire lines branded in collaboration with stars of the online makeup tutorial genre, each of whom boast millions of social media followers."
Those stars are also featured on their website and are called Morphe Babes – one of them being Jeffree Star. Several others have all done collaborations or more with the company. While it is not known if they have all also invested money into the company, there has been some type of business dealings with each of them.
Article continues below advertisement
So, who really owns Morphe?
Earlier last summer, Morphe reportedly struck a deal with makeup mega-giant General Atlantic who purchased a "majority stake" in the Morphe brand. At the time of the sale, the press release stated: "all of Morphe's existing shareholders will continue to be investors in the company, according to the source."
If that does include Jeffree Star, he likely made some significant cash on that move – as did owners Chris and Linda Tawil, who remain "heavily involved" in the brand.