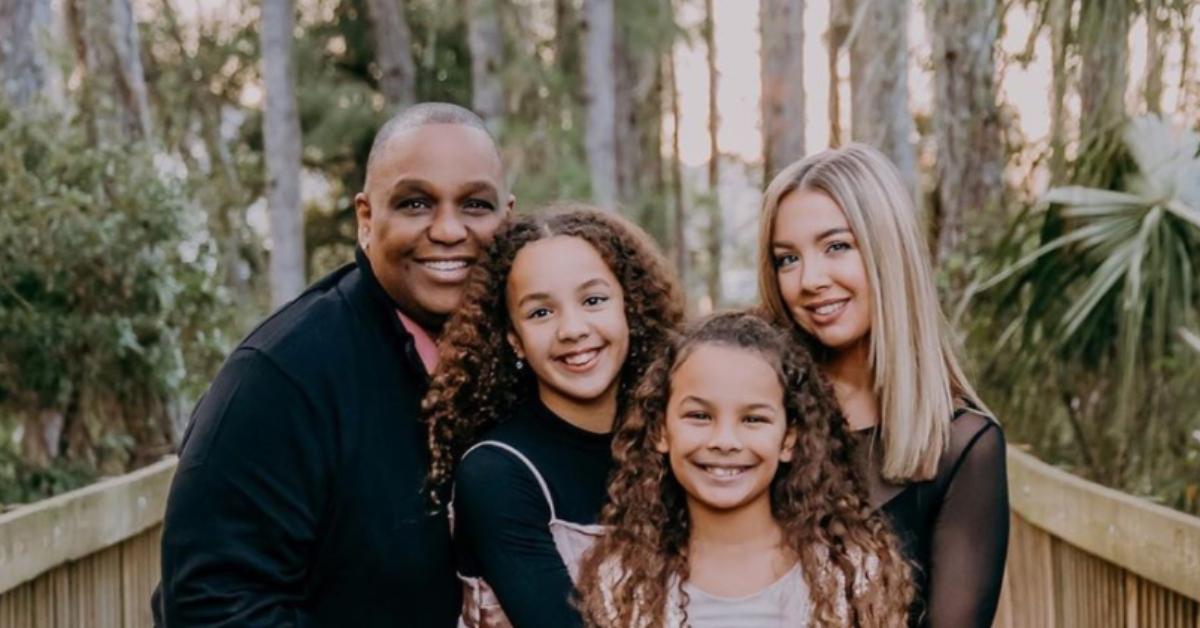 '90 Day Fiancé' Star Jenn Davis's Ex-Husband Is a Famous Radio Personality
Who is Elizabeth Potthast's and Andrei Castravet's harshest critic? As any 90 Day Fiancé fan would tell you, it has to be Elizabeth's sister, Jenn Davis.
From describing the Moldovan cuisine as "peasant food" to deeming the country "depressing," she managed to find fault with just about everything pertaining to Andrei's cultural heritage.
Article continues below advertisement
But why is she so reproving of him? And, more importantly, what's there to know about her relationship with her ex-husband? Here is everything you need to know?
Jenn reportedly met her ex-husband while interning at a radio station, WiLD 94.1.
For a while, Jenn was married to a well-to-do radio personality, Orlando Davis. As the program director at the Beasley Broadcast Group, Orlando built an impressive professional network.
He is said to have interviewed DJ Khaled, Plies, Ariana Grande, Wyclef, Tori Kelly, Bill Bellamy, Jo Koy, Gary Owen, and the likes in the past.
Article continues below advertisement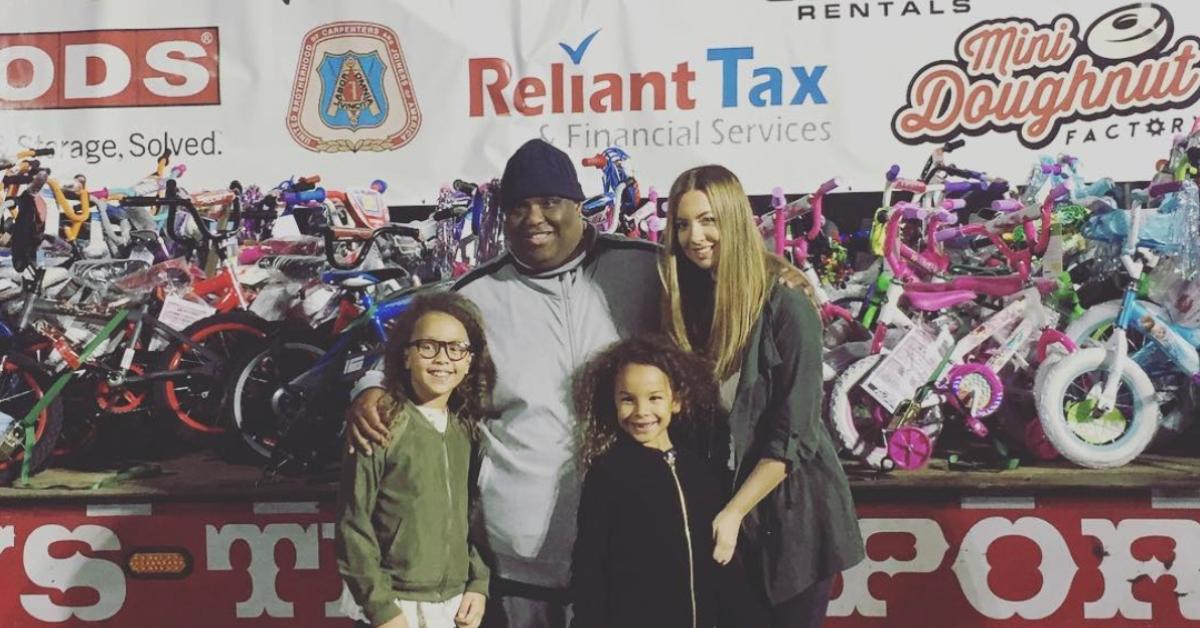 In addition to his work as a program director, Orlando also hosts a daily morning show, Orlando & The Freakshow, as well. As his official bio states, he is the proud recipient of awards like Billboard Awards Program Director of the Year and the Radio Music Awards Personality of the Year.
Article continues below advertisement
According to a popular fan theory, Jenn might have met Orlando while she was interning at his radio station. Unfortunately, however, there's not much information available on how long they were dating before they decided to get married, or what the reasons were behind their divorce.
Article continues below advertisement
Jenn often takes it to Instagram to post proud photographs of the former couple's beautiful daughters, 13-year-old Kaelyn Xia and 11-year-old Brielle Sarai.
Neither Jenn nor Orlando have posted photographs of each other for quite some time now, though it's likely that they are still in touch as they share co-parenting duties.
Jenn's comments about Andrei's background didn't bode well with some '90 Day Fiancé' fans.
Some fans of the show were baffled by Elizabeth's and Andrei's near-constant fights with Elizabeth's family. The majority chalked up the frosty relations as the result of the Potthasts' unusually rigid approach and lack of willingness to help Andrei integrate into the family.
Although Elizabeth and Andrei have been together for quite some time now, Elizabeth's somewhat old-fashioned family has failed to treat him as an equally valuable member of the clan.
Article continues below advertisement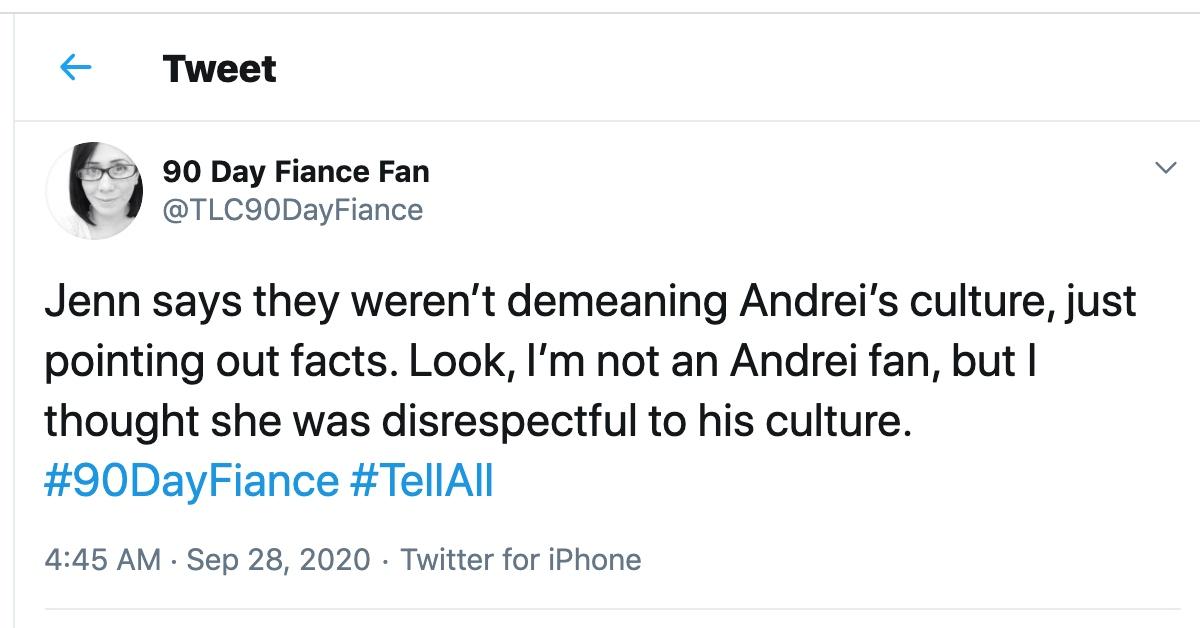 "Watched the latest 90 Day Fiancé Tell All and I CLAPPED when Andrei was like, 'It means only one thing, they don't have a culture' to Libby's stereotypically white American family LMAO calling Moldovan cuisine 'peasant food' and 'scraps' is so ugly get off ur high horse," tweeted a viewer.
Others felt even more confused about Elizabeth's meekness, and her seeming inability to stand up for her husband.
"I'm so sick of seeing Libby turn to Andrei and continue to attack him with her family. At what point do you say this is my husband, and start standing up for the relationship you're CHOOSING to be in?? " wrote somebody else.
Preach.