Jenni Rivera's Life Really Has All the Ingredients for a Perfect Telenovela
Why did Jenni Rivera and Juan Lopez divorce? Plus, who were the star's other ex-husbands? Here's everything you need to know about the diva of banda.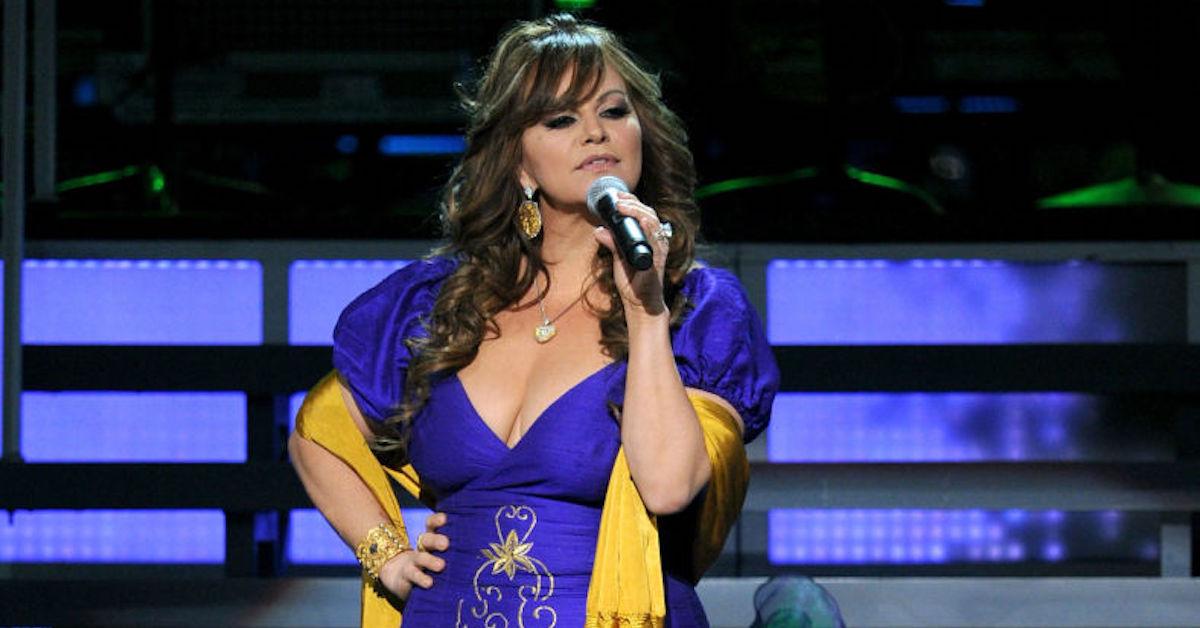 When it comes to TV obsessions, nothing ticks all the boxes for Latinx Netflix subscribers quite like Mariposa de Barrio, the 91-episode Telemundo series that is teaching audiences about the life of Diva of Banda Jenni Rivera.
Article continues below advertisement
Article continues below advertisement
Who were Jenni Rivera's ex-husbands?
Jenni Rivera was married three times in her 43 years. She became pregnant at 15 with daughter Chiquis Rivera, to whom she gave birth in 1985, and went on to marry her baby daddy, José Trinidad Marín, aka Trino.
Trino and Jenni went on to have two more kids: Jacqueline and Michael.
After eight years of marriage, Jenni and Trino split up in 1992 when Jenni found out that Trino was sexually abusing her younger sister, Rosie Rivera, and their daughter, Chiquis.
Article continues below advertisement
Jenni also revealed that she was a victim of domestic abuse during her first marriage, and pressed charges against Trino. A molestation case was opened in 1997, but Jenni's first husband wasn't apprehended until 2006 after nine years of running from the law.
In 2007, he was sentenced to 31 years in prison without parole for sexually abusing Rosie, Chiquis, and his youngest daughter, Jacqui.
Article continues below advertisement
Why did Jenni Rivera divorce Juan Lopez?
Juan López and Jenni married in 1997, two years after they met in LA. But just weeks after getting married, Juan was arrested on allegations of smuggling undocumented immigrants across the border.
He had to serve six months in jail, but went on to have two kids with Jenni when he finally got out: daughter Jenicka and son Juan Angel, aka Johnny Angelo.
Jenni explained that the marriage wasn't what she had hoped for. It turns out that Jenni suffered a great deal due to Juan's infidelities, which she details in her autobiography Unbreakable: My Story, My Way, on which Mariposa de Barrio is based.
Article continues below advertisement
Juan was also selling drugs around the time of their divorce, which was apparently the official reason for which Jenni ended the marriage in 2003. One blog writes that Jenni had known about Juan's drug dealing long before they hit rocky grounds, but "notified the authorities only when she found him cheating on her" with a different woman.
Article continues below advertisement
Jenni's third marriage lasted only a couple of years.
In 2010, Jenni married her third husband, baseball player Esteban Loaiza, not to be confused with the love of Jenni's life, singer Fernando "Fernie" Ramirez, who she affectionately called "El Pelón."
Jenni and Esteban were in the middle of their divorce proceedings when the star died in a plane crash, apparently because of a misunderstanding that led the "De Contrabando" singer to believe that her daughter Chiquis and her husband had become romantically involved.
"The world and my family lost Jenni on December 9," Chiquis said in a 2013 interview with Azteca América, according to Mamas Latinas. "I lost my mother two months before on October 2. It was a misunderstanding. My world ended on that day. Every day I have to live with this, no one knows the pain I carry, especially because it was a misunderstanding, there were so many people in the middle that caused so much pain, so many problems that it was impossible not to be upset."
As for Jenni's true love and soulmate, Fernie, he's still making music today.
Stream Mariposa de Barrio on Netflix to learn more about Jenni and the many things that happened over the course of her short life.