Were Shakira and Jennifer Lopez Lip-Syncing During the Halftime Show?
The Super Bowl halftime was at the center of some controversy this year. People are wondering: Were Shakira and Jennifer Lopez lip-syncing?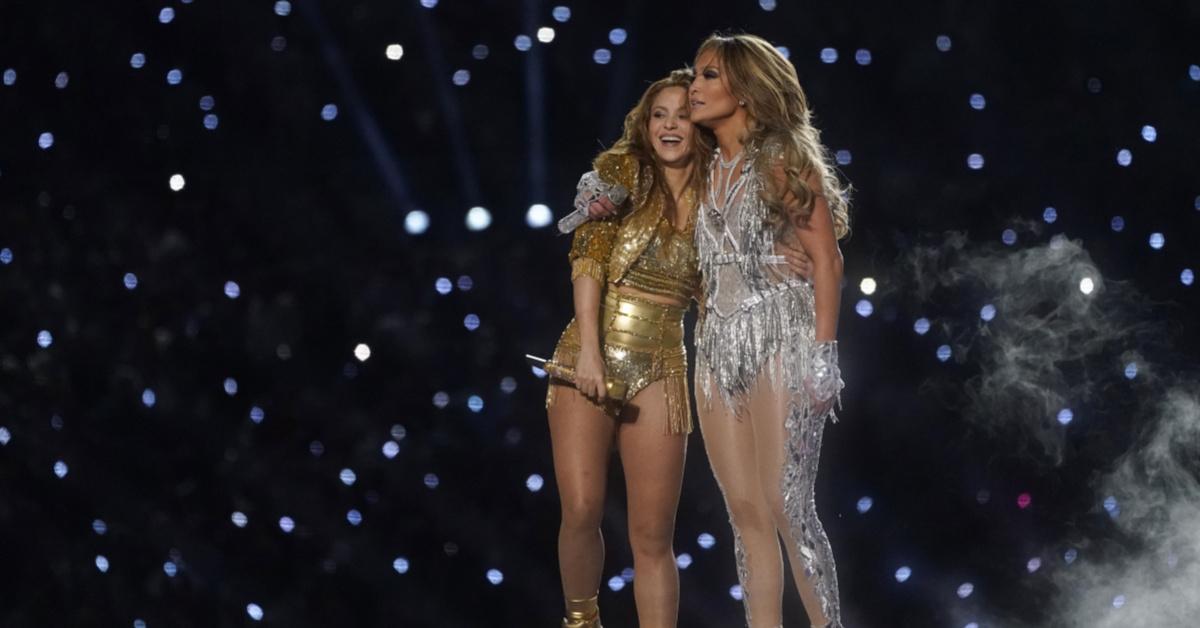 Well, the Super Bowl is officially over. All that's left to do is debrief about the commercials and talk about the halftime show. First of all, let's get this out of the way: Shakira and Jennifer Lopez were incredible halftime show performers.
However, as you've been scrolling through your various feeds, you may have noticed that there has been some controversy surrounding their show. Some people have even wondered if Shakira and Jennifer Lopez were lip-syncing during their performances.
Article continues below advertisement
Were Shakira and Jennifer Lopez lip-syncing during the halftime show?
As soon as Shakira and Jennifer Lopez took the Super Bowl stage, people had a lot to say. As you'd probably expect, there were plenty of people complaining about various details about the performance (because some people apparently just don't want to be happy). One of those details was that Shakira and Jennifer Lopez were lip-syncing during their performance. Wrestler Disco Inferno even tweeted about it:
Article continues below advertisement
But were Shakira and J.Lo actually lip-syncing? Well, maybe! It's actually pretty standard for Super Bowl halftime shows to be pre-recorded. According to the San Diego Union-Tribune, live music is usually the exception, rather than the rule, when it comes to Super Bowl performances.
Jim Steeg, who worked on the Super Bowl production team for more than 20 years, said back in 2003 that there are "a lot of problems if you are singing live at the Super Bowl [...] You also have problems with echo in a stadium... And you get a lot of talent that may have played to big crowds before, but nothing like this." (Obviously, that last point isn't relevant to either J.Lo or Shakira, but it makes sense for plenty of other performers.)
Article continues below advertisement
For this reason, halftime performers typically sing along with a pre-recorded vocal track. However, they're still actually singing — it's usually up to the performers how much of the live vocals they actually want to feature in the show.
Article continues below advertisement
Lip-syncing makes a lot of sense for a lot of Super Bowl performers.
If you think about it, production crews have very little time to set up everything before the halftime show starts. And when there are a lot of moving pieces — as there were in Shakira and J.Lo's show — there's also a lot of room for error. All it takes is one mistake and the audience could be left with a disappointing show. We can hardly blame any performers who elect to lip-sync on such a huge performance.
Even Lady Gaga — who said she better not hear any lip-syncing before the show — congratulated everyone on a stellar performance once it was done. And if something is good enough for Lady Gaga, you know it's good enough for the rest of us, too.
Either way, we were totally blown away by both Shakira and J.Lo during the halftime show. And even if they were lip-syncing, it would still be them in the pre-recorded vocal tracks! Maybe it's time to worry less about whether Shakira and J.Lo were lip-syncing during the show and worry more about, like, literally anything else. Like that horrifying Jason Momoa commercial, for instance.