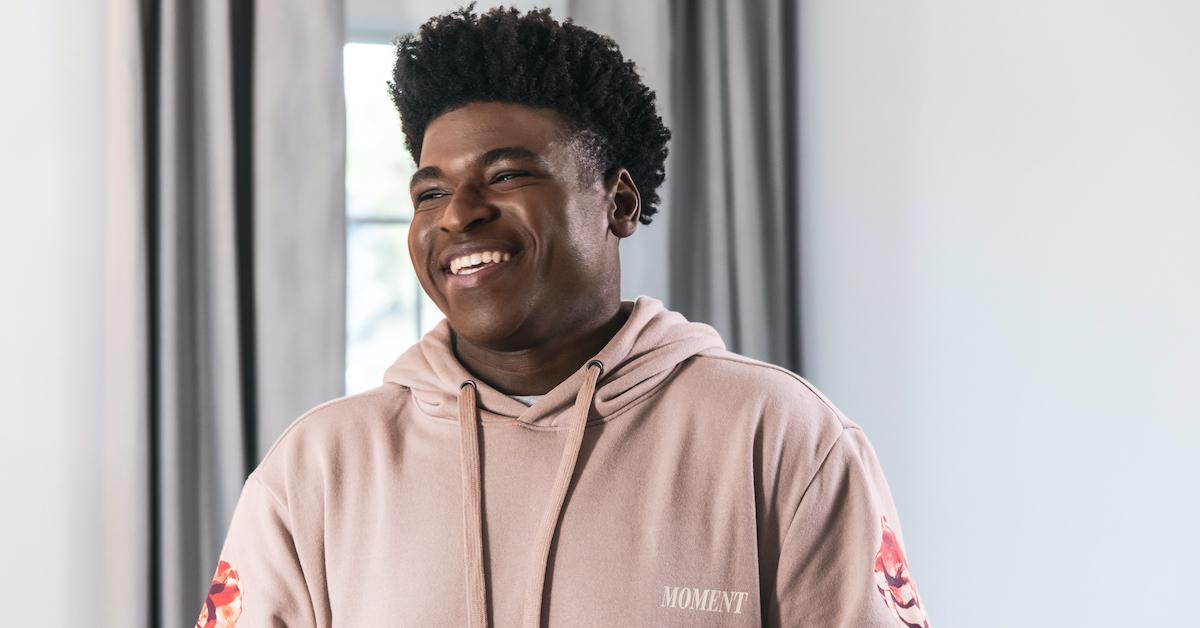 Jerry Harris Tells Us About the Unbreakable Friendships We Saw on 'Cheer' (EXCLUSIVE)
From Coach Monica's inspirational speeches to Morgan's heartbreaking backstory, Netflix's college cheerleading docu-series Cheer quite literally gave us all the feels. But at the end of the day, most of us can agree that the absolute best part of the sports doc was the series' breakout star Jerry Harris who values his friends and teammates over everything else.
Article continues below advertisement
In this exclusive interview, Jerry Harris tells us about the incredible relationships he still has with his Cheer teammates a full year after graduating, what it was like to become a "cheer-lebrity," and his best advice for students going back to school (or those who will be learning from home this year).
Article continues below advertisement
Jerry Harris says he still talks with his Navarro teammates every day, a full year after graduating.
In the Cheer season finale, Jerry waves a tearful goodbye to his Navarro teammates to complete his bachelor's degree at the University of Louisville. And although leaving his beloved Navarro teammates behind was just as difficult as watching them forgo their annual competition in Daytona due to the coronavirus, he says they all still stay in touch through an epic cheer-ful group chat.
"I video-call my friends and teammates literally every day," Jerry tells me. "Just because we aren't physically together doesn't mean we can't be close.
"I keep in touch with all of my friends at Navarro. We have a group text that is always going and we are always sharing things. Monica too! I keep in close touch with LaDarius, Gabi, James, Jay, TT, really all of them. I am so blessed to have such amazing friends in my life."
Article continues below advertisement
Would Jerry and LaDarius co-host the 'Bad Girls Club' podcast? We certainly hope so.
In case you don't recall, Jerry's roommate at Navarro College was LaDarius, one of the most focused and talented stumblers on the team. And although one might think Jerry's soft, upbeat personality would collide with LaDarius' intense demeanor, they regard each other as "family for life," and Jerry hopes they'll work on future projects together.
Article continues below advertisement
"I love LaDarius — he is my brother. He will be family for life," Jerry says. "I will always have his back and be there for him, just like he is for me. I would love to work with LaDarius on something, let's get a show started!"
Jerry says he "has a few really exciting projects that [he's] working on," right now, and we're really hoping that includes a LaDarius-Jerry podcast. Needless to say, we will certainly be the first to subscribe if that truly becomes a reality.
Article continues below advertisement
Somehow, Jerry never imagined that his "mat talk" would propel him to cheer-lebrity status.
Jerry was — by far — the most positive force on the Navarro College cheerleading team with an epic mat-talking game. If you need a refresher, "mat talk" is when teammates encourage each other from the sidelines, and Jerry's mat talk was the epitome of sportsmanship. He says he has always enthusiastically encouraged his teammates, and never realized its impact.
"It feels good to be supported and encouraged and I think people respond to that. I think there are so many people looking for ways to tear others down and people are tired of all that negativity. It is draining to see so much unkindness in the world. I think people really just want to feel good and that is what mat talk really is, just trying to encourage people to feel good about themselves," he tells me.
Article continues below advertisement
It was clear from the start that Jerry was the series' breakout star, but he never saw it coming.
"The truth is I really just don't see myself like [a celebrity]. I am still just regular Jerry... My family keeps me humble," he tells me. "I know I am an ordinary kid living an extraordinary experience right now. I know I am very blessed, but I still feel mostly like the same guy. I love that there was such a positive response to the show and that so many people loved it. That makes me happy."
Article continues below advertisement
For returning college students, Jerry has a few words of wisdom.
And while things might be looking a little bleak for recent and soon-to-be grads alike, Jerry has some unsurprisingly positive advice: keep your head up.
"Always look forward to the future! The class of 2020 is the toughest group out there," he says. "You're making lemonade out of lemons, and it's so inspiring. Keep finding ways to make your freshman year a great one, even if it looks different than normal."
Article continues below advertisement
Jerry's innate ability to stay positive and maintain friendships is truly inspiring. We could all learn a thing or two from the beloved Cheer star.