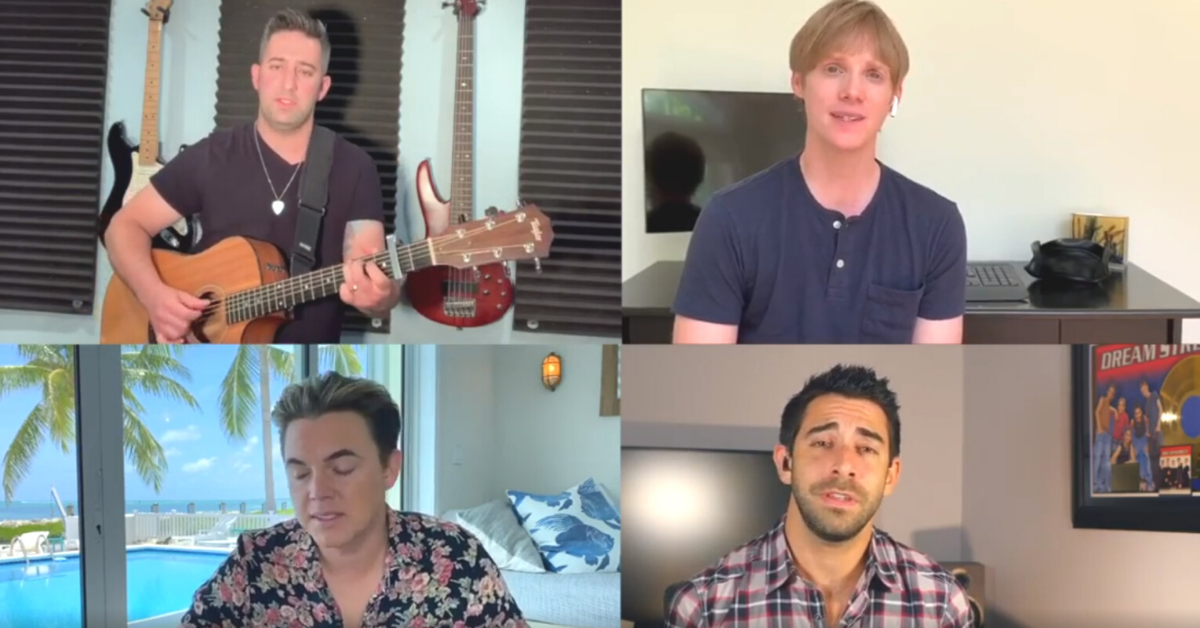 Dream Street Performs Song in Memory of Bandmate Chris Trousdale
The band is back together. The members of Dream Street reunited for a virtual singing session in memory of bandmate, Chris Trousdale. Chris passed away on June 2 due to complications from COVID-19 and in honor of what should have been his 35th birthday, fellow members of Dream Street honored him with a song. It was a beautiful sentiment, but was ruined by some with people addressing plastic surgery rumors around Jesse McCartney.
Article continues below advertisement
The Dream Street team got back together, virtually.
Singing from their own homes and connecting through video conference, Jesse McCartney, Greg Raposo, Frankie Galasso, and Matt Ballinger sang their 2001 hit "It Happens Every Time." The video, which was posted to Instagram on all their individual accounts, included footage of the group singing together and throwback clips of Chris singing in the studio and onstage.
Article continues below advertisement
Each of the bandmembers posted the video to their Instagram profiles and included their own caption.
"In Loving memory of Our Friend Chris. Happy Birthday bud," Frankie wrote along with the video.
"It Happens Everytime- Dream Street Tribute for Chris 6/11/85 - 6/2/20," Matt posted.
Greg wrote, "Honored to have been asked to host. Even in death your show was sold out. Thank you everyone for coming together to celebrate his life. He'd be proud. So much LOVE here for you."
Article continues below advertisement
Dream Street honored their fallen band member, Chris Trousdale.
Chris, who became part of Dream Street in 1999, died on June 2, according to a statement posted on his Instagram account.
Article continues below advertisement
"It is with a heavy heart that we confirm the passing of Chris Trousdale on June, 2, 2020 from an undisclosed illness," read a statement shared to his Instagram account. "He was a light to so many and will be missed dearly by his family, friends and fans all over the world."
His family requested privacy at the time, which was addressed in the statement on his Instagram profile. "Although it felt like he belonged to us all, the family is requesting that you respect their privacy at this time of grieving."
Article continues below advertisement
A day later, on June 3, Jesse McCartney confirmed Chris passed away from COVID-19 complications. "It pains me to say that an old friend, Chris Trousdale, from my early days in the music industry has passed away due to complications from COVID-19," he wrote on Instagram. "Chris had an explosively charming personality with boundless amounts of talent."
Article continues below advertisement
Jesse McCarteney plastic surgery rumors popped up again.
It seems every time Jesse is in the news, even if it's for something touching like the tribute to his bandmate who passed away, people have to speculate. Jesse McCartney is someone many of us have watched grow up. After all, he started on stage at just 7 years old.
Article continues below advertisement
Now that he's a 33-year-old man, we can't expect him to look exactly the same as he did as a teenager. And these Jesse McCartney plastic surgery rumors have been following him for years.
Article continues below advertisement
If he has had plastic surgery or Botox, he's never addressed it. And it may just be that, if we're seeing his face look differently from how it did in 2004, it could be because he's not 17 anymore. Either way, in this time of grieving, our hearts are with the Dream Street band and all of Chris' loved ones, who should be allowed to grieve in peace.
The best way to prevent contracting or spreading the coronavirus is with thorough hand washing and social distancing. If you feel you may be experiencing symptoms of the coronavirus, which include persistent cough (usually dry), fever, shortness of breath, and fatigue, please call your doctor before going to get tested. For comprehensive resources and updates, visit the CDC website. If you are experiencing anxiety about the virus, seek out mental health support from your provider or visit NAMI.org.