Who Is J.J. McCarthy's Girlfriend? Meet Katya Kuropas
Michighan Wolverines quarterback J.J. McCarthy is currently taken. Here's what we know about his girlfriend Katya Kuropas.
As J.J. McCarthy (real name Jonathan James McCarthy) scored on the field during Michigan's recent game against Texas Christian University, it seems that his father might have also been trying to score, but in a different way.
The University of Michigan quarterback's dad was captured on camera touching his son's girlfriend in what appears to be an inappropriate manner. Who is she and what happened? Let's take a look.
Article continues below advertisement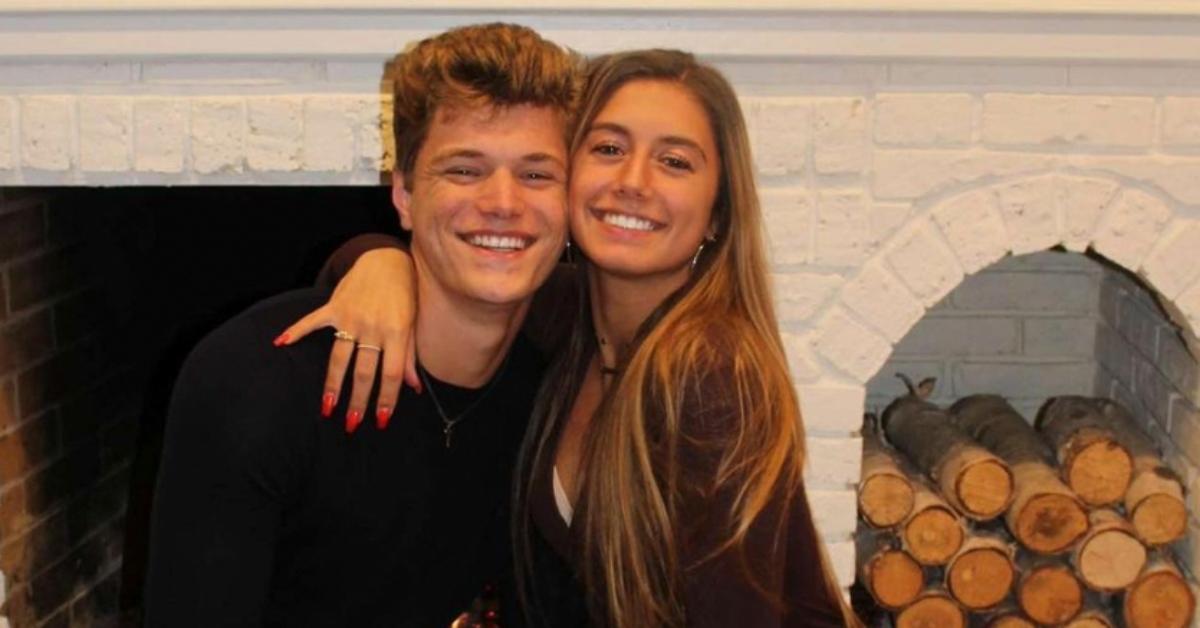 Who is J.J. McCarthy?
J.J. McCarthy is an American football quarterback for the Michigan Wolverines. The 19-year-old became Michigan's starting quarterback in the second week of the 2022 season.
In an Instagram post from Oct. 9, 2022, he revealed that he and his girlfriend Katya Kuropas were high school sweethearts and had been together for over four years.
"Blessed and extremely grateful for your love and pure heart. Together, forever, whatever life brings," he wrote alongside a montage of photos of the pair.
Article continues below advertisement
Unfortunately, J.J. and his team lost their final game to the TCU Horned Frogs during the Fiesta Bowl. While he was heartbroken, he knew he and his teammates had given it their all.
Article continues below advertisement
"We fought our hearts out," J.J said during a press conference. "There were a lot of things that we could have done better. I can't wait to watch the tape. But we will be back. I promise that," he continued.
And now, on top of this devastating loss, there is news circulating that his father got a little too handsy with Katya in the stands during this game.
J.J. McCarthy's father allegedly touched J.J.'s girlfriend inappropriately during game.
In a TikTok video, Jack Mac, a reporter for Barstool Sports, shared a clip of J.J. McCarthy's family celebrating after J.J. scored during the game. "Let's dive into this viral video of J.J. McCarthy's father allegedly getting a little too touchy with J.J.'s girlfriend," he said after pointing out where J.J.'s mother, father, and Katya were in the stands.
Article continues below advertisement
In the clip, J.J.'s mother appears to be hugging someone in celebration of her son's touchdown. Meanwhile, J.J.'s father is seen awkwardly standing nearby. He then turns toward Katya and appears to touch her behind and slide his fingers up as she's standing with her back facing him. The game, which was being broadcasted live, then abruptly cut to a commercial break.
Article continues below advertisement
"You know the fingers are whatever, but the little touch of the butt at the end, I mean c'mon dude," said Jack disapprovingly. "I don't have any kids or kids who have girlfriends, but I would think that if my son had a girlfriend, I would stay as far away as possible as I could from her," he continued.
In the comment section of the video, people had mixed thoughts on the incident.
"Bro, clearly incidental contact ... No penalty here. Move along haha," reckoned one user. Another person disagreed and believed Mr. McCarthy should amend the situation. "He needs to come forward and explain for the sake of his son," the comment read. Other users argued that Mr. McCarthy might have mistaken Katya for his wife, as her backside faced him.
So, what's the truth? As of writing, J.J. McCarthy has not commented on the situation.