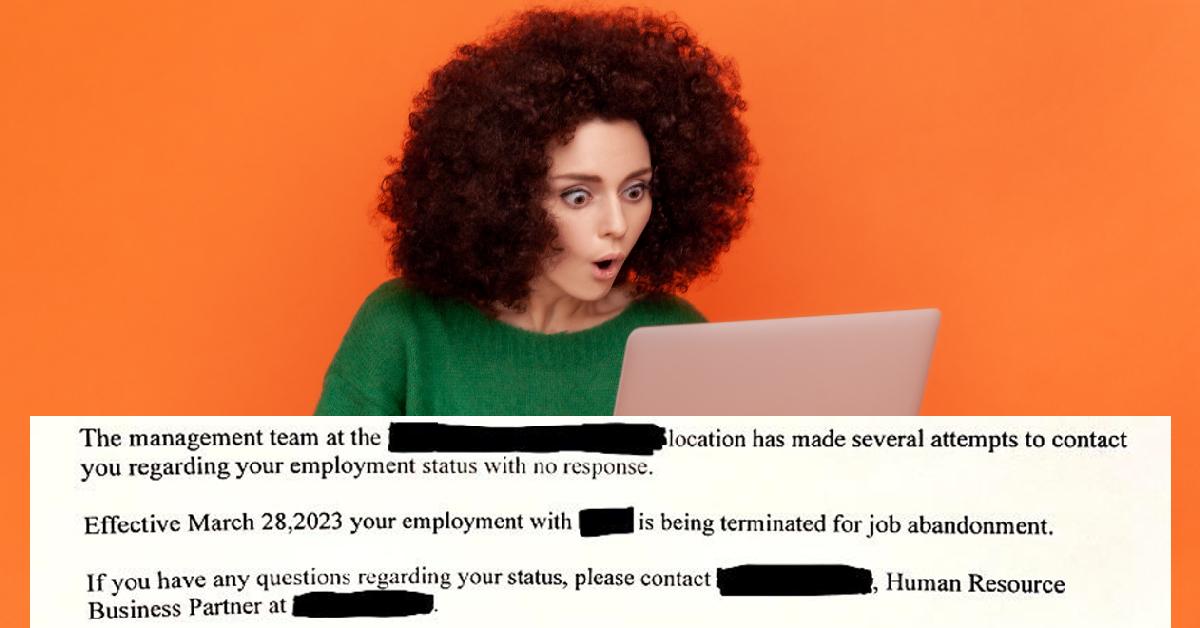 Company Accuses Former Employee of Job Abandonment 2 Years After They Quit
An employee got an official letter that they've been terminated from a job they officially resigned from 2 years prior.
When you finally quit a job that you couldn't stand despite all your best efforts at making it work, getting little reminders of said job may trigger some workplace PTSD that can be hard to shake.
Maybe you'll be at a friend's house for the first time and see that they have Green Mountain Keurig coffee cups that remind you of the pitiful solace you experienced in a window-less hole as the minutes passed like seconds before you had to return to your shift.
Article continues below advertisement
Or maybe you'll see a former manager who had no idea what the heck they were doing driving along on the highway and you hope that they don't see you. Or even worse: maybe you run across them at the grocery store and they spot you and start heading your way to strike up a conversation.
For Redditor @Sp4c34ndT1m3, it came in the form of a termination of employment letter dated some two years after they officially resigned from their position with the company, and they were worried that the accusation noted in the letter that they left due to "job abandonment" would somehow follow them throughout their professional career.
Article continues below advertisement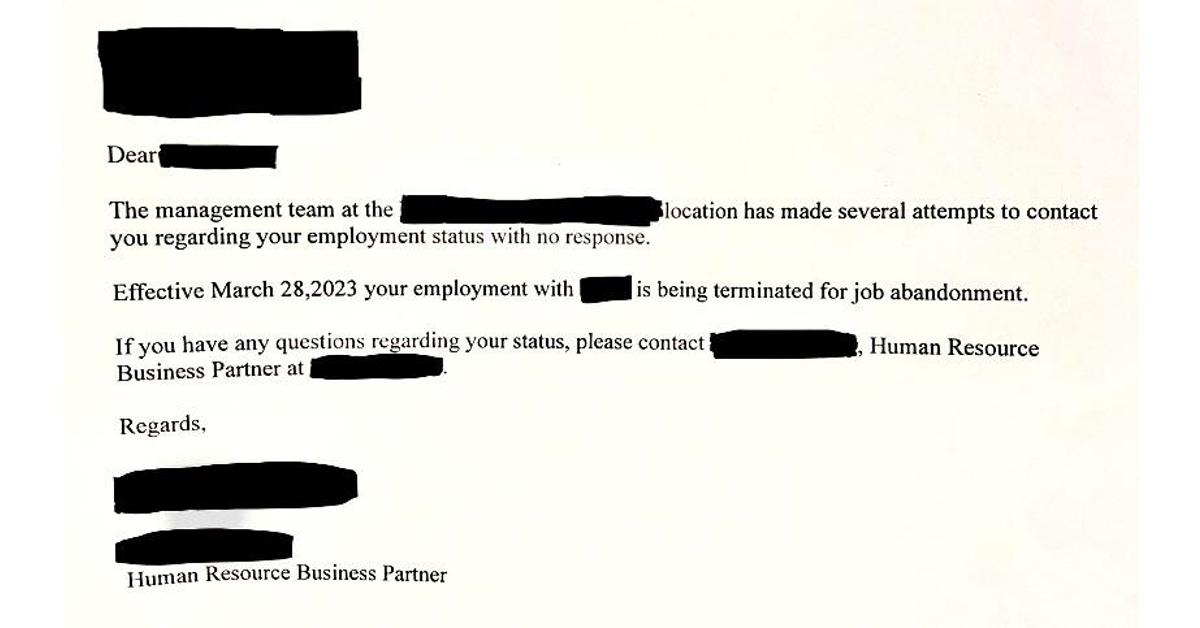 The notice reads:
"Dear [redacted],
The management team at [redacted] location has made several attempts to contact you regarding your employment status with no response. Effective March 28, 2023, your employment with [redacted] is being terminated for job abandonment.
If you have any questions regarding your status, please contact [redacted], Human Resources Business Partner at [redacted].
Regards,
[redacted]
Human Resources business partner."
Article continues below advertisement

OP says that they are "very confused and concerned about this development" and gave some backstory to what transpired at their job before they received the letter.
Article continues below advertisement

They indicate in their post that they gave their boss 2 weeks' notice prior to leaving the "bad" gig because they were moving. According to the Redditor, they were injured on the job and it took them "months" to get the proper paperwork processed in order to receive their funds.
Article continues below advertisement

While their job displayed a lack of punctiliousness when it came to assisting them with workman's comp, OP assumed that their resignation letter would be taken as an official resignation and that their position with the company would be subsequently terminated.
Article continues below advertisement

However, this wasn't the case. Nearly two years after leaving their job, OP received the aforementioned letter in the mail, leaving them wondering if there were any repercussions they could face from being accused of "job abandonment."
Article continues below advertisement

They turned to Reddit's r/antiwork sub to share the image and ask folks for any pointers as to what would be the best course of action in addressing the letter.
Folks had a variety of different opinions on the letter OP received. One commenter wrote: "This either feels like a ppp loan fraud or a new hr person took over and is incredibly stupid"
Article continues below advertisement

Another Redditor provided a possible explanation for what went down: the "new HR or Finance person did an employee audit [and] identified all 'ghost employees' and terminated them for not being there which is technically true, just not accurate."
They went on to recommend to OP that they should simply reply to the message that they were sent "with the actual facts."
Article continues below advertisement

So why would they keep an employee in the system for so long? One Redditor provided a comment that provides a pretty good explanation for that sort of thing, and it boils down to convenience: "We recently 'fired' a bunch of people, some of whom we'd actually fired twenty years ago.
They'd been disabled in Payroll, but not actually terminated because we often have past employees come back weeks or months later and it was easier to just enable them again.
I can confirm that this sort of thing happens."