Does Joe Rogan Have a Podcast Studio in His Home?
Joe Rogan's podcast is arguably one of the most successful radio programs ever conceived. Fans want to know though, does he stream from his house?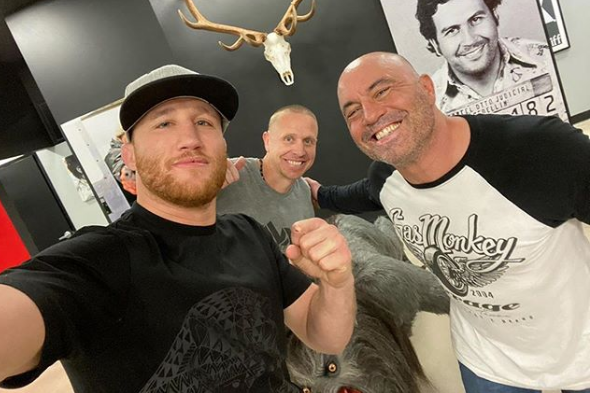 While Joe Rogan is a household name with probably the most enviable entertainment career in the world, the comedian/UFC commentator/podcast host/TV personality/actor/fitness guru didn't exactly become an "overnight" sensation. In fact, and as "corny" as this may sound to some, he really made his bones by following his heart.
It's a decision that's not only yielded him a lofty $100 million Spotify deal, but a sweet Bell Canyon house.
Article continues below advertisement
Where is Joe Rogan's podcast studio located?
When he first started the podcast, he had a studio set up in his California home. Then, starting on Nov. 24, 2011, a bunch of episodes were recorded at the Ice House Comedy club in Pasadena, Calif., which also goes by the name of Deathsquad Studios.
However, for the most part, almost all episodes of the podcast have been shot and recorded in a private studio Joe Rogan purchased in Woodland Hills, Los Angeles on Nov. 27, 2012.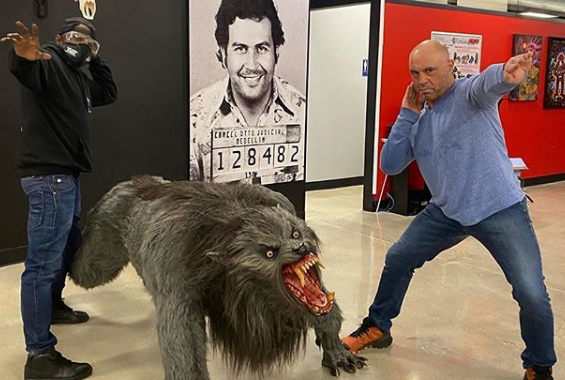 Article continues below advertisement
What's really remarkable is that Joe and his team have had minimal disruptions for his podcasts due to the coronavirus. In April of 2020, he began implementing testing for his guests before they enter the studio. At $299 a pop, that might sound like a pretty penny, and it is, but not when you consider that Joe makes a reported $75,000 per podcast episode on average.
It makes sense, however, when you consider the monster reach that The Joe Rogan Experience has. Joe averages about 190 million downloads of each podcast a month, give or take. Again, he did it without following a stringent "business" or traditional broadcast business model.
This is something he discussed in-depth on a recent episode with popular comedian Bill Burr, who came onto the podcast to talk about his Netflix series F is for Family along with the Judd Apatow flick King of Staten Island.
Article continues below advertisement
During the podcast, Bill brought up the importance of young comedians not allowing themselves to be beholden to managers that really don't do anything for them or their careers, but still want to take a cut of their podcast profits. Joe agreed, and, touching on his own Spotify deal, stressed the importance of having total creative control, which the streaming giant is allowing the longtime comedian.
Article continues below advertisement
Joe also talked about the growth of his podcast by word of mouth. He didn't advertise, he didn't try and pimp it or pay for banner clicks or use Facebook's sponsored posts, all he did was focus on creating the content he wanted to create. As a result, his podcast grew into one of the most influential communication platforms in the world that attracts all sorts of guests. From Mike Tyson, to Sir Roger Penrose, to Bernie Sanders, to Maynard James Keenan, to Robert Downey Jr..
Joe Rogan's house is proof that his "model" is working.
There's an idea that an artist has to remain "starving" forever in order to be financially successful, but that clearly isn't the case for Joe Rogan and several of his guests who have made a fine living for themselves managing their careers the way they want them to be managed.
His massive, $4.5 million Bell Canyon home is proof of that.
Article continues below advertisement
Located in a super upscale area of California, the house is in a little known gem in California's Ventura County and features a wonderful open concept design that allows you to see pretty much the entire house the second you walk in through the front door.
It also sits high up on a hill that allows him a gorgeous scenic view of Bell Canyon.
Article continues below advertisement
The house also contains a fully set up gym and a glorious bathroom where he can shower and change after his training sessions. Even though he conducts his podcast from a studio, he has a home office where he can get some work done and is only a few steps away from his family when he closes the laptop for good and enjoys some time with them.
Joe's success has come after years of working in the business and ultimately staying true to himself. He may wear many hats, but he wears them well.