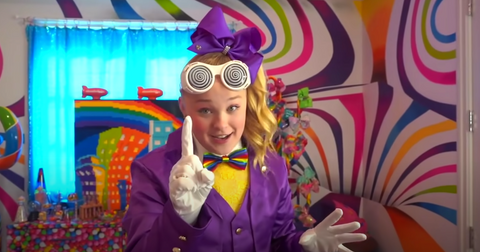 JoJo Siwa's House Is Basically Every 12-Year-Old's Dream Come True
By Michelle Stein

Updated
Everyone knows JoJo Siwa as that side-ponytailed, big-bowed blonde who always speaks as if she just threw back 12 shots of espresso. (Either that or you remember her from back in her Dance Mom days.) One thing's for sure: The 16-year-old definitely has a unique vibe going on — and she's managed to create a thriving business empire with the help of her massive YouTube following.
Between selling her signature bows and her other brightly-colored merch — along with her influencer partnerships, concerts, and more — JoJo is seriously loaded. (Her net worth is estimated at $12 million, by the way.) And her house? Well, let's just say her crib is pretty much every tween's dream home.
Let's take a closer look at the place JoJo calls home. Because unsurprisingly, it looks like a unicorn threw up all over it.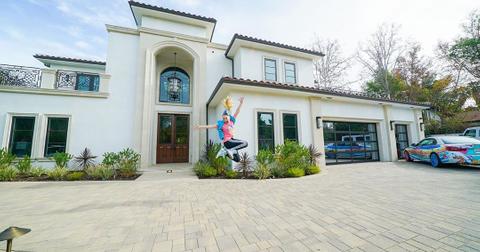 Where does JoJo Siwa live?
In December 2019, JoJo revealed that her family had recently moved into a new home. The $3.425 million mansion is located in Tarzana, Calif., and boasts 6,111 square feet — including six bedrooms, five full bathrooms, two living spaces, and a formal dining room, according to CNBC.
JoJo Siwa's house is seriously epic.
On Dec. 30, JoJo posted a house tour of her new digs just a few days after officially moving in. The 10-minute video didn't show viewers a glimpse into every room of her home — but it did highlight some of its fun features.
To start, JoJo's foyer includes mannequins in glass cases wearing some of her favorite outfits through the years.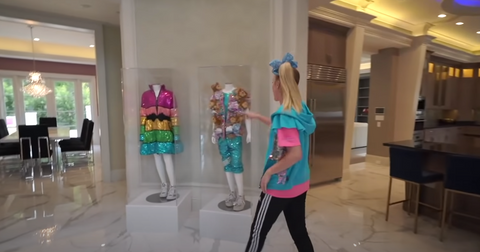 Since December, it looks like JoJo has added some personal touches to this area. Just look at the designs on the walls! And that giant unicorn!
Another cool feature shown in JoJo's house tour? A candy bar.
"We have a candy bar here of course," Siwa explained in the video, showing off a display of Skittles, Airheads, M&Ms, Nerds, and Pixy Stix. "It's my house, we have to have a candy bar."
Across from that is what she called her "7-Eleven," which includes a popcorn maker, pizza rotator, nacho cheese machine, and a slushy maker.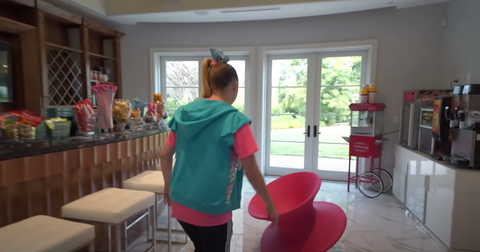 JoJo's merch room is pretty impressive, for the record. Just look at all of those shelves upon shelves filled with items sporting her name and/or face.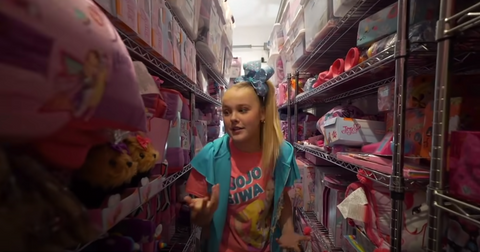 JoJo's room has more than 4,000 pounds of candy in it.
In February, JoJo revealed her new bedroom to her 11.1 million YouTube subscribers. And let's just say it puts Willy Wonka's chocolate factory to shame.
That's because her room features more than 4,000 pounds of candy. Her bed — which has giant tubes filled with all sorts of candy — is probably the most impressive part. Take a look.
You have to admit; JoJo knows how to commit to a theme.
Her walls are pretty trippy, right? (And maybe just a little headache-inducing?) We're totally digging JoJo's sprinkle desk, too, by the way.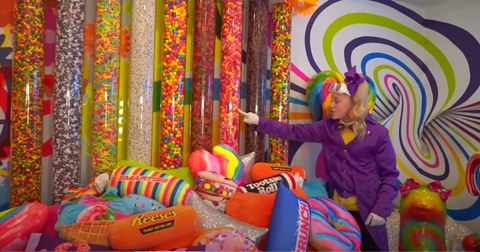 There you have it; JoJo's house is a candy-filled, rainbow-colored paradise. But honestly, we would expect nothing less from this larger-than-life singer/dancer/YouTube star extraordinaire.