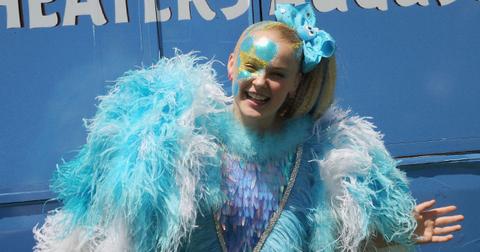 JoJo Siwa Might Be Dating a High School Football Player — What We Know
By Lizzy Rosenberg

Updated
Regardless of how old you are — or how well you know YouTubers — you're most likely somewhat familiar with the viral phenomenon that is JoJo Siwa.
The 16-year-old ponytail-wearing, fast-talking, glitter enthusiast has made quite a name for herself in the realm of internet culture, and whether you love her or you absolutely cannot stand her videos, you'll be shocked to hear the pre-teen might currently be dating somebody.
Twitter is completely shook that JoJo Siwa might be dating someone — here's what we know.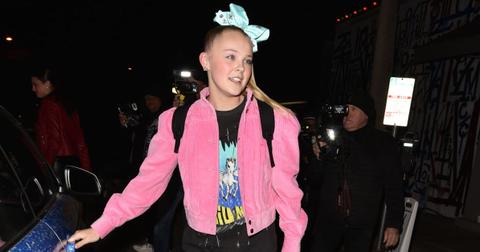 Who is JoJo Siwa (maybe) dating?
I feel approximately 100 years old saying that Jojo Siwa may or may not be dating someone, but apparently, that's because the former child star is — well, somehow — no longer a child. According to Cosmopolitan, the overly-enthusiastic YouTube star may or may not have gone ~Insta official~ with avid high school football player, Elliot Brown. Nothing is confirmed as of right now, but in the last few weeks, the two have posted a number of photos and videos together.
Elliot plays football at his Omaha, Nebraska high school, Elkhorn South High School, and he's committed to playing football at University of Nebraska next year, according to Omaha News. Although JoJo is homeschooled, they must have somehow met in the city of Omaha, which is where she's originally from. Take a look at the photos Jojo and Elliot have posted together, below, and try telling me they aren't totally "in luv."
This might be JoJo's first boyfriend.
JoJo has been famous for quite a while now, so it may come as a surprise that she's only 16 years old. Needless to say, Elliot may — in fact — be her first boyfriend, which wouldn't be particularly surprising. As of 2017, according to Earn The Necklace, the bow-loving teenager admitted she was more focused on work than meeting boys, and even if she did like someone, she wouldn't be allowed to date until she was older.
Apparently, though, she had a crush on someone last year, as of May 2019. In an interview with TODAY's Natalie Morales, Jojo admitted she previously had feelings for someone.
"I had a crush on somebody but it blew over," she said. "I've never met him before, but we've talked online... the chase is over. I'm sure once we meet eventually that I will end up liking him as a very good friend." We aren't entirely sure who she was talking about, but this may imply her relationship has been in the works for almost a year now.
Twitter can't believe JoJo (apparently) has a BF.
While much of Twitter is still single (to their dismay), they're shocked and hurt that JoJo was (maybe) able to lock down a BF. Check out what they had to say about it below.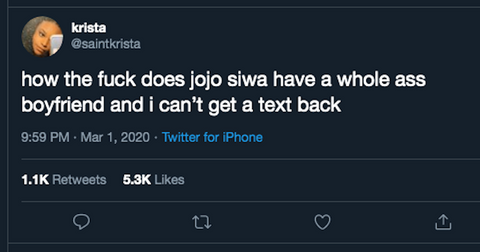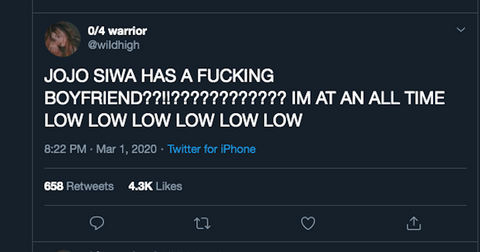 Yes, it's kind of mind-blowing that Jojo is dating someone, but that's only because it's easy to forget that underneath all the glitter, scrunchies, and sequins, the singer and dancer is — in fact — a hormonal teenager. We're happy for JoJo and hopefully things work out between her and Elliot!