People Are Transforming Into Their 'Jumanji' Selves With the TikTok #JumanjiChallenge
The 'Jumanji' Challenge is sweeping TikTok, but what is it, exactly? How does one participate in the challenge? Here's what you should know.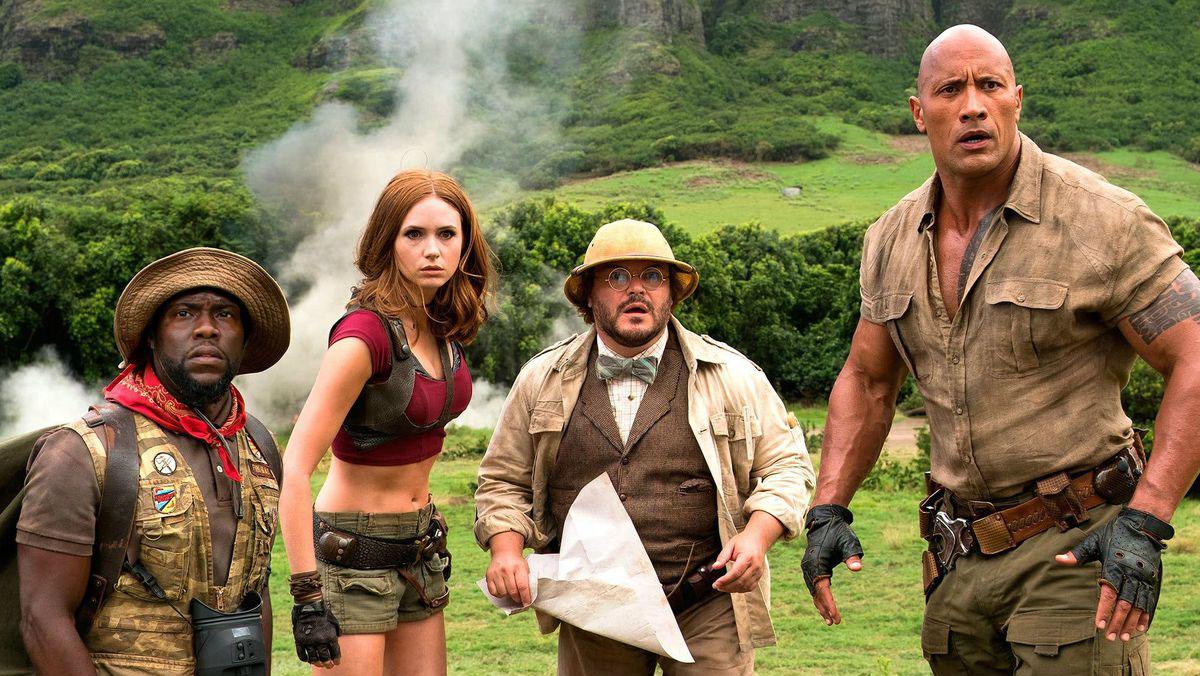 If you're an avid TikTok user, chances are you've probably heard of the Jumanji Challenge by now. It's one of the latest crazes sweeping the internet, and it coincides with the launch of the Jumanji sequel film Jumanji: The Next Level. Fans are jumping onto the social media platform to take part in a fun challenge orchestrated by none other than Dwayne "The Rock" Johnson himself, But how does one do the Jumanji Challenge? It's easy, and you're about to find out. Come on, we'll show you.
Article continues below advertisement
What is the Jumanji Challenge on TikTok?
The Jumanji Challenge is a TikTok challenge where you "jump into Jumanji" and transform into the character you'd want to be in-game. Sound confusing? The Rock explains it better than we could in a TikTok video of his own, then he showed off one that he made himself, as if we had any real hope of matching it. Pssh.
Article continues below advertisement
"In Jumanji: The Next Level, the game? It's glitching, and you never know which player you'll become. For the Jumanji Challenge, we want you to drop into the game and show us who you could become. So let's see you guys take this challenge to the next level: #JumanjiChallenge," The Rock explained.
Article continues below advertisement
Like we said, he already submitted his own clip to the challenge, as he filmed co-star Kevin Hart jumping into Jumanji and turning into, well, The Rock. Can't blame him, TBH. If you ever get the chance to transform into The Rock, then you probably better go ahead and do it. You'd be missing out, otherwise.
But there were plenty of non-Hollywood actors who created their own fun challenge TikTok clips as well, which are all collected under the hashtag that you can peruse on your own.
Article continues below advertisement
One user decided to cleverly turn himself into a cat. Okay, not sure how useful that would be, but being a cat might be fun.
Article continues below advertisement
One woman was sitting there, minding her own business, and then suddenly found herself in a forest, clad in a bizarre mask and strange outfit. Creepy!
Article continues below advertisement
Another video game fan had a run-in with their gaming setup, only to find themselves transformed into the "jungle" in their backyard, clad in expedition gear.
The Jumanji Challenge doesn't require much from TikTok users – just the will to put together a fun clip that shows off a transformation, and you're set. It's simple in that regard to use props or masks or even different makeup looks to pretend you've been transported into the movie (or the game in the movie, how meta.)
Article continues below advertisement
And now that you're likely off to go participate in the challenge yourself, you might want to follow that up by checking out the movie, which should be a fun, action-packed ride similar to the original movie, if you enjoyed yourself during that one. And anything with The Rock in it is probably going to be a good time, wouldn't you say? We thought so.