Justin Sutherland Talks Life Post-Accident, His New Cookbook, and 'Fast Foodies' (EXCLUSIVE)
'Distractify' caught up with 'Top Chef' alum, author, and TV personality Justin Sutherland to discuss his boat accident, his cookbook, and more.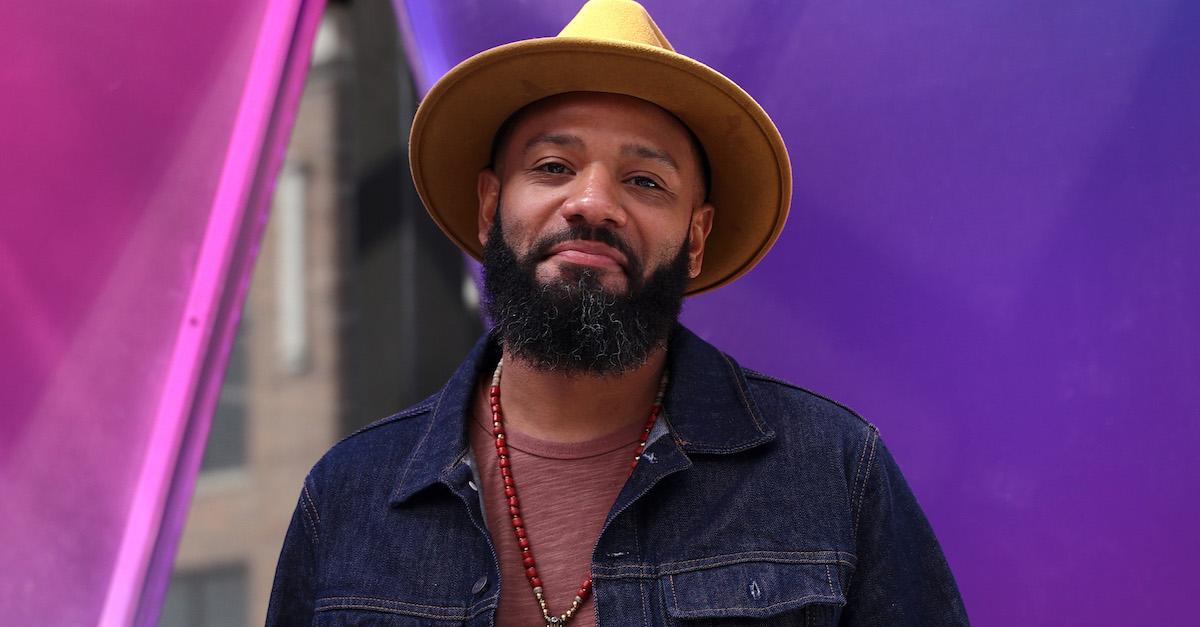 On July 3, 2022, Top Chef alum, cookbook author, and widely acclaimed chef, Justin Sutherland, was involved in a serious boating accident that left him hospitalized and having to undergo several surgeries.
After news broke of the famous chef's injury, fans and fellow chefs nationwide gathered in support of Justin to help aid in his recovery process.
Article continues below advertisement
Distractify spoke exclusively with Justin, who opened up about his recovery process as well as his latest project, a cookbook titled Northern Soul.
'Top Chef' alum Justin Sutherland opened up about recovery following his boating accident.
For Justin, life didn't immediately go back to normal post-accident. But, the chef has been working hard to stay positive during the lengthy recovery process.
"It was a very, very long, rough, almost two months ... but I just finally started getting back up and trying to get back into the world a couple of weeks ago," he told us by phone. "The doctors did an amazing job — I'm very blessed to still be here. There's still a long road for recovery for some people, but all things considered, feeling pretty good."
Article continues below advertisement
And, the support he received from fans — and fellow chefs such as Guy Fieri, who put together a fundraiser initiative — meant everything to him.
"Most of that support was coming in and stuff was happening out in the world," Justin said. "First week I was in ICU, and I didn't have my phone or contact with anybody for a while. So as soon as I was back with it, I realized what was going on out there. For me, it was very touching and I'm forever grateful. That was pretty incredible."
Article continues below advertisement
Recovery aside, Justin is looking forward to the release of his first cookbook 'Northern Soul.'
For a few years, Justin has been working tirelessly on his cookbook, Northern Soul, which comes out Sept. 20. It reflects the food he grew up with, combining his grandparents' soul food with his Minneapolis roots.
"I love Southern cuisine — Handsome Hog, my first restaurant, is what it's based on, and also being a northerner based in Minneapolis," he explained. "It's my take on a collection of recipes and stories. And my take on Southern cuisine is coming from the North."
"My grandma was just big into soul food — she was big on Sunday suppers, and all neighborhood came over. I remember as a kid, walking in, there was always a pot of collard greens on stove," Justin added. "[The recipes] just kind of just came from those big Southern soul food dinners that I grew up on as a kid."
Article continues below advertisement
From 'Fast Foodies' to 'Taste The Culture," Justin Sutherland is taking over culinary TV.
We all dream of partaking in an episode of Fast Foodies, the TruTV series Justin hosts along with fellow Top Chef alums Kristin Kitsch and Jeremy Ford. While he's a big fan of every episode, he gave us insight into his favorite episodes.
"The Bobby Lee episode with the Egg McMuffin was a lot of fun because he's a blast," Justin recalled fondly. "Joel McHale came back both seasons, and he's become a close friend — he's quite a wildcard when he's around, so it's always fun to film with Joe."
Article continues below advertisement
But Justin says his creative baby, Taste the Culture, has been "one of my favorite projects to work on."
"I get to be an executive producer on it and make a lot of decisions on the production stories we get to tell," he told us. "Essentially, we're traveling from city to city, and really trying to shine the light on some untold stories in the BIPOC community. People that are doing cool stuff all over the world, who generally don't have that spotlight around them."
But would he go back on Top Chef? Maybe.
"It's one of those things we always say everyone should do once — it's the greatest thing [chefs] would never do again," he laughed. "But you know, if they call, I'd do it again."