Twitter Is Seriously Divided Over Kamala Harris' Timberland Boots
On the campaign trail for the 2020 presidential election, Democratic VP candidate, Kamala Harris, was spotted in Timberlands, and Twitter is hyped.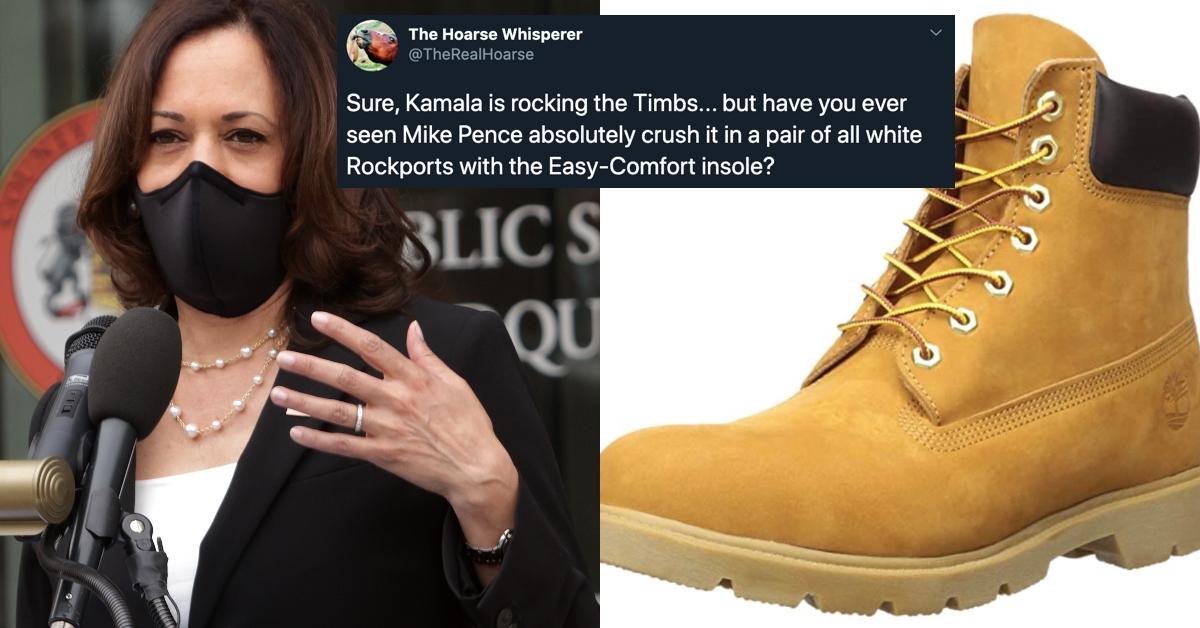 Generally, while traveling along the presidential campaign trail, politicians tend to stay dolled up in suits, heels, and perfectly polished Oxfords. But that hasn't been the case for democratic vice presidential candidate, Kamala Harris. The Oakland, Calif. native was spotted wearing a pair of Timbs as she emerged from a private plane, and needless to say, fans had some serious opinions about her choice of footwear.
Article continues below advertisement
Twitter's reactions to Kamala Harris wearing Timberlands while traveling along the campaign trail have been truly incredible. Scroll down for a handful of the greatest tweets, memes, and reactions to the vice presidential candidate's comfortable and undeniably stylish kicks.
Some are going as far as making compilations of Kamala wearing Timberlands.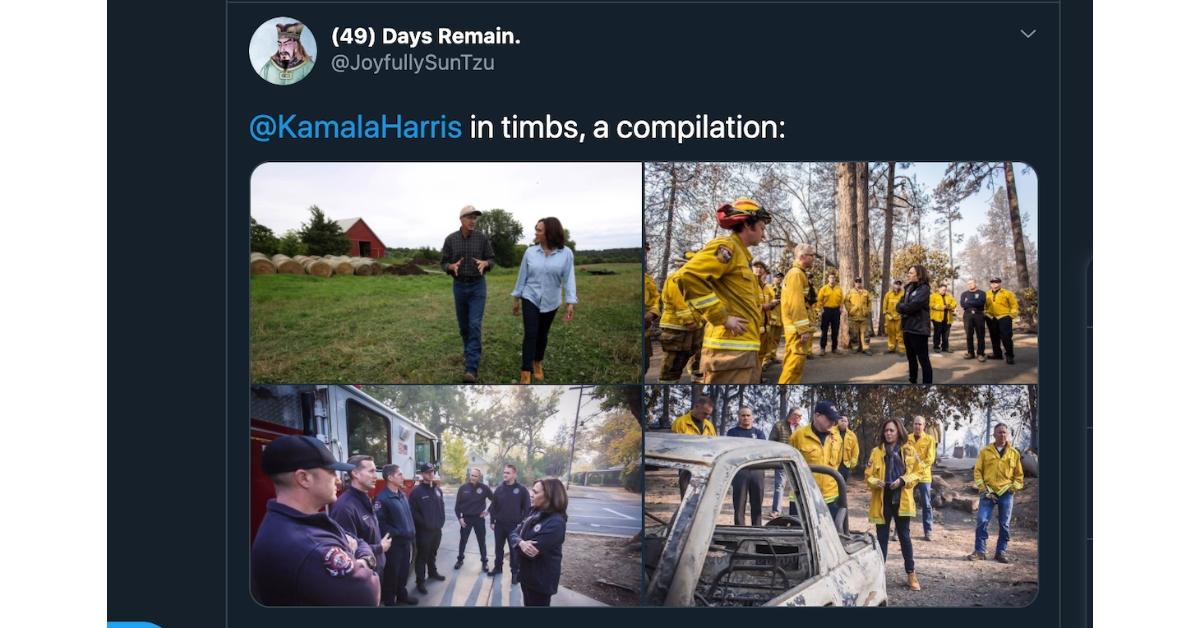 Clearly, Kamala is no Timberland-wearing newb, and since we can't get enough of her rocking the popular shoe, some are looking back at her greatest Timberland-wearing moments. This is truly the photo series we didn't know we needed, but like, we definitely did.
Article continues below advertisement
Let's just say Kamala Harris is looking way cooler than her competitors in Timberlands.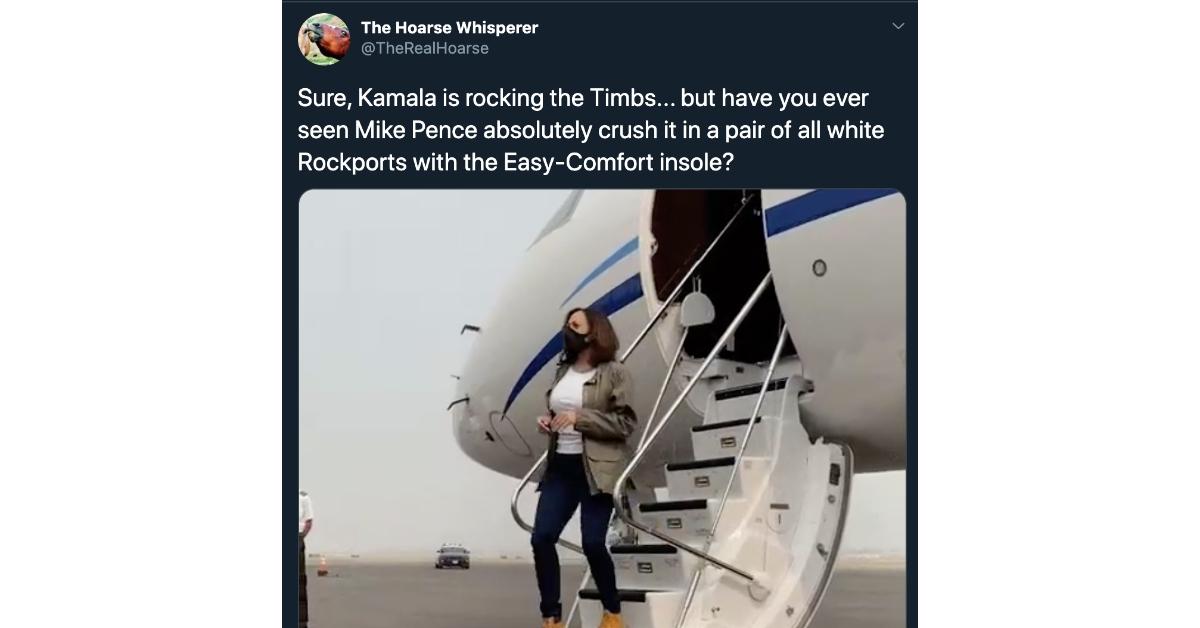 Although geriatric shoes are certainly great for, um, your arches, we're glad to see Kamala's selection of comfortable footwear is actually pretty cool.
Article continues below advertisement
Say it louder for the people in the back!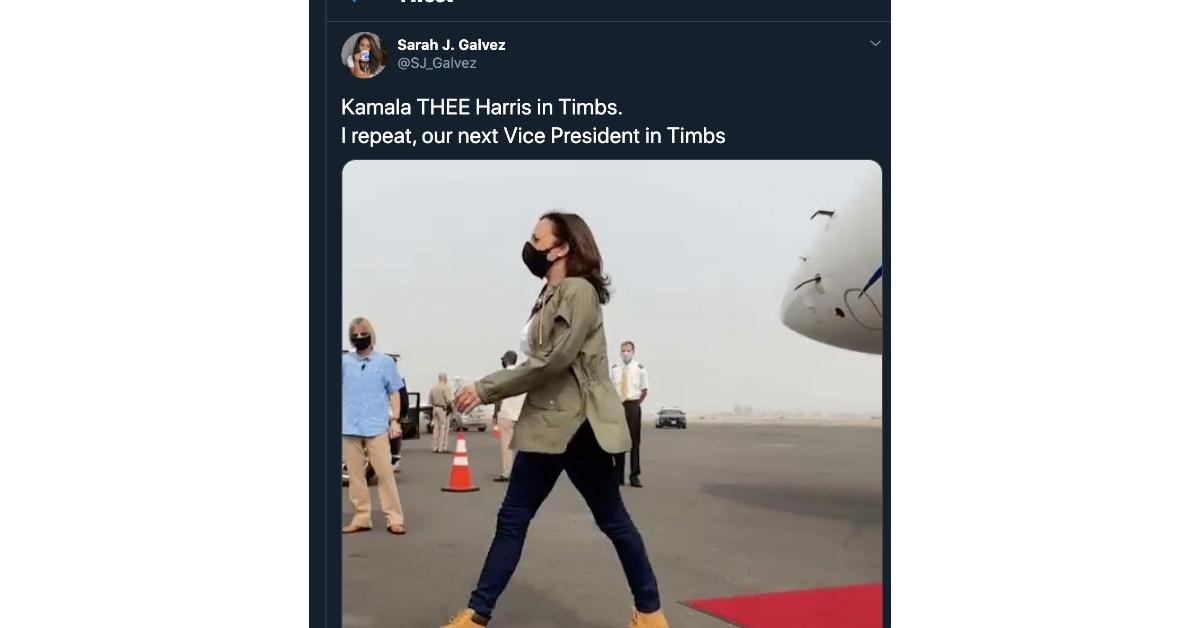 Let's face it: high heels are beyond uncomfortable, especially amid hours of air travel, so we were psyched to see the vice presidential candidate embracing some actually comfortable footwear while exiting the plane. This was seriously a statement we could all get behind.
Article continues below advertisement
I mean, she's basically UNRECOGNIZABLE.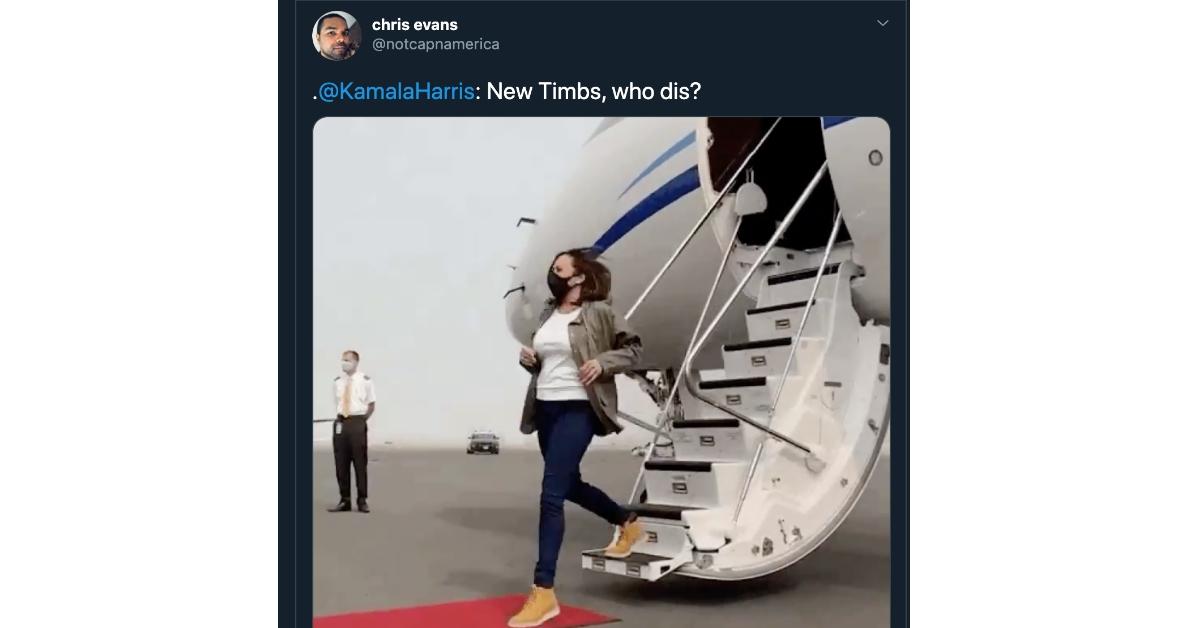 Kamala's lace-up Timberland sneakers have really upped the democratic VP candidate's style game, and quite frankly, we almost didn't recognize her. And while she looked fabulous strutting off the plane, you could totally tell that her confidence was sky-high. We're obsessed.
Article continues below advertisement
This is truly a monumental moment in campaign trail style history.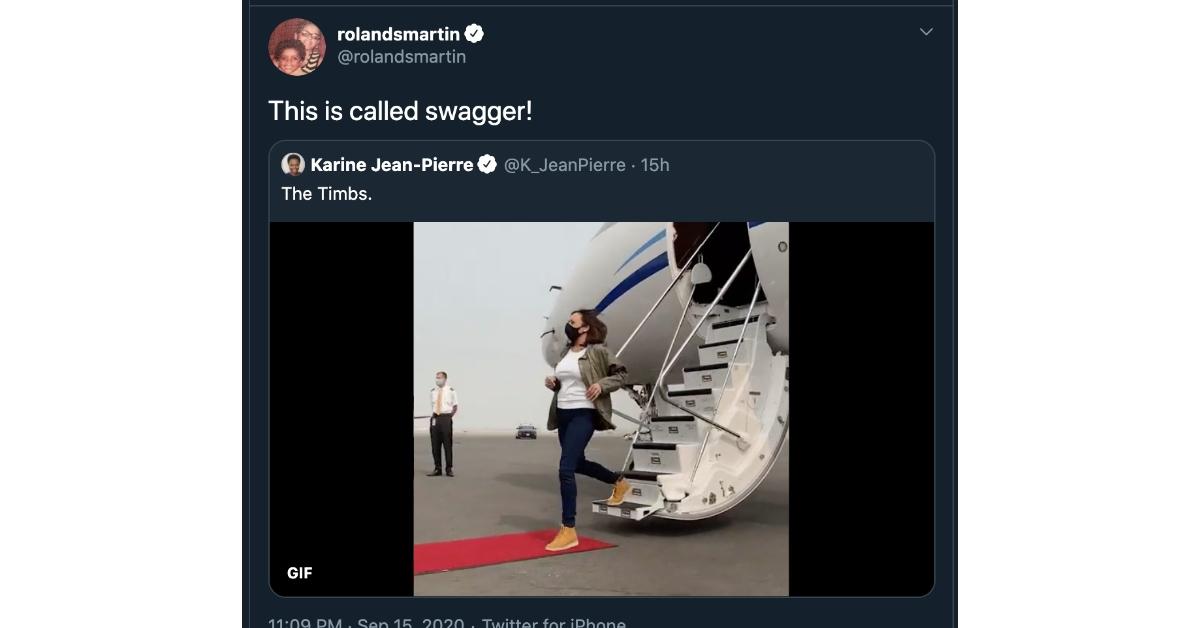 Some might go so far to say that Kamala has technically re-defined "swagger" with these sweet sneaks, and TBH, we don't disagree. Somebody should alert Dictonary.com ASAP... and also, we should probably just nix the "tradition" of wearing high heels altogether.
Article continues below advertisement
On the other hand, some were — um — less impressed with Kamala's new kicks.
As you may have noticed, Kamala's Timberlands are technically sneakers created by the popular work boot manufacturer. And while we aren't here to judge, some in the judgmental world of Twitter are throwing shade at the democratic VP candidate. See what they had to say about her statement sneaks, below.
Article continues below advertisement
Avid Timb fans want to remind you that Kamala's weren't the classic boot you know and love.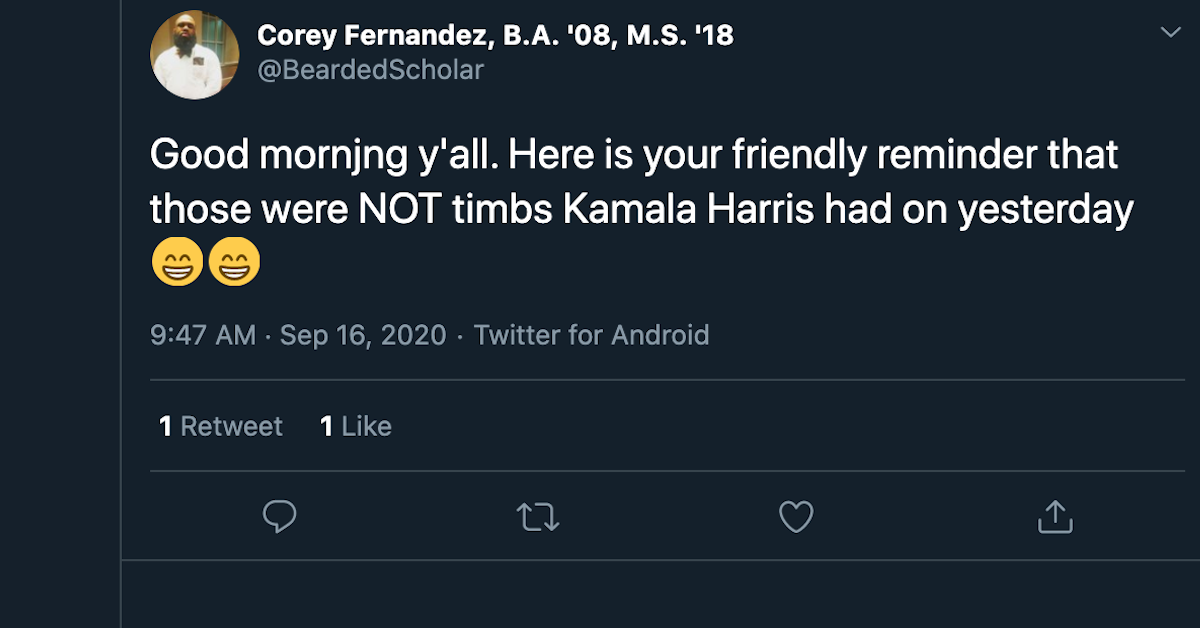 OK, OK we get it... but honestly, Timbs sneakers are pretty cool, too.
Article continues below advertisement
They aren't off-brand, but some feel they basically are.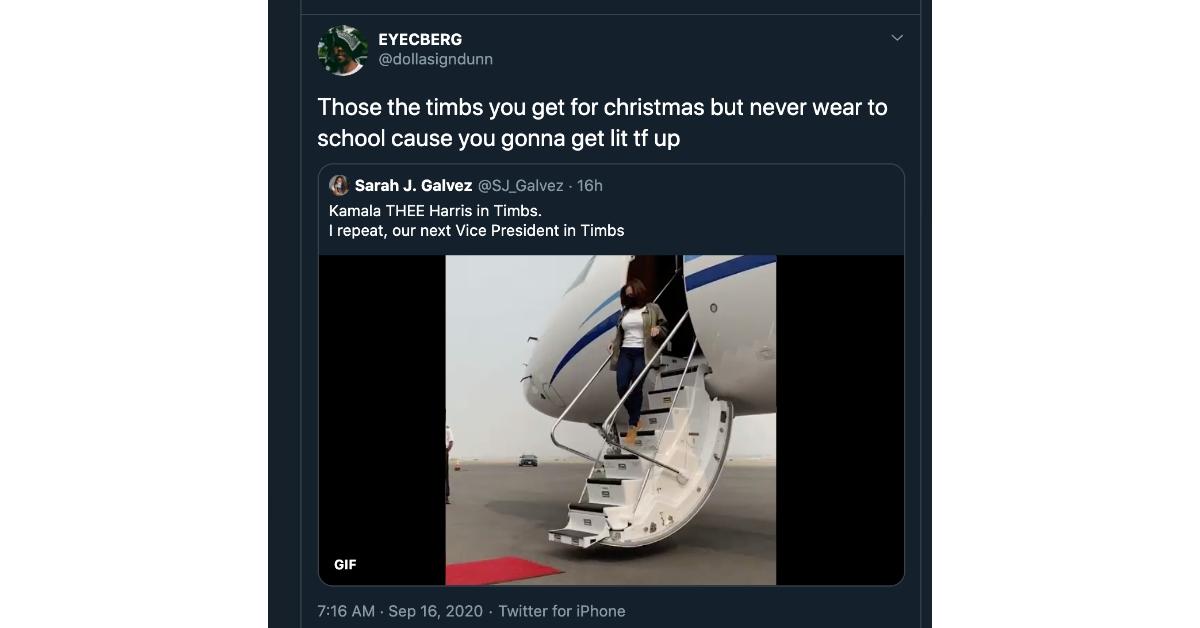 Remember when you wanted a Juicy jacket for Christmas, but your mom got you an off-brand terry cloth zip-up from Walmart instead? That's how some feel about Kamala's shoe selection.
Article continues below advertisement
WOW, he really called them "boneless Timbs."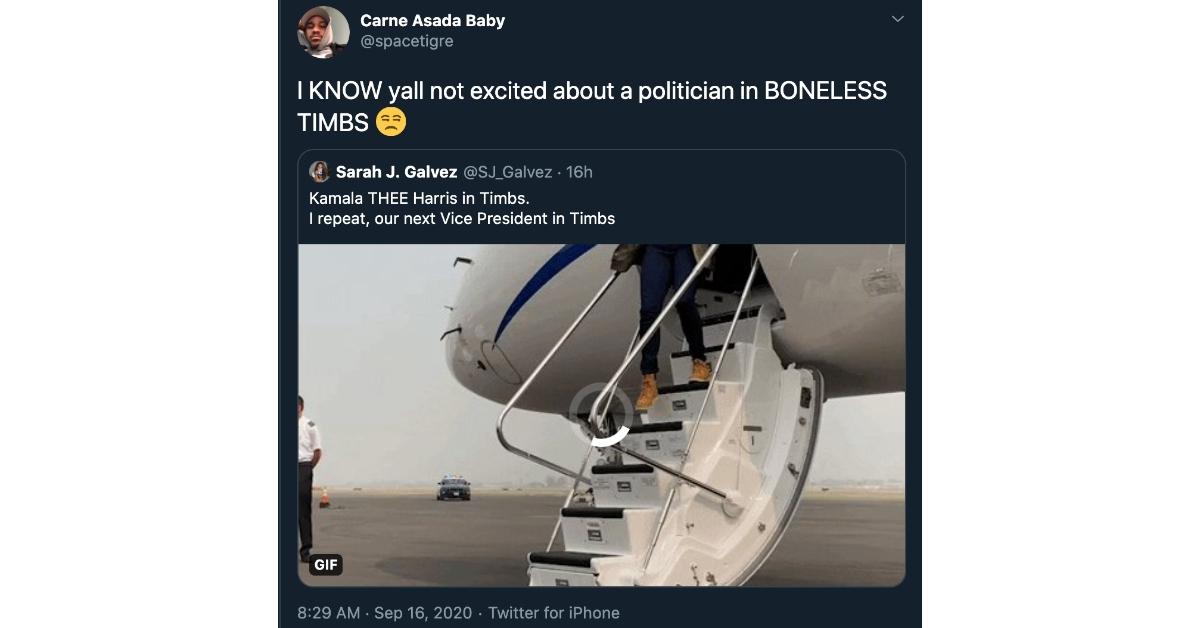 Like boneless hot wings, which aren't truly hot wings, many believe that these Timberland sneakers truly aren't what one would genuinely call Timberlands. Therefore, they've been deemed "boneless Timbs."
Article continues below advertisement
Regardless of how you feel about Kamala's footwear selection, we're glad she was comfortable on that flight. She has a long way to go for her campaign trail travels.