Kamala Harris Calls Herself the 'Top Cop' but Has She Ever Been a Police Officer?
Kamala Harris has officially been named as Joe Biden's running mate. She calls herself the 'top cop, but was the former District Attorney really one?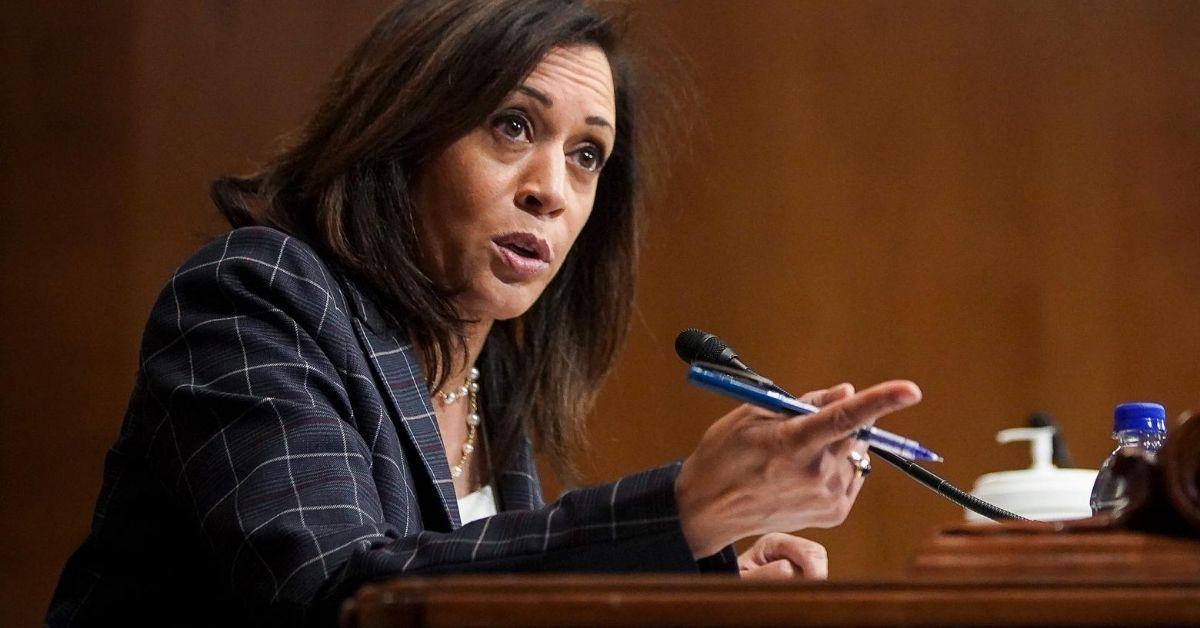 Big news was announced on Aug. 11, 2020, when Joe Biden announced his 2020 presidential running mate was selected. The presumptive Democratic presidential nominee named Sen. Kamala Harris as his running mate for 2020, making her the first Black and South Asian American woman to run on the presidential ticket.
Article continues below advertisement
It's not her first time in politics, currently serving as the junior United States Senator from California. With her now campaigning for vice president, there's plenty of information and misinformation being spread about Harris, particularly around her history with law enforcement. Was self-proclaimed "top cop" Kamala Harris a cop for real?
Was Kamala Harris a cop?
Harris was a rumored favorite potential candidate for the vice presidential search to run along Joe Biden for months. According to CNN, her spot as one of the top contenders came from her experience as a senator in California. She has also served as the Attorney General for California and as the San Francisco District Attorney.
Article continues below advertisement
"Ultimately, she was chosen by Joe Biden the 'common sense pick' who everybody could agree would 'do no harm,'" a source familiar with the vetting process said to CNN.
Article continues below advertisement
Though Harris was not a police officer herself, she's been outspoken in her defense of putting more police officers on the streets. In her 2009 book, Smart on Crime, she wrote, "If we take a show of hands of those who would like to see more police officers on the street, mine would shoot up." She added, "Virtually all law-abiding citizens feel safer when they see officers walking a beat."
Article continues below advertisement
However, her stance on this seemed to change when the civil unrest erupted across the United States. She said to The New York Times that "it is status-quo thinking to believe that putting more police on the streets creates more safety. That's wrong. It's just wrong."
Over the years, Harris has called herself the "top cop." The term was used to mean that she was going to be tough on crime, as well as look out for officers.
Article continues below advertisement
Reason described her usage of the term as, "A cop, in this context, is someone who will always defer to authority and the status quo, someone who is unaccountable and not to be trusted." Adding, "Calling someone a cop invokes the worst sorts of police overreach, a legalistic authoritarianism that exists for its own sake."
Article continues below advertisement
It sounds like Kamala Harris has changed how she sees police officers.
Speaking with Meghan McCain on The View, the California senator spoke about "reimagining how we do public safety in America" and her stance on "defunding the police." During that interview she reiterated that more resources in the community — not more police officers — was a better move.
"So Meghan, I think that a big part of this conversation really is about re-imagining how we do public safety in America, which I support," Harris said.
Article continues below advertisement
"We have confused the idea that to achieve safety, you put more cops on the street instead of understanding to achieve safe and healthy communities, you put more resources into the public education system of those communities, into affordable housing, into home ownership, into access to capital for small businesses, access to health care regardless of how much money people have. That's how you achieve safe and healthy communities."
It will be interesting to watch what points and policies she focuses on during the campaign trail and in the debates.
Election Day is Nov. 3. Register to vote at vote.gov and head to your state's board of elections for details on requesting a mail-in or absentee ballot.