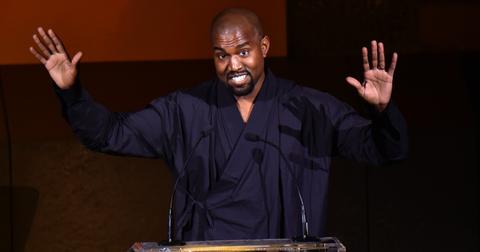 So... Kanye West Is Totally Serious About Running for President in 2024
By Abi Travis
Recent history has shown us that pretty much anyone (except for well-qualified women who win the popular vote) can be the president, so... well, why not Kanye? Sure, he may have eaten his own earwax at one point, but should that stop him from holding one of the most powerful positions in the world? Nah.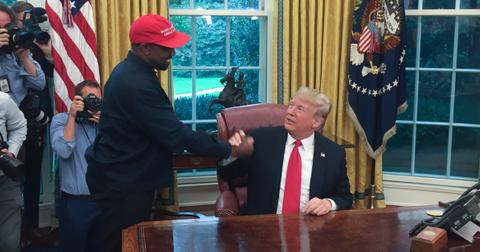 Kanye West mentioned his presidential campaign while discussing the Yeezy business model.
Kanye appeared on stage at the Fast Company Innovation Festival with Yeezy shoe designer Steven Smith, and the two of them spoke about the expansion of the brand and the possibility of bringing many manufacturing jobs to the U.S and their efforts to implement more sustainable practices.
Then, seemingly out of nowhere, Kanye said, "When I run for president in 2024..." It was then that he was interrupted by the audience's laughter. If you're thinking that Kanye was joking, though, you should know that this is what his face looked like during that laughter: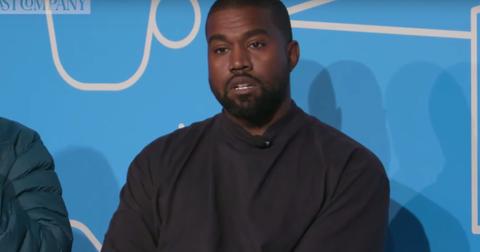 That, friends, is the look of someone who is apparently completely serious about trying to be the country's next president.
"... What y'all laughing at?" Kanye asked without even the slightest hint of a smirk. He then continued: "When I run for president in 2024, we would create so many jobs that I'm not going to run, I'm going to walk." So, OK. Kanye is probably going to run for president in 2024. Or at least, that is what he is saying right now.
Of course, this isn't the first time Kanye West has mentioned a presidential campaign.
On April 24, 2018, he mysteriously tweeted "2024" without any further comment... until the next day, when he tweeted, "when we become president we have to change the name of the plane from Air Force one to Yeezy force one."
Priorities.
Kanye West previously floated the idea of running for president in the 2020 election during an appearance at the 2015 MTV Video Music Awards. Now, though, it Kanye seems to have set his presidential sights a bit further afield to 2024.
Is Kanye West a Republican?
If Kanye does run for president in 2024, will it be on the Republican ticket? We all know that Kanye has expressed some right-wing views over the past few years. Who could forget Kanye declaring "I love this guy!" while visiting President Trump in the Oval Office? On the first day of 2019, Kanye doubled, tripled, and quadrupled down on those feelings in a series of pro-Trump tweets, including one that just said, "Trump all day."
But we also know that Kanye doesn't exactly love being labeled by other people. Is Kanye West a Republican? The only way we could know for sure is if he does actually run for president... and frankly, we're not so sure we need the answer to that question if that's the case.