Karen Mocks and Screams at Two Women for Being Too Loud in a Sauna
Two young women were mocked and screamed at by a Karen for apparently being too loud in a sauna. Check out the full story below.
There are plenty of nicknames people call each other, but one of the worst is "Karen." The insulting term refers to a middle-aged woman "perceived as entitled or demanding beyond the scope of what is normal."
Article continues below advertisement
Although there are supposedly many Karens in the world, are we sure all of them deserve to be considered one? For instance, TikToker @happyhealthymaca recently shared that a woman was mocking and screaming at her for being too loud in a sauna. Keep reading for all the known details.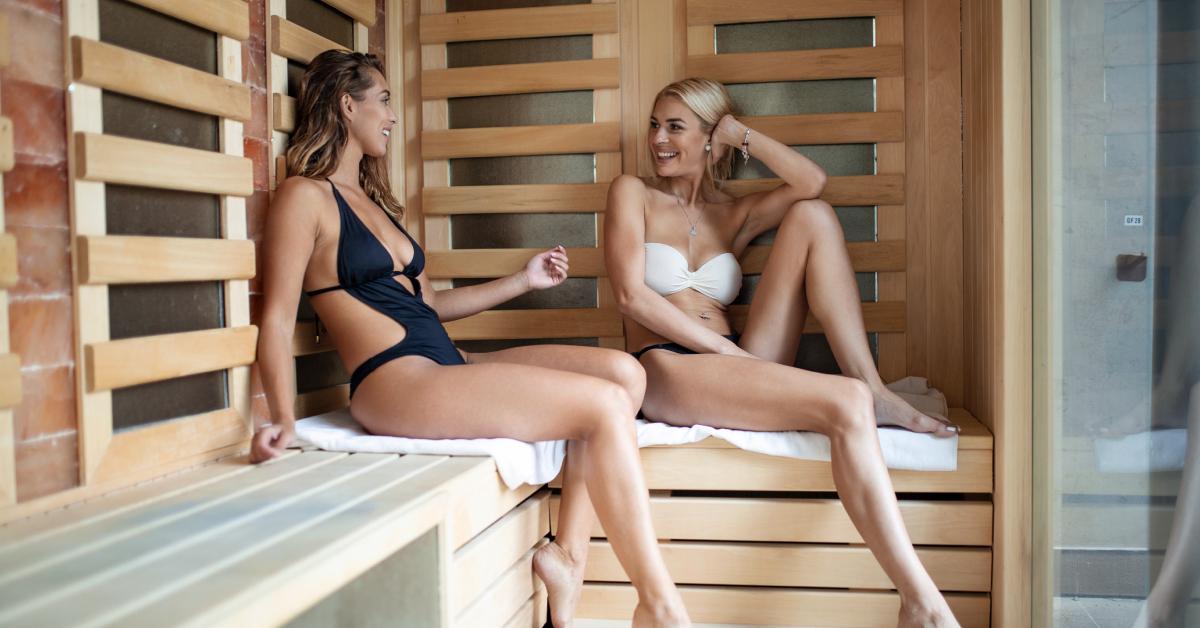 Article continues below advertisement
Two sauna patrons expose a Karen for mocking them.
In a text overlay of the viral video, which has amassed over 7.5 million views on TikTok, the TikToker wrote: "POV: We were talking in the sauna, and a bitter lady starts screaming at us because we're being too loud." The "bitter lady" in question calls the TikToker and her friend "two cackling hens" before cackling herself.
The patrons immediately burst out laughing at the sound, so the woman begins to imitate them: "There's nobody in here but us two, we're just gonna CACKLE CACKLE CACKLE," she shouted. "[Let's] make it so nobody gets in here and comes in peace. [We] gotta cackle to each other, loudmouth over there sitting against the wall."
Article continues below advertisement
The "loudmouth" just so happens to Maca, aka the TikToker, who couldn't help but cackle back at the Karen. She and her friend continue laughing as the woman begins cackling intensely, so much so that Maca produced another text overlay that said, "I think her soul left her body at this point."
Article continues below advertisement
The obnoxious cackling continued for a while, and Maca said she was "so happy cameras exist because no one would ever believe this." The woman sarcastically agreed before telling Maca to "record yourself talking and say, 'This is why this is going on in the sauna.'"

Article continues below advertisement
Maca and her friend then began cackling loudly before deciding to leave. The woman started clapping at the prospect of them leaving the sauna, so Maca and her friend changed their minds and decided to "stay forever."
Many fellow TikTokers took to the comments section to share their thoughts on the headache-inducing situation, and let's just say they were divided. Some took Maca's side, while others were #TeamKaren.
Article continues below advertisement

"My pettiness would have me in that sauna until the end of time lol," one TikToker wrote, while another said that after the woman started clapping, they would have "made that sauna my new home."
A third TikToker commented, "The way I would sweat to death in order to stay longer than her." A fourth user agreed, writing, "I would quite literally die in there … no way in hell I'm leaving and giving her the satisfaction."
Article continues below advertisement
On the other hand, many TikTokers took Karen's side: "This is wild LMAO, but TBF, younger people do not know sauna etiquette, and it drives me insane, but I just give 'em a side eye like a normal person," TikTok user @ceelove15 said.

Article continues below advertisement
"She's doing the most, but I do love a quiet sauna," another revealed, while a third user said, "I'm sorry, but as a fellow sauna goer who can't stand when people are being loud, I feel her. But her reaction was unnecessary; she should've just asked [you to quiet down]."
TikToker @shevaroses added, "Honestly, I would not cackle, but I personally like silence in a sauna. Some don't allow talking for a reason. TBH, I would've just left, though."
Where do you stand? Is the "Karen" really a Karen? Let us know!