This Soccer Mom Prepared an Excellent Clapback for a Karen Who Mocked Her Pride Shirt
A mother on TikTok exposes a Karen after she accidentally mocks her pride shirt in a soccer-related group text. Check out the full story.
June is officially Pride Month, the one month of the year openly dedicated to celebrating folks in the LGBTQ+ community as we reflect on the accomplishments we've made and the ongoing fight for equal rights around the world. While LGBTQ+ pride deserves a platform all year round, people typically use the entire month of June to really let their identities and allyship fly with parties, movements, and especially with clothes. As such, this soccer mom literally wore her pride out in style.
Article continues below advertisement
@ali.momof3 aka Unapologetically Me on TikTok is a dedicated mother to three children. According to her TikTok bio, she is also married, is an active "psych nurse," and is openly supportive of the LGBTQ+ community. Unfortunately, she's no stranger to bigoted comments and nasty remarks about her pride.
Thankfully, though, one such nasty remark against her pride clothes fully exposed a Karen in a dedicated soccer-parent group text. Let's break down the exchange.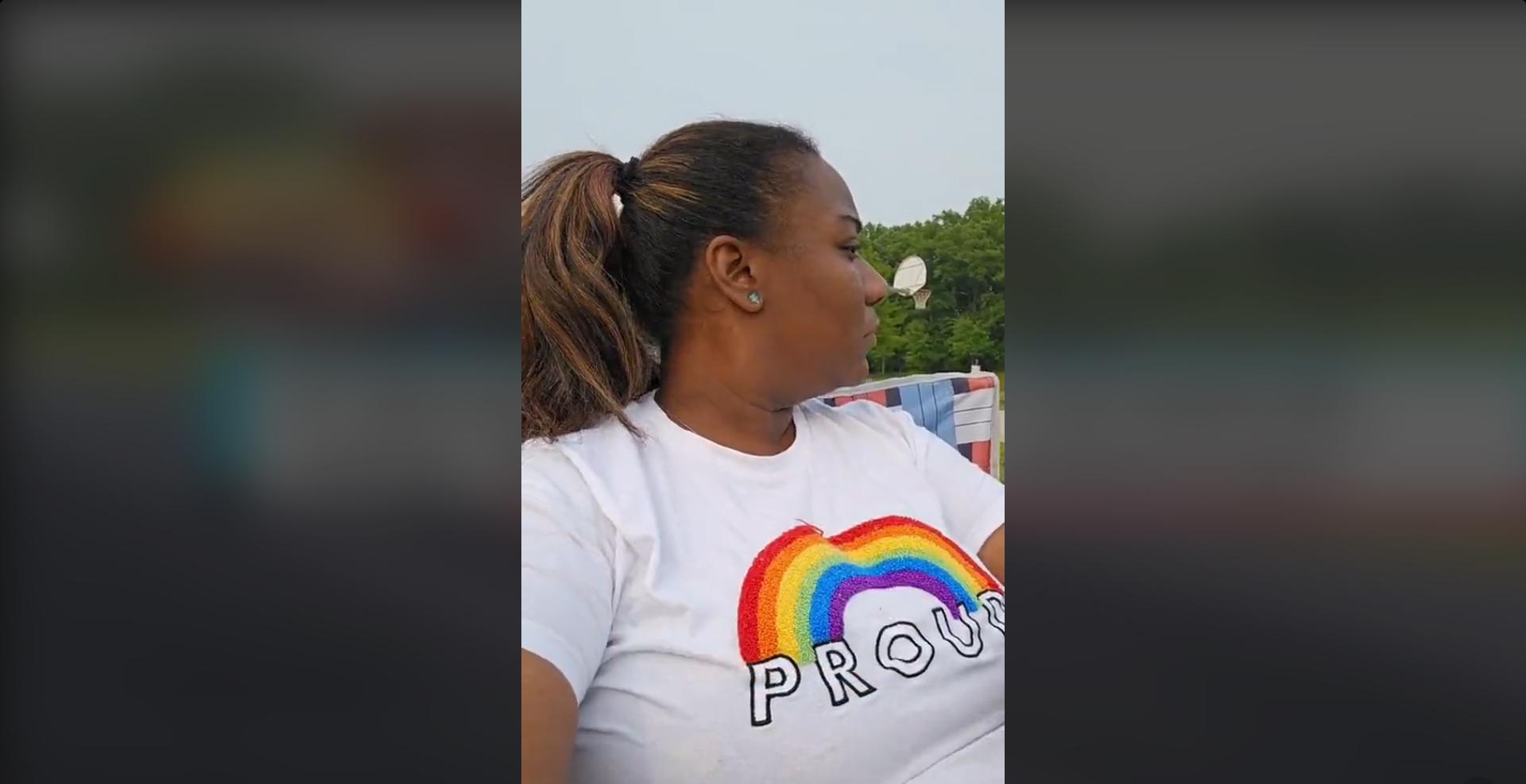 Article continues below advertisement
A soccer group text about a mom's pride shirt exposed a parent for the Karen she is.
@ali.momof3 posted photo evidence of her exchange in the group text on TikTok. As a dedicated soccer mom, she frequently attends her son's games and is an avid and unofficial cheerleader for her child.
"I will cheer him on every game," she admits in one TikTok. "Win or lose, mama will be screaming on the sidelines."
During one soccer practice, however, she couldn't help but notice a Karen's comments about her LGBTQ+ pride shirt and rainbow sunglasses.
The shirt seemed innocent enough with a simple rainbow with the word "proud" under it. Yet her simple clothes seemed to be a step too far for this Karen and her husband who were at the same practice.
According to @ali.momof3, she "overheard Karen and Ken make snide remarks about [her] choice of attire."
She initially paid them no mind, electing to save her energy on supporting her kid. Luckily, she hardly had to do anything before the bitter couple "put themselves on blast" in the team group chat.
Article continues below advertisement
In this text chain, the Karen sent a message that reads: "Not a surprising development, but c---- mom showed up to practice decked out in her proud pride (rainbow emoji) gear."
While a pair of sunglasses and a white T-shirt with a rainbow a five-letter word on it hardly qualifies as being "decked out," @ali.momof3 nevertheless clapped back immediately with concise and professional text.
"Yes I did," her text reads. "How exactly does my attire have anything to do with you?"
Article continues below advertisement
Clearly, the Karen didn't think her comment was going to be read by the mom she tried to target behind her back. She immediately tried to apologize, claiming that her talk-to-text turned on in her pocket and picked up her husband's comment in the car.
@ali.momof3 remained civil the entire time, replying to the Karen's flimsy apology by stating, "Out of respect for our true coach and his previous request that this thread remain soccer-related, I will refrain from saying what I'd really like to say."
Fortunately, @ali.momof3 had the perfect response brewing already. She ended her TikTok with footage of her visiting her local Target store to pick up even more pride-related merchandise to wear at future soccer games.
Despite the retail chain's ongoing controversy with rolling out its pride-related merchandise in 2023, @ali.momof3 is thankfully able to continue shopping there for more LGBTQ+ apparel to shove in bigots' faces.
Article continues below advertisement
Interestingly enough, @ali.momof3 had a quick follow-up to her text exchange. In another TikTok, she shared a DM from the Karen, in which she doubles down on blaming her husband for her text and insisting that she doesn't feel the same way that he does.
Unmoved by the Karen's non-apology, @ali.momof3 seems content enough to wash her hands of the incident and continue wearing her pride clothes with poise and grace.