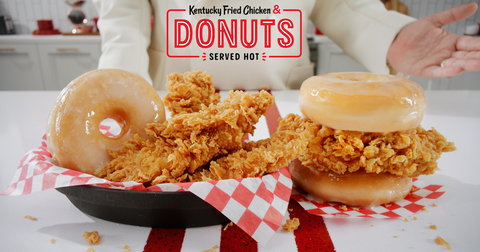 Here's Where to Find KFC's Glazed Donut Chicken Sandwich for a Sweet 'N' Savory Treat
By Lizzy Rosenberg

Updated
By now, most omnivorous foodies out there have caught wind of KFC's legendary Glazed Donut Chicken Sandwich. The delectable food hybrid — which caters to fast food junkies and sugar enthusiasts alike — is now officially available at KFC restaurants nationwide, and it's truly the sweet and savory sandwich of my wildest dreams.
Which KFC locations will be offering the Glazed Donut Chicken Sandwich?
You may remember late last year, when it was rumored that KFC was releasing a chicken and donuts sandwich. But to the dismay of 48 U.S. states, it was only available for testing in about 40 locations throughout Norfolk and Richmond, Va., as well as in Pittsburgh, Penn. I, personally, was absolutely devastated.
But according to a press release from the brand, the market testing garnered tremendously popular feedback. Now, the highly Instagrammable (and totally drool-worthy) sandwich is going to be available at all KFC locations nationwide. But make sure you get your hands on one sooner rather than later — it's only a limited time offering, with availability through March 16.
If you haven't tried it for yourself, here's what you can expect.
KFC's latest creation, the Glazed Donut Chicken Sandwich, is exactly what it sounds like — customers receive a crispy chicken fillet that's snugly sandwiched between two sweet glazed donuts. And if a sandwich doesn't tickle your fancy, you can order it in the form of a Basket Meal, which includes a choice of chicken on the bone or chicken tenders and a donut. For those with a big appetite, there's also an option to order the big basket meal, which comes with two donuts.
So whether you're craving a greasy hangover cure this weekend, or if you've simply had far too many Popeyes Chicken Sandwiches at this point, the Glazed Donut Chicken Sandwich is certainly a solid culinary option.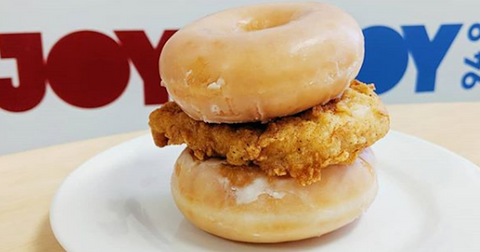 To complete your sandwich-eating look, KFC is now offering clothing too.
Er, well, a line of Crocs, specifically. The collaboration, called Kentucky Fried Chicken X Crocs, was officially unveiled at New York Fashion Week 2020, according to a press release from the brand. There are two versions — one is a Bucket Clog, which are platforms, and Classic Clogs, which come with two removable chicken scented charms that resemble and smell like drumsticks... they're wild.
In terms of pricing, KFC's Crocs are going to cost $59.99 on Crocs' website. Both will be available in unisex sizing when they're officially available for purchase in spring 2020.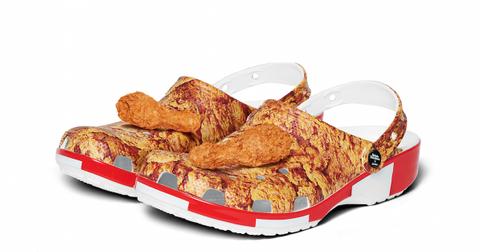 The widespread availability of KFC's Glazed Donut Chicken Sandwich is truly what 2020 needed. Say goodbye to a sad desk lunch, y'all, because this is truly revolutionizing diets around the world — that is — through March 16. What a game-changer.