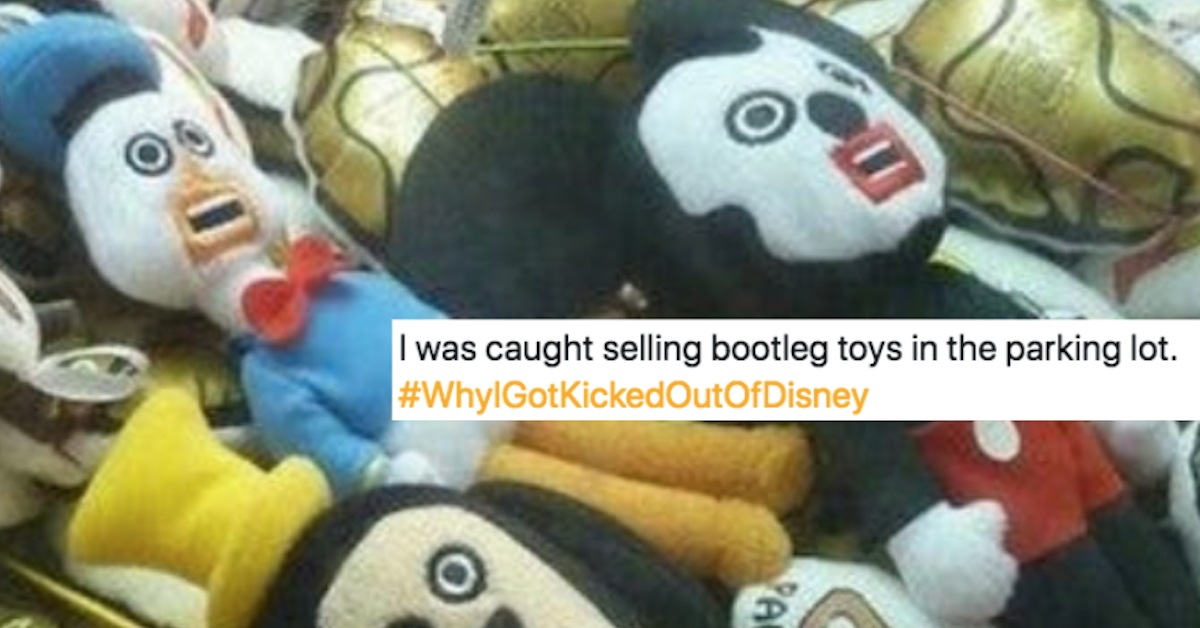 People Are Sharing the Hilarious Reasons They Got Kicked out of Disney
Disney is the happiest place on Earth. And you know how they keep it that way? By kicking out the weirdos and deviants and other people who try to ruin it for everyone else. The hilarious hashtag #WhyIGotKickedOutOfDisney is chock full of wildly inappropriate things people have done to get kicked out of the parks. Most are jokes (I sincerely hope), but that doesn't make them any less funny. Without further ado, here are a bunch of folks who got themselves kicked out Disney.
Article continues below advertisement
1.
What! What are these pictures? How could Minnie do this to Mickey? How could Goofy try to silence this fan who definitely saw something they were not supposed to see? And on another note, how... how does it even work? I mean, Goofy's a dog. Minnie's a mouse. That's quite a, um, difference, if you know what I mean.
2.
We all know by now that The Lion King would have happened very differently if it went down in real life. For starters, lions don't speak English or perform insane, choreographed dances. And secondly, yeah, sad to say it, but Simba and Nala would definitely be related in real life. That's some straight-up lion incest!
Article continues below advertisement
3.
Ratatouille is a very funny and charming movie, but it's also a germaphobe's nightmare. Rats are notoriously disease-filled and dirty, and in real life, you would never want a rat running around the kitchen and seasoning your soup, no matter how skilled a chef he was.
Article continues below advertisement
4.
Oh. Oh no. I was not prepared to see these photos when I woke up this morning. I'm sure a grown man could dress like a princess at Disney if he wanted to, as long as the dress fit him and didn't expose all his...downstairs bits. That's an image that will forever be burned into my brain now.
Article continues below advertisement
5.
As a kid, I loved Pocahontas. I watched it over and over. I sang "Colors of the Wind" for my fifth grade play audition (and got a, *ahem*, non-speaking role). But now, knowing the real story, it's so white savior-y and cringeworthy. Plus Mel Gibson is John Smith, so pretty much nothing about this movie aged well.
Article continues below advertisement
6.
Poor Dory. She can't remember anything! Not even why she got kicked out of Disney. Maybe it was for repeating "P. Sherman, 42 Wallaby Way, Sydney" over and over again until the rest of the park patrons couldn't take it anymore. Other than that, who knows? She may be an annoying fish, but she's our annoying fish.
Article continues below advertisement
7.
Have you ever been to either Disneyland or Disney World? Are you aware that there are mice hidden everywhere around the park? Mickeys, all over the place. And this evil soul set traps to catch him? What a heartless monster. They deserve never to have Dole Whip again.
Article continues below advertisement
8.
They are correct! Pluto is not a planet. Pluto is a dog! Or, more accurately, a cartoon dog, who is then brought to life by a human being in a dog suit. It's probably really hot and uncomfortable under that suit and that person probably doesn't want to be yelled at all day by strangers saying their character's name is not a planet.
Article continues below advertisement
9.
OK, but look at him! Those meatly little claws, those juicy legs. Sorry, but Sebastian looks delicious, and I would eat him in a heartbeat. Well, maybe not him, exactly. But definitely his brothers and sisters. Do you even know how delicious fresh crab is? I don't think you're thinking about this with your stomach.
Article continues below advertisement
10.
Yo, have you ever been on the teacup ride? You 100 percent do not need any help from any sort of "special tea blend" to get completely messed up on that ride. Dizziness will do it all for you. In fact, pretty much all of Disney is like a crazy drug trip.
Article continues below advertisement
11.
Ahhhhhh! But also, valid question. Most of our hair stops growing at a reasonable length or at least takes a very long time to grow to the length of Rapunzel's. So...is all of the hair on her body like that? What about her armpit hair? Maybe she could have several hair ropes coming out of her body to use as weapons!
Article continues below advertisement
12.
These are the most horrifying dolls I have seen in a long time and I just had to show them to you because you too might look into their eyes, be completely hypnotized, and wake up days later soaking wet and crying on It's a Small World. I think that's just what happens to all of us.
Article continues below advertisement
13.
I mean, if you have to summon Satan anywhere in Disney, the Haunted Mansion is probably the best place to do it. In fact, I think people summon him all the time because have you ever been on that ride? It stops and breaks down like every three seconds.
Article continues below advertisement
14.
I... um... my mind... it is... blown. Disney has to answer for this. What exactly is going on here? Why does Goofy have a job and a house and a family and Pluto is just Mickey's pet? Was Pluto stolen from his family as a pup? Do Goofy and Pluto ever interact in Disney cartoons? I'm losing my mind over this!
Article continues below advertisement
15.
Speaking of dogs, though, yeah, sorry not sorry, but Max from A Goofy Movie is a total babe. Goofy is the goofiest (as his name suggests), but somehow he had the cutest little dog son. And A Goofy Movie is such an underrated movie. #JusticeForAGoofyMovie is the new Disney hashtag. Go forth and make me proud!