Toddler Outs Mom's Secret to Daycare Workers — "Kids Will Throw You Under That Bus So Quick"
A mom shared footage of the way her son inadvertently threw her under the bus after telling daycare workers why she was sick.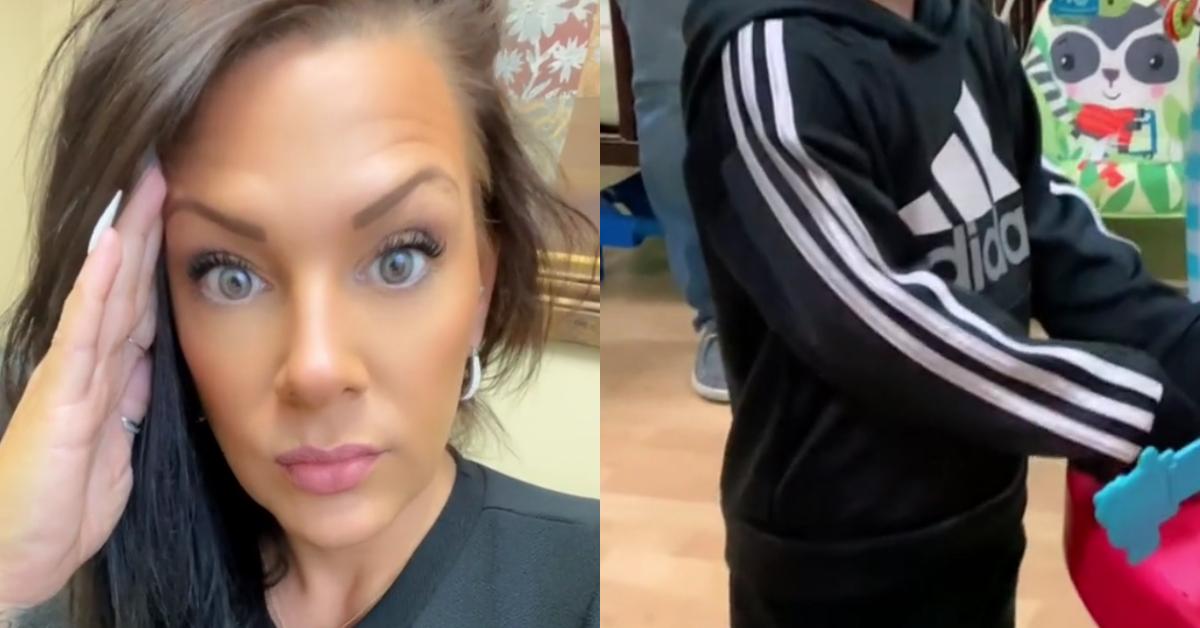 Kids have no filter. They're constantly learning and trying to test the boundaries of what they can and can't do. And it's up to the folks who raise them that largely determine how they turn out.
Article continues below advertisement
Sure, each child is born with their own individual personalities, but how parents/guardians teach them how to work with these personalities in specific situations is a big part of growing up.
And the thing about situations is that there's really no one-size-fits-all solution as to what are the best ways to handle them and how you should respond. For instance, the way you're going to talk about a deceased loved one at a funeral among family members and friends is way different than how you would mention that same person passed away if the topic comes up in conversation somehow on a first date, for instance.
Article continues below advertisement
Selectively knowing what to say and when to say it is a skill that's developed with time, which is why kids often crack folks up for stating things when they probably shouldn't say it.
And a prime example of that was captured in a viral TikTok posted by a user named Jen (@daisy232713) who uploaded footage of her kid "outing" her while at daycare.
Article continues below advertisement
The clip begins with her giving a concerned look into the camera with a text overlay that reads: "When your sons daycare teacher sends you cute little videos"
The video then transitions to footage of her toddler standing at what looks like a cute farm-themed toy. Someone off camera asks the little guy, "Where's mommy?"
Article continues below advertisement
It sounds like he says that she's sick.
"Mommy's sick? Why?" the woman off-camera asks.
"Because," he says.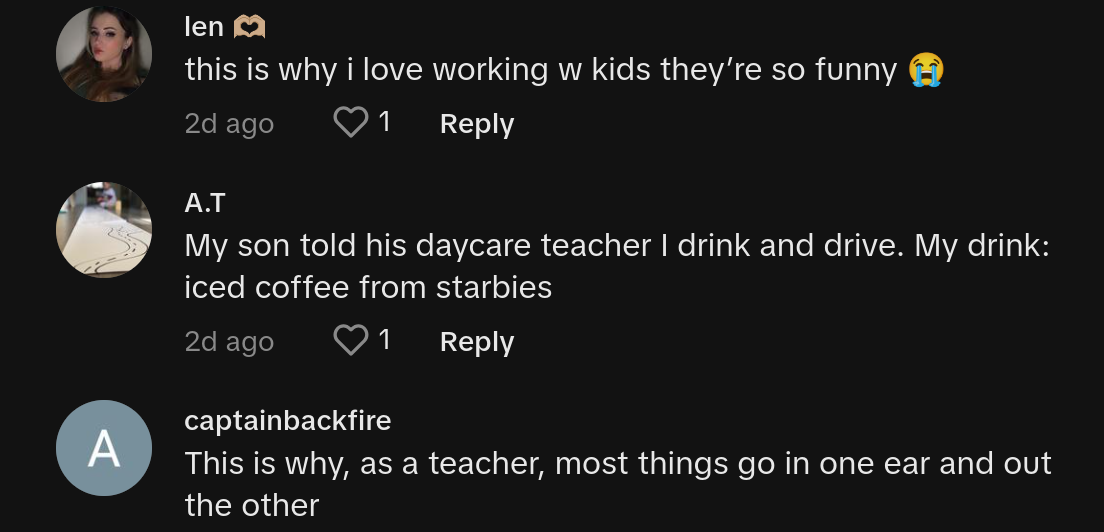 Article continues below advertisement
"Why?" the person off camera asks again.
"Because," he says again.
"What does she have?" the woman asks.
"Um, a hangover," the little kid says while turning to the camera as the woman recording the video laughs.
Several viewers shared their own experiences of the funny things their kids told their teachers and babysitters, like this one parent who told everyone that they were happy their dad wasn't going to jail every weekend.
Article continues below advertisement
What the child failed to mention, however, was that their dad worked in corrections: "Mine told a lady she would be glad when her dad didn't go to jail every weekend. He was a corrections officer."

Article continues below advertisement
Another said: "my son told his headstart he didn't come the day before cuz I was too lazy to put pants on he wasn't wrong"
And then there was a kid who had a pretty good excuse as to why they weren't able to do their homework: "My nephew told his teacher he didn't do his homework because his daddy took him to the bar….but it was ok because it wasn't the bar with the pole"
Sometimes, kids throw their teachers under the bus with some of their commentary as well, not just parents: "My pre-k kid told me his teacher keeps a boy named Jack locked in a box at school. It was a jack-in-the-box toy."
Article continues below advertisement
And then there was another bar misunderstanding: "My son told his 3rd grade teacher mom is always at the bar. I worked there! Lol"
There were some parents who learned that they should maybe keep their meal schedules hidden from their kids...either that or teach their kids how to give some context to the things they say: "haha I definitely told my preschool teacher that my mom drinks wine for breakfast. my dad had to clarify my mom works graveyard dispatch lol"

Article continues below advertisement
And then there were children who definitely had a flair for the dramatic: "In first grade My daughter told her teacher we "had no food at home" because I forgot to buy lunchables 1 time!!"

Have you ever found yourself in a situation where you felt like your kids unjustly maligned you in front of strangers because they weren't well-versed in social propriety?