16 of the Most Ridiculous Holiday Wish Lists Written by Kids
The audacity of kids making Christmas lists! These funny lists from across the internet showcase kids really shooting for the moon with their gift requests.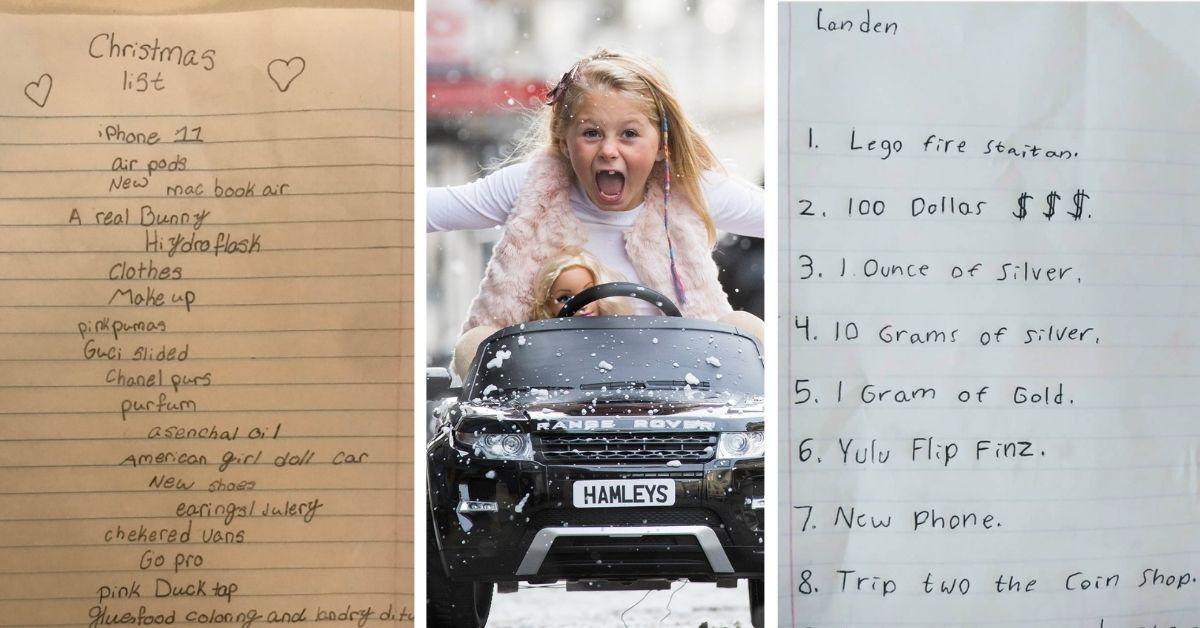 When it comes to Christmas shopping, kids are usually the easiest to shop for. Why? Because they actually tell you what they want for Christmas. Never in my life have I shopped for a kid and thought to myself, "Hmm, maybe I'll just play it safe and get them a gift card."
Kids are just clear communicators. It's wonderful, but also terrifying at the same time because most little ones have no concept of money and have unrealistically high expectations for Santa.
Article continues below advertisement
That being said, we searched the internet to compile some of the funniest Christmas wish lists written by kids. And from what we found, kids want to unwrap way more than just a traditional doll or toy car come Dec. 25. Keep scrolling to see the hilarious items that children are asking for at Christmas.
Also, shoutout to all the parents excepted to fulfill these lists. We see you and we feel your pain!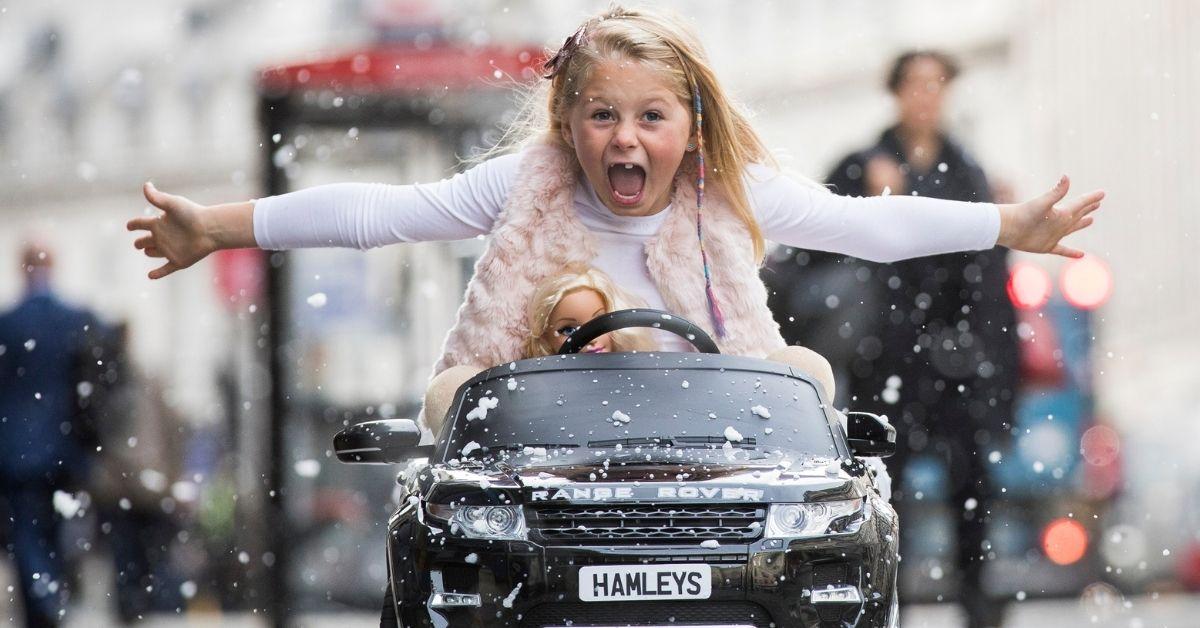 Someone knows their metals.
Landon sure knows his metals. For Christmas, he's asking for an ounce of silver, as well as 10 grams of silver. In addition to his silver, he also wants one gram of gold. What exactly he plans to do with these is beyond us.
Other notable items on his list include $100 dollars, a new phone, and a trip to the coin store (perhaps, that's where the silver and gold come in?).
Landon also notes that he wants "a copanyon for dorato-dog." From what we gathered, he wants a companion for his dog.
Oof. Santa sure does have his hands full with this list. At least there's one traditional toy on their: LEGO fire station.
"A shirt that shows my belly."
What do 8-year-old girls want for Christmas? According to Madison, they want a hand sanitizer holder, an iPhone 11, and a yoga ball.
But that's not all. Madison also asks for "cool clothes" like "new cozy sweatpants," a "rainbow peace shirt," and "a shirt that shows my belly."
The rest of her list asks for items for her brother and her dad, which makes it unclear if it's a joint wishlist or if Madison wants Santa to bring her family certain items. Regardless, she wrote down iPhone 11 for her brother and a "Let's go Bucks shirt" and "Less Than Jake shirt" for her dad.
At least she prioritized the gifts she really wants.
This little girl's wishlist is quite long this year. However, to help Santa out, she decided to circle the items she wanted most. If you look closely, you'll notice that she circled every item on the list. Classic!
These items include multiple dolls like three Baby Alive dolls and five Monster High dolls. However, she's also hoping to get some school supplies, too. Specifically, five notebooks and three pencil boxes.
This girl just wants some desserts.
While it's unknown if this is young Jude's entire list or just a snapshot of it, we love her thinking. She listed dessert items for Christmas — specifically ice cream and a slushie — because hey, not every present has to be a toy made in Santa's workshop.
"Hiding places."
For Christmas, Baxter asked Santa for 10 things (eight of which are probably not happening). The first item Baxter wants is a rat. But don't worry, he has fully acknowledged that caring for a rat would require some equipment, which is why he also asked for rat food, a cage, and water for the rat. (OK, but who's going to tell him that rats don't have special water?)
Moving on to the next three items, it's unclear if they are for Baxter or this potential rat. However, they are as follows: bedding, hiding places, and climbing places. (Yes, we have many questions too.)
Fortunately, the next two items, a laser and thinking putty, are more reasonable. But the last item, an iPad, might be a little over budget. "I love him dearly but 1-7 and 10 ain't happening," his mom, @5forsilver_, wrote in the caption.
Oh she fancy, huh?
This 10-year-old girl is definitely being a little ballsy with her Christmas list, but honestly, you have to admire her tenacity. She'll grow up to become someone who never lowballs herself in salary discussions and recognizes you always have to ask for more than you want to get in the ballpark.
The first three items on her list include an iPhone 11, AirPods, and a new Macbook Air, which together cost over $2,000. But those aren't the only pricey items on her list. She also wants some Gucci slides and a Chanel purse, the latter of which retails for around $3,000.
Other highlights of this very extravagant list include a real bunny, a GoPro, $4,000 in cash, clothes for the bunny, and more.
So cheesy.
We stan a cheese lover! All this little boy wants for Christmas is cheese. Yes, really! Specifically, he wants Vermont cheddar from Cabot: a "big block" of their Seriously Sharp cheddar and their 100-year anniversary edition. We love the specificity.
Too sweet.
OK, this little girl definitely has some top-dollar items on her list (read: iPhone 11, computer, and puppy). But she also wants some really sentimental things like a nice life — which we all deserve — and for her big sister to come back from New York City. Aww!
The last item, though.
This kid's requests run the gamut from typical to "Excuse me?" Some reasonable items on the list include new shoes, skinny jeans, a PlayStation microphone, and Bluetooth headphones. Then there are the harder-to-get items like $1,300 cash and his own room. Not going to lie, we feel for him on that last wish — although, that's not something Santa can exactly put under the tree.
Unicorn shirt or unicorn s--t?
One Redditor shared her 8-year-old sister's Christmas list and boy oh boy, does this girl like poop. Or so we thought. Items on the list include "Poop uroos" and "unicorn s--ts.* However, after closer examination of an illustration on the list, we think she meant to write unicorn shirts, not s--ts. Phew!
Article continues below advertisement
This girl totally wrote her Christmas list while hungry.
OK, so Kaya actually made some pretty typical requests for a little girl, like nail polish, clothes, and hair accessories. While she did ask for a horse — we appreciate her noting that she'd also be happy with horseback lessons. But the last item really gave us a laugh. A pack of bacon? Honestly, yes queen!
Article continues below advertisement
This girl wants one thing for Christmas , and she translated it into 16 different languages.
"What language do you want me to say it in? Here are 16," this little girl wrote on her Christmas list. The first line reads "cat" in English, followed by 15 translations of the word.
Article continues below advertisement
"Giant robotic dinosaur like the one they saw at the zoo."
There is so much to unpack on Nathan's list, but let's start with the fact this is apparently just "Part 1." The list already includes some pretty big asks, from a plasma TV to a "giant robotic dinosaur like the one they saw at the zoo." That sounds practical.
He also wants several real fossils and some genuine dino DNA — which might be a little difficult for his parents to get him unless they're both archaeologists and scientists. To top it off, he wants a snake cannon that "shoots real snakes."
Article continues below advertisement
Um, are those tear stains?
This list is actually pretty reasonable except, for the fourth item listed which reads: "My childhood back." Yikes. According to the original poster on Reddit, the young girl wrote that after her mother told her Santa wasn't real.
But to make things even more dramatic, one Redditor commented to ask if the list was tear-stained, as there appears to be some water droplets on the page. Could those tears be connected to item four? Double yikes.
Article continues below advertisement
Some '90s kids wanted sniper rifles apparently ... oh.
This child's Christmas list from 1992 definitely widened our eyes. Some interesting items on the list include: "sniper rifle, electric guitar, a giant cockroach (uhh), and bubble gum stocking (???). Well, at least this kid has some diverse interests.
Article continues below advertisement
An unusual pet.
So this kid is requesting a yak. Cool. But we love the fact that he also included "100 of yak food," which suggests that he understand the responsibility of yak ownership. Sadly; however, he didn't request any food for the "nice baby" he also asked for.