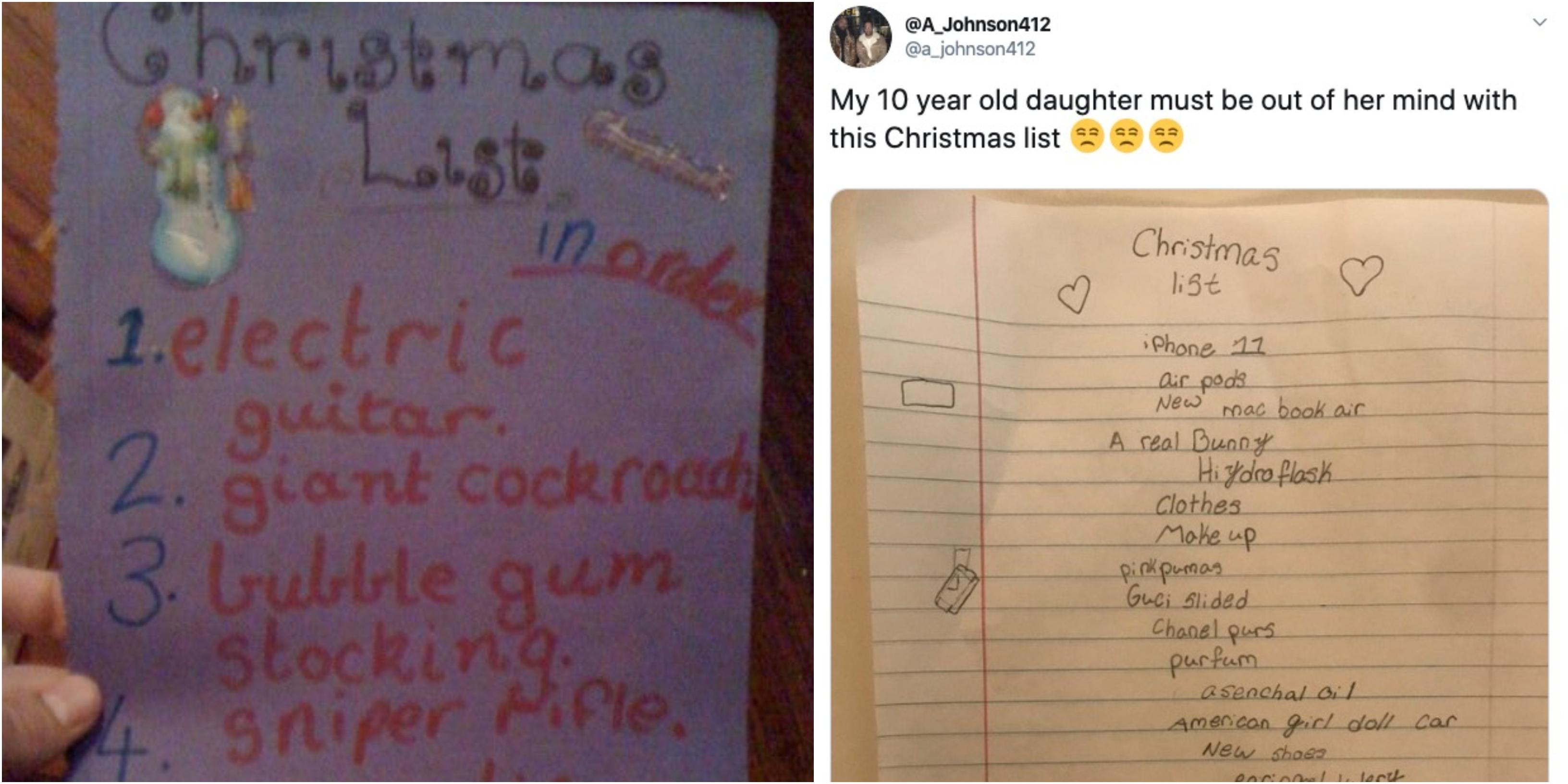 The Most Ridiculous Kids' Christmas Lists on the Internet
By Amber Garrett

Nov. 18 2019, Updated 4:48 p.m. ET
If you want to illustrate the definition of the word "audacity," look no further than your average kid's letter to Santa. Children really dream big with those requests, with Christmas lists that read like a list of demands one might give to a genie... after asking for unlimited wishes. 
Perhaps the most extra example of this is the list a 10-year-old's mom shared on Twitter, which went viral for reasons that will soon become clear. We're sharing it along with several other lists by kids with unreasonable expectations — and one rare easy-to-please subject who just wants some very specific cheese.
Article continues below advertisement
Shoot for the moon, baby girl.
This mom thinks her 10-year-old daughter is "out of her mind with this Christmas list," but honestly you have to admire the girl's tenacity. This is clearly a young lady who knows you gotta start high in any negotiation. She'll grow up to become someone who never lowballs herself in salary discussions and recognizes you always have to ask for more than you want to get in the ballpark.
Article continues below advertisement
Seriously, this kid has some expensive taste. Three items in, and already she's up to $2,000, and that's before we get to Gucci slides and a Chanel purse, the latter of which retails for around $3K. But the luxury handbag isn't the biggest ask on the list...
Article continues below advertisement
You gotta love how she sandwiched the request for $4,000 dollars in between some reasonable asks like "clothes for bunny" and LOL dolls and accessories. Although the clothes aren't for a bunny this kid already has — they're for the bunny requested on line 4. 
But $4,000... that's a lot of cheddar. Does this kid have gambling debts they need to make good on or something?
Article continues below advertisement
So cheesy.
In an extra-sharp contrast is this kid whose main requests appear to be for actual cheddar. Specifically, he wants Vermont cheddar from Cabot: a "big block" of their Seriously Sharp cheddar and their 100-year anniversary edition. This is truly a child after my own heart.
Article continues below advertisement
I'm lovin' it!
I can't decipher a lot of what these requests are, but the first one I definitely understand. The first thing this kid wants to do on Christmas morning is chow down on a McDonald's cheeseburger meal. The real Christmas miracle would be keeping it hot until morning. 
Article continues below advertisement
Too sweet.
Like the first kid, this little girl definitely has some high-dollar items on her list, like an iPhone 11, a computer, and a puppy. But the last two requests are so sweet it more than makes up for the materialism above. She wants a nice life — which we all deserve — and for her big sister to come back from New York City. Awww!
Article continues below advertisement
At least she's managing her expectations somewhat?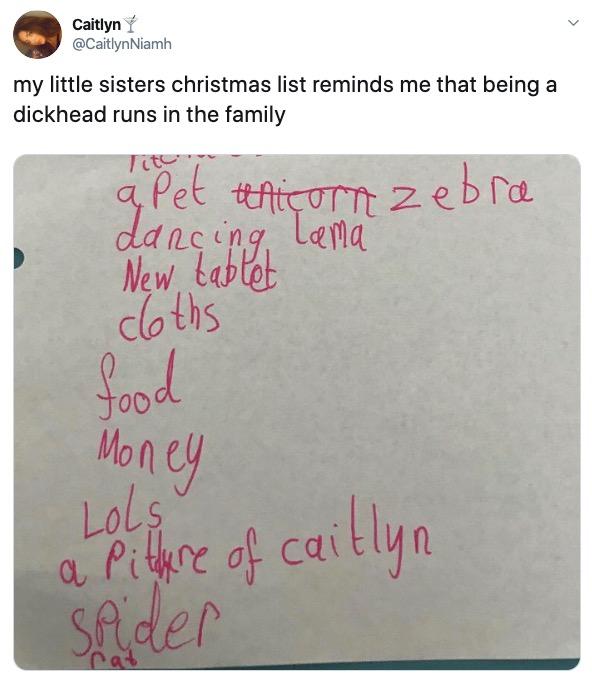 I love that this kid first requested a pet unicorn and then edited their request to be for a pet zebra instead. How much do you want to bet she learned sometime during the making of this list that unicorns aren't real so she emended the list to be (slightly) more realistic? It's too bad nobody told her that llamas aren't well known for their dance skills, though.
Article continues below advertisement
The last item, though.
This kid's requests run the gamut from typical to "you've got to be kidding me." Reasonable: new shoes, bluetooth headphones. You've got to be kidding me territory: $13,000. Seriously, is there some sort of meme challenge encouraging kids to ask for obscene amounts of cash this Christmas or what? 
Trey here also asks for his own room, which is a vibe I can very much relate to as someone who had to share their room with a sibling for years.
Article continues below advertisement
I can't make out what comes after "100 dollar" on item two, but whatever it is, it doesn't begin to touch the audacity of some of the other items on the list authored by this 9-year-old who apparently thinks his parents have NBA money. They requested a $1,000 phone, a Gucci backpack (nearly $2,000), a Gucci belt (around $400), and several pairs of sneakers. 
Article continues below advertisement
Poop emojis all the way down.
This redditor's 8-year-old sister has a couple of requests that seem very scatological until you look at the little illustration next to item 18 and realize she's requesting unicorn shirts. It also seems likely the item above that is "some sweatshirts" rather than a crude request from a Scottish kid with a swearing problem. However, considering the request for Pooparoos, you never know...
Article continues below advertisement
Someone made their Christmas list while hungry.
They say you should never go shopping on an empty stomach, and the same might hold true for making a Christmas list. Kaya here made some pretty typical requests for a little girl, like nail polish, clothes, and hair accessories. The most unrealistic request is for a horse — though she wisely said she'd also be happy with horseback lessons. But I think the last item, a pack of bacon, shows where here head was at while drafting her list.
Article continues below advertisement
I'm not sure she made it clear enough.
This is the most single-minded Christmas list I've ever seen. The last line said "What language do you want me to say it in? Here are 16." Sure enough, just about every ambassador to the United Nations could understand she wants a cat. 
Article continues below advertisement
Life, uh... finds a way
There is SO much to unpack on Nathan's list, but let's start with the fact this is apparently just "part 1." The list already includes some pretty big asks, from a plasma TV to a giant robotic dinosaur like the one they saw at the zoo. This kid is clearly very into dinosaurs, since he also requested several real fossils and some genuine dino DNA. If this future Jurassic Park proprietor doesn't wreak havoc with that item on the list, he's sure to with a snake cannon that "shoots real snakes."
Article continues below advertisement
That's not all she's gonna say, kiddo...
While I applaud the organization of this list, which includes some suggested prices, I'm pretty sure mom wouldn't stop with "that's not a list, it's a lifestyle." That conversation will probably end with a suggestion that they ask Santa for a job to pay for that lifestyle.
Article continues below advertisement
Are those tear stains?
This list from a kid who just learned Santa isn't real includes "my childhood back" among the list of things they'd like for Christmas. Aww, wouldn't we all? One commenter on reddit asked if the not was tear stained and there's certainly a couple of what appear to be water droplets on the page!
Article continues below advertisement
That's not a list ,that's a red flag.
I guess we should just be glad that "sniper rifle" only holds fourth priority on this kid's list, behind an electric guitar (solid), a giant cockroach (absolutely not, veto veto veto), and bubble gum stocking (whatever that is). Still, if I were the parent I'd be a little alarmed. 
This is a kid with some very diverse interests, though. You wouldn't expect to find giant cockroach and High School Musical 3 on the same Christmas list.
Article continues below advertisement
"See me."
This long list of very specific (and very '90s) requests concludes with a note that each item with a "see me" notation indicates the kid requires very specific input on said item, and that this surly teen "will not be happy with much else" aside from the items on this list. 
Mom's feedback on the list is priceless. "n.b. An unacceptable attitude!! Maintain it and you will be very lucky to get anything, let alone 'much else.'" Mom 1, Kid 0.
Article continues below advertisement
An unusual pet.
Look, this kid may be requesting a yak, but the fact that they also included "100 of yak food" indicates they understand the responsibility of yak ownership. You gotta feed your yak! Sadly, they didn't request any food for the "nice baby" they also asked for.