Easy TikTok Gift Wrapping Hacks to Use This Holiday Season!
From standard to odd-shaped wrapping, check out these easy TikTok gift wrapping hacks that will make your holiday less stressful.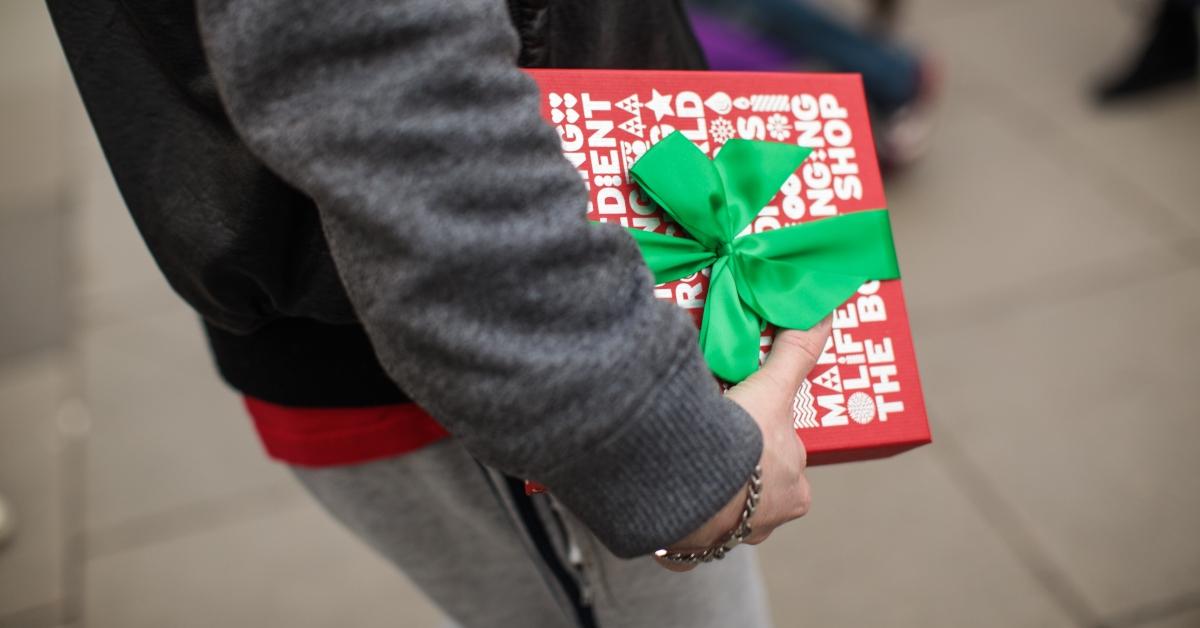 It's the most wonderful time of the year!
People are soaking in the holiday spirit and binge-watching Christmas movies, drinking hot cocoa, shopping for their loved ones, stringing holiday lights, and decorating their trees. And, since Dec. 25 is almost here, many of us are beginning (or at least planning) to wrap our Christmas gifts.
Article continues below advertisement
Let's face it, some of us are not gift wrapping experts, which means folding paper again and again can feel more like a chore than a fun holiday activity. But, thanks to the social media platform TikTok, users are showing easy gift wrapping hacks that will make your holiday a little less stressful. Whether you're running low on paper, have an odd-shaped object, or just want clean, crisp edges, we've rounded up the best hacks for you to follow!
TikTok gift wrapping hack — standard folding.
Are you wrapping a gift for the first time and looking for a basic fold? Well, this TikToker created a step-by-step tutorial on how to simply wrap a standard package. All you need is wrapping paper, scissors, and tape.
Article continues below advertisement
Cylindrical item wrapping hack.
Not all gifts come in perfect rectangular boxes that are easy to wrap. This TikTok user showed followers how to wrap a cylindrical item. This is especially great for parents who have kids and need to wrap odd-shaped toy items. Don't waste a whole bunch of paper trying to wrap your gift, simply follow this video hack.
Article continues below advertisement
Fancy gift wrapping hack.
If you've already mastered the standard art of folding, try something a little more eye-catching. This user showed off a wrapping technique that will give your gift an artistic edge.
Article continues below advertisement
Odd-shaped gift wrapping hack.
Again, not every present comes packaged in a rectangular shape. This TikToker shows off how to wrap an odd-shaped item, such as a plush toy. Instead of simply throwing the present in a gift bag, create your own with wrapping paper. You'll want to fold the paper into a trifold and fold the bottom part upwards and inwards. This creates a bag, which you can place your item in. Simply add a bit of ribbon for a handle (or not) and you're done!
Article continues below advertisement
Wrap your gift even if you don't have enough paper left.
This hack shows how to wrap your gift if you think you've run out of wrapping paper. Instead of wrapping a rectangular box in the standard way, turn it, so that you fold in the pointed edges. It may not work every time, but you'll often find that you had enough wrapping paper all along.
Article continues below advertisement
Use a folded paper technique.
The best part about this method of wrapping gifts is that it looks more difficult than it actually is when put into practice. With some careful fanning of your wrapping paper, you can create a design that looks professional once the gift wrap is all taped.
Article continues below advertisement
How to make a gorgeous holiday bow for your gift.
Aside from learning how to wrap your present, another important factor is adding the finishing touches to your beautifully wrapped gift. Instead of just buying premade ribbons, which can be a bit expensive, purchase a spool of your favorite design. This TikToker showed an easy how-to video on making a gorgeous holiday bow. Seriously, so cute!
Happy holidays!