These TikTok Holiday Craft Ideas Will Keep Your Little Ones Entertained
With the holiday season upon us, families are likely looking for kids crafts to keep the little ones busy, and TikTok has come to the rescue.
It's the most wonderful time of the year: the holiday season! December marks the time where families come together to make memories, share gifts, load up on delicious treats, and most importantly, express their love for one another. And while Christmas is considered to be a magical holiday for kids, finding cool activities for them to do can be challenging. But thanks to TikTok, you can cross that off your to-do list.
Article continues below advertisement
TikTok has a reputation for coming in major clutch when it comes to holiday-focused activities for the kiddos. From creating custom snow globes to tin foil ornaments and more, the possibilities are endless. So, with that in mind, here are five kids holiday crafts from TikTok that'll help your kids explore their creative side.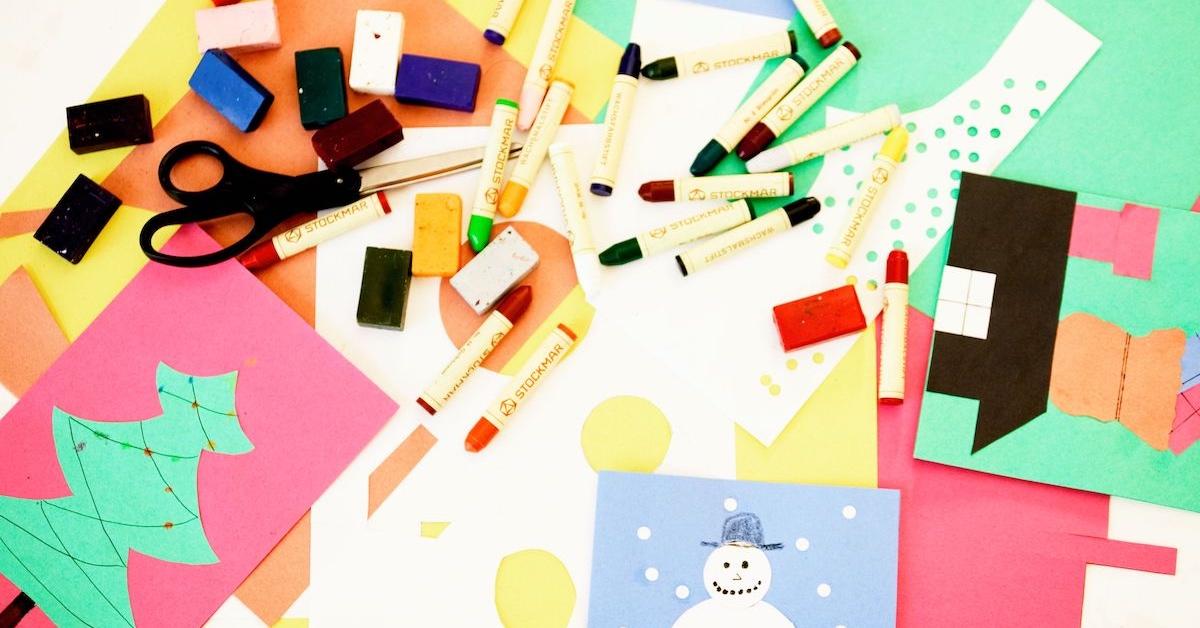 1. Snow Globes
Not in the mood to splurge on snow globes? Now, you and your little ones can create some glittery magic in the comfort of your home. All you need is a small glass jar, a Christmas ornament, baby oil, decorative sand, and glitter. Kick things off by peeling any labels off of your glass jar. Next, use a bit of crazy glue to bond ornament standing right side up onto the inside of the lid.
Article continues below advertisement
In the meantime, fill the jar with some baby ouil — about three quarters of a way — and add glitter to it. Place the ornament into the jar and close it tightly. Voila, your work is complete.
Article continues below advertisement
2. Paper Bag Stars
Instead of relying on pricey decorations to add a holiday element to your home, paper bags will do the trick. Not to mention, it's a cool way to showoff your kids artwork in the home. Simply glue seven paper bags together. Next, cut a "V" shape at the opening of the bags. Then, cut a small triangle on both sides of the glued bags. Carefully open up the bags and marvel at your design.
Article continues below advertisement
3. Cloud Dough
Instead of worrying about your kids making a mess with markers and color pencils, cloud dough will make your worries a thing of the past. Start by mixing one cup of cornstarch, a half cup of sweet smelling conditioner, and a few drops of food coloring into a bowl. Pick it up with your hands and work it in until blended. Cover your surfaces and your kids are ready to play with the dough.
Article continues below advertisement
4. Handmade Christmas Ornaments
For parents that don't have time to clean up mess, these handmade christams ornaments will be the ultimate treat. Start by picking up the Crayola Model Magic Kit. Lay the mold onf a flat surface. Use a christmas tree cookie cutter to make festive molds. Use the top of a color pencil to mold a small circle at the top of each Christmas tree mold.
Article continues below advertisement
Next, use Crayloa washable paint to decorate the molds. using a piece of festive twine or ribbon, funnel the string through the top of the small circle on the Christmas tree mold. Tie a small knot and you're ready to display your work.
Article continues below advertisement
5. Handprint Wreath
What better way to showcase your Christmas spirit than creating homemade wreaths? The kiddies will be able to play in some paint while creating artwork that can last from years to come. Start by cutting the inner circle out of a paper plate. Next, paint the perimeter green. Then, trace your little one's hand various times and cut out the shapes on construction paper. Using the hand cutouts, place them along the green paper plate.Adorn the wreath with red crystals and gems and add a red bow as the finishing touch.