A Bunch of Beautiful Pink Christmas Trees to Add to Your Moodboard
Pink Christmas trees definitely deliver on camera, but decorating them can be complicated. Here are some decoration ideas to use with a pink Christmas tree.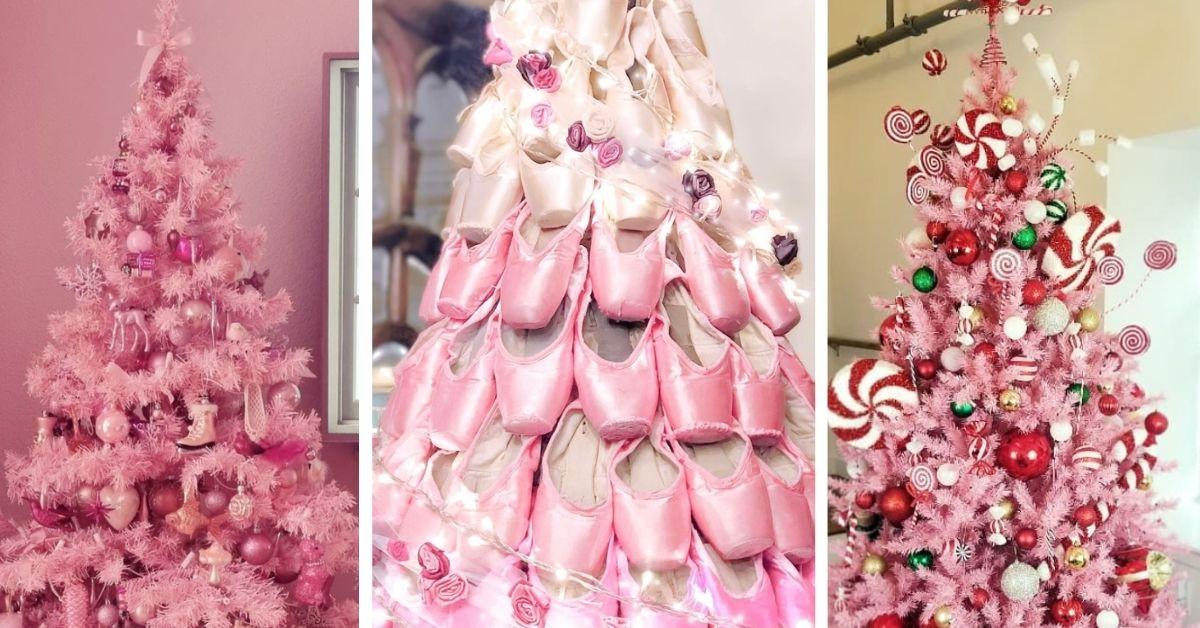 While we all love a traditional Christmas evergreen, we must admit, they do get a little boring. That's why, in the past few years, we've seen a huge spike in Google searches for pink Christmas trees.
Sure, they may be artificial and don't have that sweet piney scent to them like the natural firs do, but pink Christmas trees look great on camera — and we are a generation that consistently does it for the 'gram.
Article continues below advertisement
We decided to do a deep dive into all things pink Christmas trees, because getting that rosy faux sapling is only the first step to having a pink Chirstmas. Next, you must style it. Give it a lewk. Give it some personality.
It's not as easy as decorating a regular tree, and if you don't think it through, having a giant blush-colored bush in your house might look a tad awkward.
Article continues below advertisement
Need some inspo? Or perhaps you're just looking for a therapeutic scroll through some gorg pink tree photos? Either way, keep reading. We rounded up some of the best pink Christmas trees photos on the Internet to inspire a very pink Christmas — because if you're going to go all out with a pink tree, you need to make sure the decorations match its energy.
Pink Peppermint Christmas Tree
OK, anyone else getting Candyland vibes from this beaut? While pink Christmas trees are already naturally stunning, Instagram user @ali.mccahon upped the ante even more on her tree by giving it a peppermint theme. She chose peppermint-swirled ornaments and pops, as well as red, green, and silver bauble. By sticking to a set theme and working with only a few specific ornament types, she was able to give her tree a sweet-yet-polished upgrade.
Article continues below advertisement
Pink Desserts Tree
Have a sweet tooth? Opt for pastel-colored dessert ornaments as @miss_kotsoglous did. Not only did she nail the dessert theme with sparkly ice cream cone, gingerbread house, lollipop, cupcake, and donut ornaments, but their muted tones don't overshadow the tree's beauty.
Article continues below advertisement
Pink Christmas Tree With White String Lights
Sometimes less is more. Instagram user @nofearslefttodie shows off this idea with a photo of a pink Christmas tree wrapped with white mini string lights, as well as some type of sheer or lace garland or ribbon. It's simple, yet absolutely stunning.
Article continues below advertisement
Pink Christmas Tree With Pink Ornaments
While some pink tree owners stay away from pink decorations, others double down on the rosy shade. Instagram user @yasi_pinkarella complemented her pink tree with a slew of light-colored ornaments for a soft and warm aesthetic.
Article continues below advertisement
Pink Lilly Pulitzer Tree
Calling all Lilly Pulitzer stans! Instagram user @michelles_lilly honored the colorful fashion brand by adorning her tree with Lilly Pultitzer ornaments. Talk about on theme!
Article continues below advertisement
Pink Flamingo Tree
OK, this is flocking amazing! Instagram user @pineapple_princess_creations adorned her Christmas tree with some flamingos to give it a fun tropical twist. If the Christmas season has you longing for warm weather, a pink flamingo tree is sure to send some sunshine your way.
Article continues below advertisement
Some handcrafted pink trees that were just too pretty to not include...
Some folks are really going the extra mile by making their pink trees from scratch. During the Christmas 2020 season, the London Coliseum had this gem on display made out of pink pointe shoes that were all donated and decorated by the English National Ballet's ballerinas. Instagram user @catherine.mw snapped a photo of the tree, which is entwined with fairy lights and pink tulle.
Article continues below advertisement
Furthermore, Instagram user @apt_chic_decor_by_judy shared a photo of this lavish pink Christmas tree made from flowers.