Adults Everywhere Are Scratching Their Heads at This Confusing Kindergarten Worksheet
Nissa Ren Cannon shared her child's worksheet on Twitter and it went completely viral...for being incomprehensible.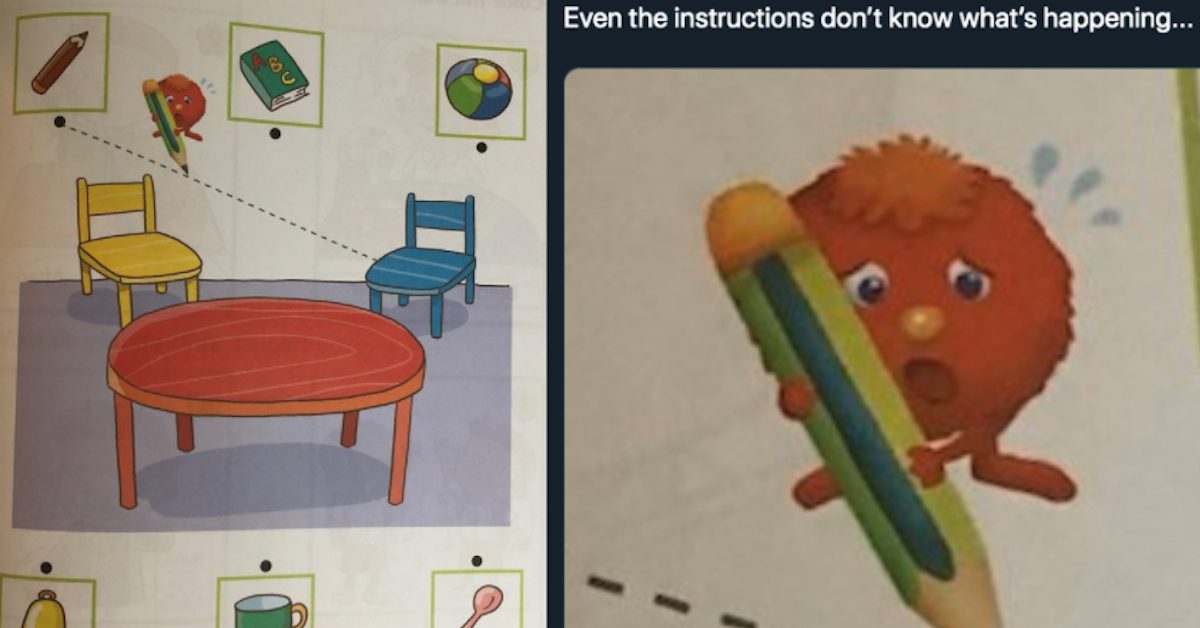 Parents everywhere are suddenly home with their kids, responsible for continuing their school semesters without much teacher involvement. It seems like that task would be easier to handle the smaller your kids are. Kids who are still in elementary school are learning basic skills that their parents should be able to remember and teach them. Right?
Article continues below advertisement
Wrong. One parent, Nissa Ren Cannon, shared her kid's kindergarten worksheet on Twitter. She wrote, "I have a Ph.D., and I cannot for the life of me figure out what you're supposed to do on this kindergarten worksheet." Indeed, the sheet seems to make little to no sense.
Nissa's tweet went viral and garnered thousands of guesses... but only the person with the teacher's curriculum book ultimately provided the right answer. Take a look at this mystery.
Article continues below advertisement
At first, I was like, "Oh, pencils and chairs are made of the same material." But that theory quickly dissipated. Then I was like, "You use a pencil while sitting in a chair!" But then I saw the ball and the bell, and I was officially stumped. I had no idea.
Plenty of people came in hot with ideas, but one person rightly pointed out that even the instructor, that little furball with feet, looks confused about what's going on. It doesn't look like it gets it either.
Article continues below advertisement
Why does it look so worried? Is it because the pencil is so unwieldy? Or perhaps it's because this is meant to be a worksheet for 4 and 5-year-olds and it makes absolutely no sense whatsoever. Yeah, it's probably the second one.
Article continues below advertisement
One Twitter user had an idea about the worksheet: "It's clearly influenced by the early albums of British post-punk outfit Wire. The middle scenario describes 'Chairs Missing' and the bottom row, 'A Bell Is a Cup, Until It Is Struck.' Something every kindergartener is familiar with." Yeah. OK.
Yet another Twitter user suggested it was about something else entirely...
Article continues below advertisement
The point of this kindergarten worksheet is obviously that the furball looks so distressed because it is an underpaid teacher in an underfunded who is just trying to get enough pencils, books, chairs, balls, bells, cups, and spoons to teach their students properly.
The right thing to do is to give the furball everything. No?
Article continues below advertisement
Obviously this has to be the answer. Right? I don't know what else it could be. If this worksheet isn't trying to teach kindergartners how to Shawshank their way out of prison, what could it possibly be trying to teach?
Twitter user Marissa Maciel has an idea, and honestly, she's not that far off: "I use my pencil and my book while sitting in the chair. I put the cup and the spoon and the bell on the table, and I put the ball on the floor. The yellow chair is filled with a ghost."
Until the end, this seemed pretty close.
Article continues below advertisement
And indeed, it kind of was. Twitter user Elaine's daughter is an actual kindergarten teacher who's similar worksheets before. She knows what it's about. "K teacher here," she writes. "Probably accompanies a listening activity. 'The pencil is on the chair.' 'The book is under the table.'" She is right.
Someone had the actual teacher's version of the worksheet, and it explains everything.
It's about listening and understand. The teacher is supposed to tell the kids where each object belongs, and they're supposed to draw lines from those objects to those specific positions. That is so not clear from the sheet itself.
But also, and we must talk about this, the workbook refers to the little concerned-looking furball as "the furry." There just...there could have been a better term.