Tenant Notices Gas Stove Has No Ventilation, Landlord Tells Them They've "Never Had Complaints"
A tenant, after noticing that their stove doesn't vent the fumes from their stove via an exhaust, was told by their landlord that they didn't need it.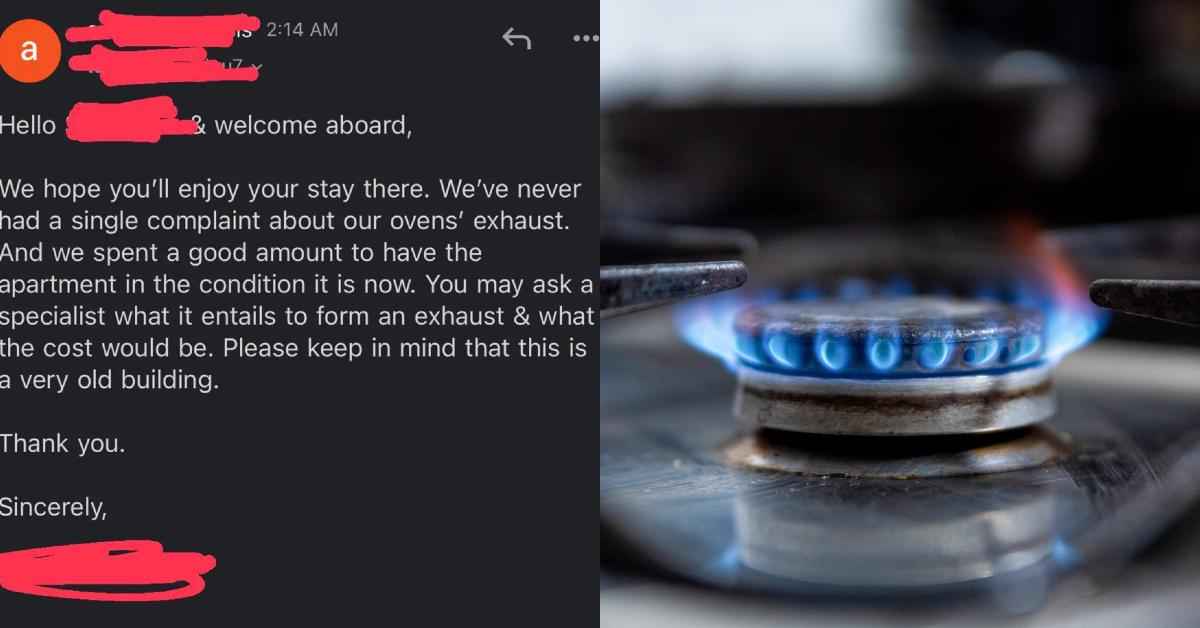 When you move into an apartment, you expect your landlord to fulfill some basic human needs, including ones that property management companies are legally obligated to provide for their tenants.
Article continues below advertisement
While various state laws regarding tenant rights differ from state to state, generally speaking, landlords are required to provide a habitable environment for whoever they're leasing their units out to. This means that residents shouldn't have to worry about mold or pests in their buildings.
Of course, external factors like life-threatening fungi and cockroaches nibbling at your toes or crawling into your ears in the middle of the night are one thing, but what about basic repairs in one's home? These would, presumably, fall under these same rules of "habitability" (again check your leasing agreement and state laws) as well.
Article continues below advertisement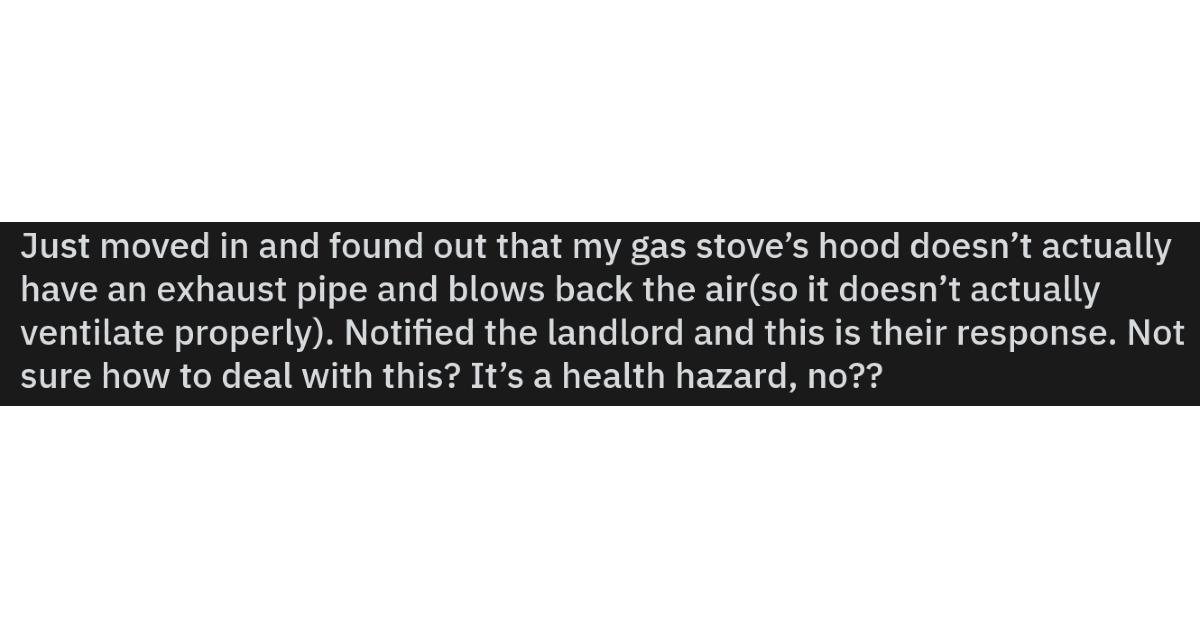 Article continues below advertisement
OP says that they've learned the hood of their stove isn't set up to an exhaust system and is, instead, blowing the air back into their unit, meaning in they could be huffing gas fumes.
Or are they worrying too much about the situation?
They wrote in the title of their post: "Just moved in and found out that my gas stove's hood doesn't actually have an exhaust pipe and blows back the air(so it doesn't actually ventilate properly). Notified the landlord and this is their response. Not sure how to deal with this? It's a health hazard, no??"
Article continues below advertisement
In addition to their mini-rant, they also provided a screenshot of their text correspondence with the landlord, where they wrote: "Good morning (or afternoon),
I am very excited to be moved into my unit! And for the most part, everything looks great, but I did have one question regarding the stove."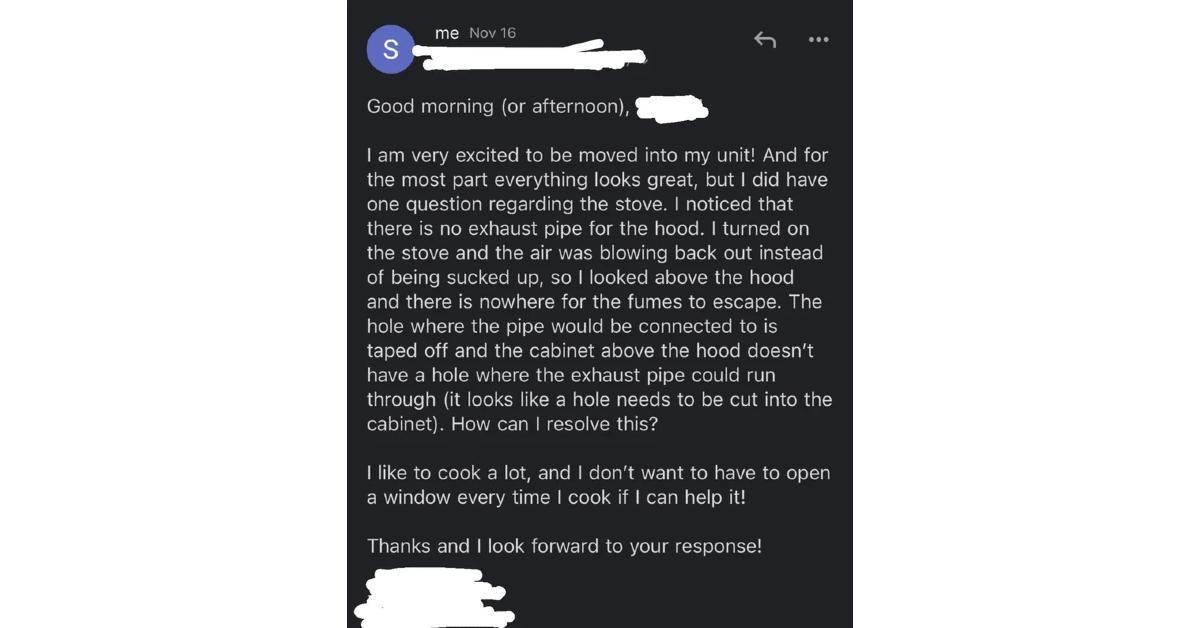 Article continues below advertisement
They further explained what their problem with the rental unit's stove was: "I noticed that there is no exhaust pipe for the hood. I turned on the stove and the air was blowing back out instead of being sucked up, so I looked above the hood and there is nowhere for the fumes to escape. The hole where the pipe would be connected to is taped off and the cabinet above the hood doesn't have a hole where the pipe would be connected to is taped off."
The Redditor went on to say: "...and the cabinet above the hood doesn't have a hole where the exhaust pipe could run through (it looks like a hole needs to be cut into the cabinet). How can I resolve this?
I like to cook a lot, and I don't want to have to open a window every time I cook if I can help it!
Thanks and I look forward to your response!"
Article continues below advertisement
The landlord's response didn't seem to take the Redditor's concern all too seriously, as they basically said that they've been renting the unit for quite some time now and have never had a single complaint from anyone who has ever lived there.
They also said that they were more than free to reach out to a specialist to discover what the cost to create a form of ventilation for the stove would be, but that they should keep in mind the age of the unit when making their inquiry.
Article continues below advertisement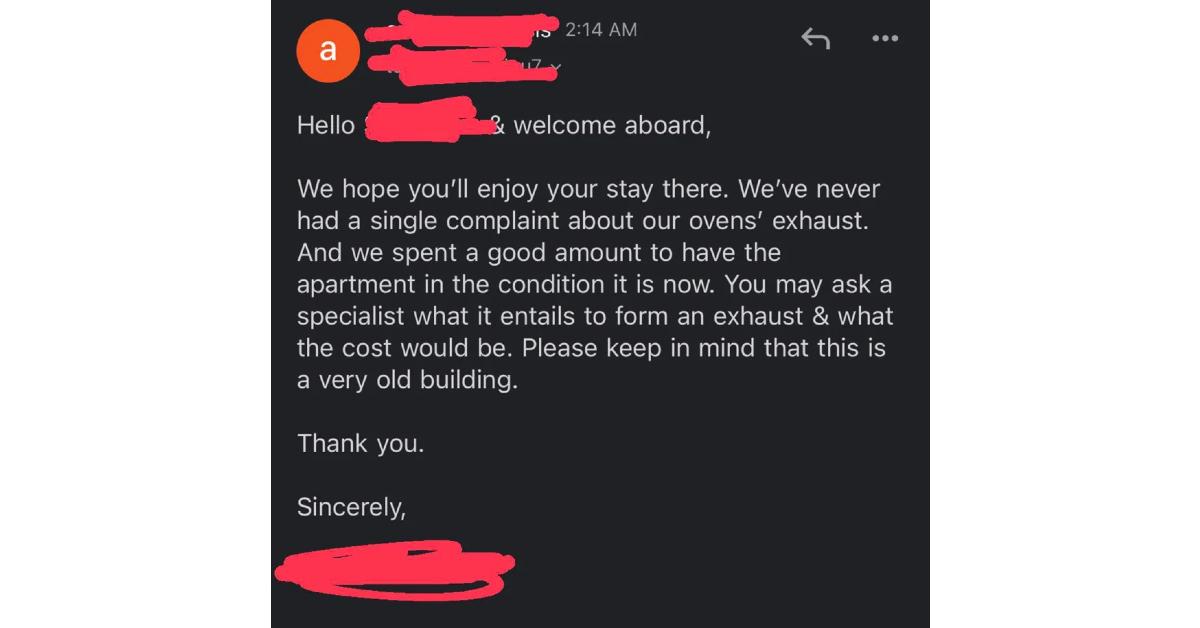 "Hello [redacted] & welcome aboard," they greeted the tenant in their response, before continuing to write: "We hope you'll enjoy your stay there. We've never had a single complaint about your ovens' exhaust. And we spent a good amount to have the apartment in the condition is now."
Article continues below advertisement
They added: "You may ask a specialist what it entails to form an exhaust & what the cost would be. Please keep in mind that this is a very old building.
Thank you.
Sincerely,
[redacted]"
One commenter, who responded to the post said that the design of the oven may not necessitate the need for an air vent for the gas stove: "Check the design first - some cooker hoods are designed to filter in place and recirculate the air rather than venting to outside. Where I live there's no requirement to vent to outside even with a gas hob."
Article continues below advertisement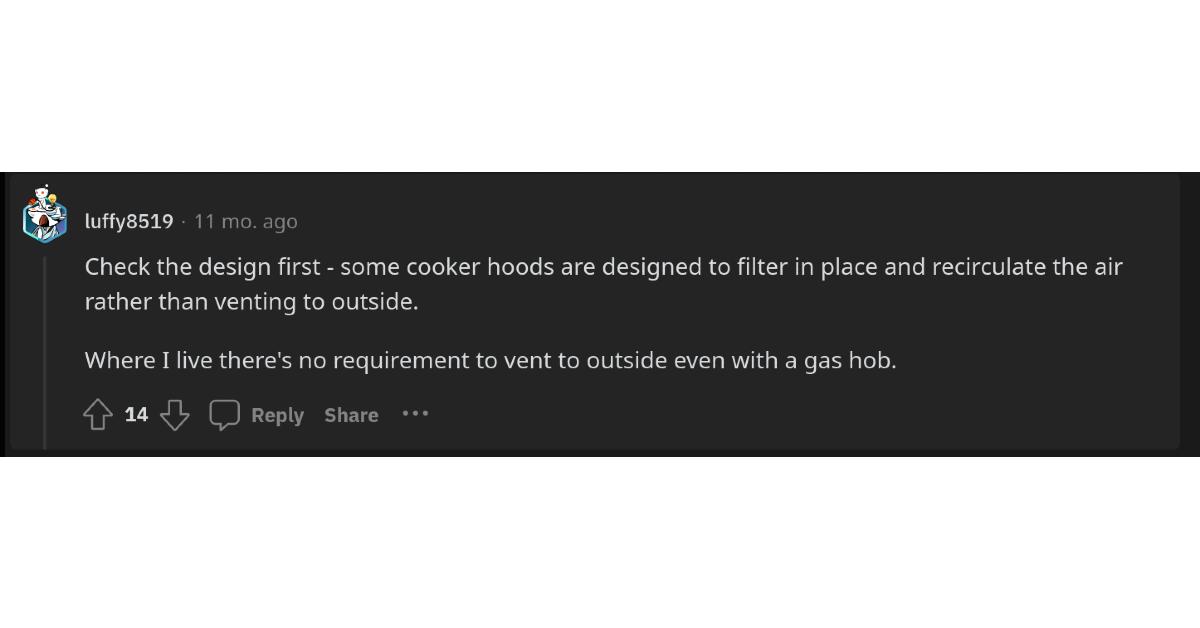 According to Range Craft, not all gas stoves require additional ventilation apparatuses, however, that depends on the size of the stove: "Across the United States, the majority of residential homes cooking with gas do not need to vent their range. However, just because you don't have to does not mean that you shouldn't. If you use a commercial-style range, then you will be required to do so."