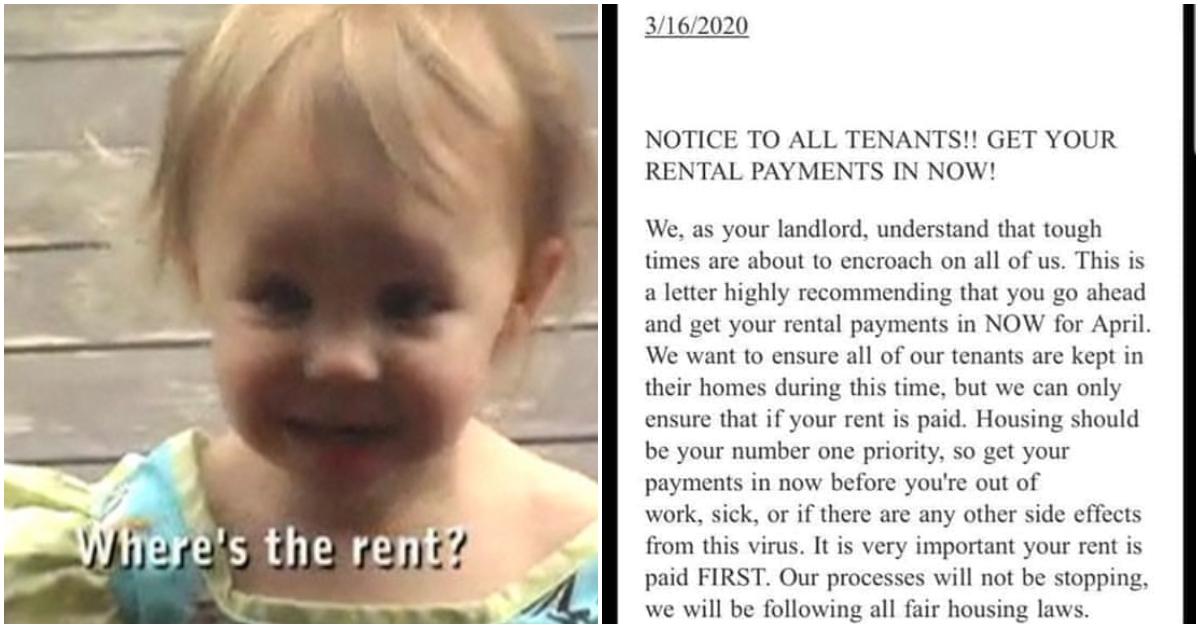 Landlords Are Showing Us Their Best and Their Worst Amid Job and Wage Loss
It was the best of times, it was the worst of times. Charles Dickens wrote that about The French Revolution, but it seems pretty relevant these days. The shutdowns and changes to daily life brought about by the novel coronavirus (COVID-19) pandemic are truly bringing out the best in people while showing others at their very worst.
Article continues below advertisement
It's proving that, for every bloodsucking leech, there's an understanding, generous human being in the same occupation. Even among landlords.
Two tweets sent within an hour of each other illustrated two landlords with very different approaches to their tenants who may be facing hardship in making rent next month.
Article continues below advertisement
Exhibit A: Here is a letter allegedly sent from a landlord to tenants advising them to pay their rent now if they're worried wage or job loss will prevent them from making April's rent, because even amid a global pandemic, they "cannot" guarantee people can stay in their homes if they don't pay their rent on time.
It goes so far as to say housing — by which they really mean paying your rent — should be first priority, meaning above buying food or paying for emergency medical care. As the letter, the origins and authenticity of which has not been confirmed — made the rounds on Twitter, it was universally upheld as a sign of the very worst instincts in people during this hard time.
Article continues below advertisement
And then there's Exhibit B.
Amy Gledhill learned her landlord Chris is a pretty standup guy. He emailed her to say no matter what happens with her work, her health, of the health of her loved ones, paying next month's rent is not something he wants her worrying about. "I want you to feel secure in your house," he writes. "We can work something out if your circumstances change, and I hope you know we're approachable"
Article continues below advertisement
Amy was understandably relieved to receive such a kind and human message from her landlord, and the viral tweet even inspired a couple other landlords to send similarly reassuring messages to their tenants.
Currently, states including New York are considering suspending mortgage payments as well as evictions and foreclosures. Secure housing is essential to help contain the virus as many municipalities are enacting or considering shelter-in-place orders. The majority of San Francisco is already under such an order and New York mayor Bill de Blasio warned residents on March 17 to prepare for such an order within the next 48 hours.
Article continues below advertisement
Obviously, it's a little hard to shelter in place without shelter, and many more people who can't work from home may find themselves losing essential wages as residents are asked not to leave the house except for medical treatment and shopping for essentials.
Sadly too many landlords are like Exhibit A than Exhibit B. For example, one person on Twitter shared an exchange her friend had with her landlord about showings of the home where they still reside. They were concerned about having a stranger enter the home for a tour because the roommates would soon be going home to older relatives with respiratory ailments. Unfortunately, the landlord wouldn't budge.
Article continues below advertisement
While I sympathize with property owners — at least those who own one or two properties they let out — who rely upon rent payments to make their mortgages, it seems pretty insensitive to prioritize showing a property over the health directives of medical authorities, the CDC, and the government. And it definitely sucks to tell people paying their rent is more important than their health.
Let's all be more like "Chris - Landlord," and remember this crisis is happening to everyone, not just us.
The best way to prevent contracting or spreading the coronavirus is with thorough hand washing and social distancing. If you feel you may be experiencing symptoms of the coronavirus, which include persistent cough (usually dry), fever, shortness of breath, and fatigue, please call your doctor before going to get tested. For comprehensive resources and updates, visit the CDC website. If you are experiencing anxiety about the virus, seek out mental health support from your provider or visit NAMI.org.