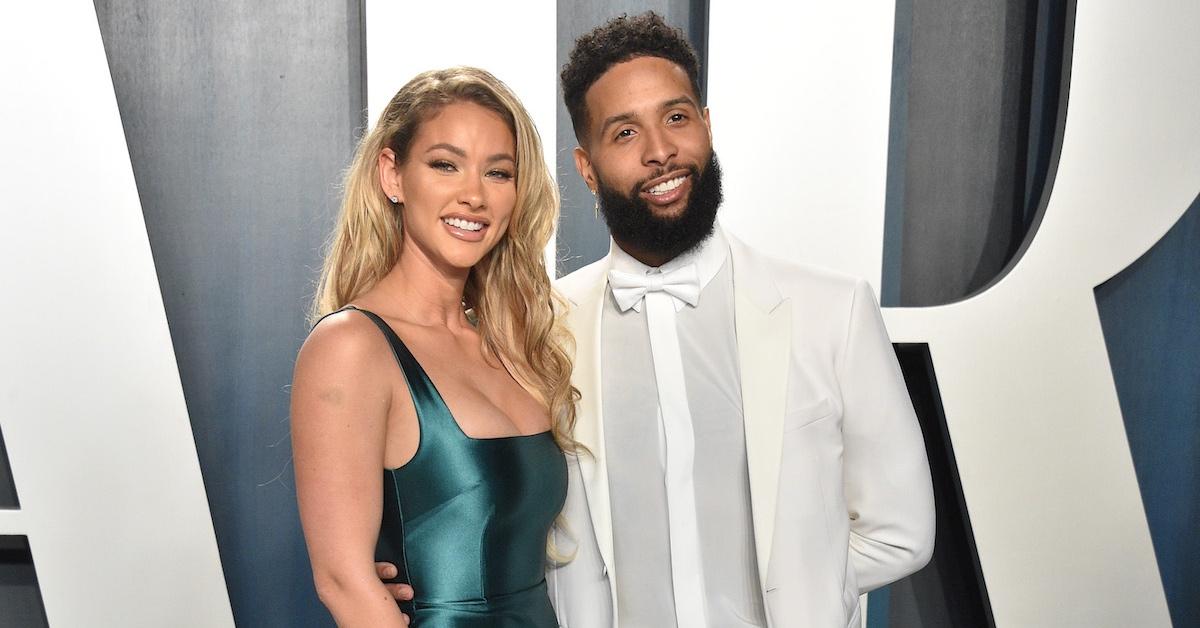 Are Odell Beckham Jr. and Lauren "Lolo" Wood Expecting Their First Child? Fans Think So
By Tatayana Yomary

Oct. 6 2021, Published 2:29 p.m. ET
Living life in the public eye comes with its share of pros and cons. While celebrities are able to increase their popularity, having a sense of privacy can become non-existent — especially when it comes to their personal lives. With the pregnancy rumor mill always buzzing, every day another female celebrity is believed to be expecting a child. And Lauren "Lolo" Wood is no exception.
Article continues below advertisement
Lauren and Cleveland Browns player Odell Beckham Jr. first went Instagram official in November 2019. Since then, the former Wild 'N Out girl and fitness trainer has been posting adorable snaps of her beau on social media. Fans now believe that the couple have taken their relationship to the next level, via parenthood, after a certain photo of Lolo surfaced online. So, is Lolo Wood pregnant? Keep reading to find out.
Article continues below advertisement
Social media users believe that Lolo Wood is pregnant after a gym photo went viral.
Social media can truly be the devil sometimes. Recently, a photo of Lolo working out in the gym started to circulate online. At first, fans believed it was nothing out of the ordinary since she works as a fitness trainer, but for some people, the appearance of her stomach apparently told another story.
In the image, which was reposted by OnSite! on Oct. 5, 2021, Lolo can be seen standing in a blue fitness suit. And fans have been quick to comment that it looks like her stomach area is protruding.
Keep in mind, even if Lolo's stomach does appear a certain way, that doesn't mean that she's expecting. But in the world of social media, a bigger belly automatically equates to a pregnancy confirmation. As expected, social media users have since been pretty vocal with their opinions.
Article continues below advertisement
"Ugh I feel bad, women should be able to announce on their own time, congrats though," one user commented.
"It's beyond tacky that people don't allow people to announce their own pregnancies anymore. What if they wanna wait til their second trimester? What if she was pregnant before and lost it and wasn't ready to speak on it? People are taking this a lil too far," another user commented.
Article continues below advertisement
Lolo Wood may have confirmed her pregnancy.
It appears that Lolo may have confirmed that she is, in fact, pregnant with her first child. An Instagram account, @cloutbound_, shared the gym photo during the week of Sept. 26, 2021.
Article continues below advertisement
The Instagram account also shared screenshots of Lolo allegedly sending someone a DM, referring to having the photo taken down before.
"Lol girl I appreciate you sending this to me before it was spread," Lolo allegedly wrote. "I had it taken down. Pls keep this between us."
The other person then responded: "I got you Lolo. Love you and congratulations to you and O."
Lolo allegedly went on to thank the person for respecting her privacy.
At this time, there is no telling if the screenshots are real. If it's valid, that means that Lolo and Odell are going to be first-time parents.
Since the photo went viral, Lolo has posted on her Instagram account several photos and videos that show her with a flat stomach. So, it appears that the fitness trainer will remain mum on the topic.
Article continues below advertisement
Lolo's net worth is surely set to skyrocket.
Since Lolo was a former Wild 'N Out girl and works as a model, fans expect for the beauty to have a sizable net worth. And her net worth is likely steadily growing.
Article continues below advertisement
Per MarriedBiography, Lolo has accumulated a net worth of about $500,000. This figure is likely the combination of her appearance on the sketch comedy show, being a social media influencer, and working as a model. Lolo has also secured brand partnerships with Fashion Nova, Pretty Little Thing, and Boohoo.
Not to mention, since Lolo is focused on being a fitness enthusiast, it's safe to say that her net worth will continue to skyrocket — since she's expected to amass celebrity clientele.
Aside from Lolo's money-making efforts, the latest rumors about her life are extremely invasive. There's no denying that pregnancy news is great. But, violating the privacy of a celebrity (or anyone for that matter) is super disrespectful. Celebrities should be able to announce their pregnancy news on their own time, not by force.