Meet 'Tough Love With Hilary Farr' Designer Lindsey Lustrino
Fans of 'Tough Love With Hilary Farr' are taken by design team member Lindsey Lustrino. Here's what you need to know about the interior designer.
HGTV's Hilary Farr has been teaching audiences about home design and renovation for over a decade on the beloved show Love It or List It. But as of December 2021, Hilary also has her own solo show, Tough Love With Hilary Farr, in which the design pro works with families to renovate the dysfunctional homes that are causing stress in their lives.
Article continues below advertisement
Since the premiere of the new HGTV series, fans are getting to see Hilary's blunt demeanor and signature wit as she delivers her titular tough love. But Hilary isn't working alone, and fans want to know more about her design team, specifically about Lindsey Lustrino.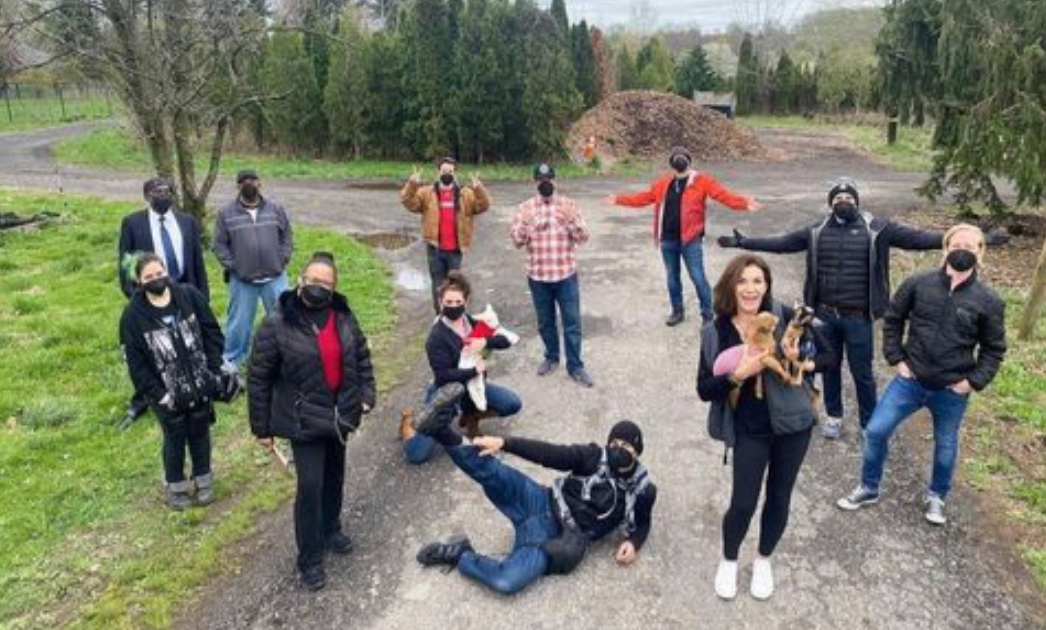 Article continues below advertisement
Who is Lindsey Lustrino from 'Tough Love With Hilary Farr'?
On Tough Love With Hilary Farr, beloved host Hilary Farr finds solutions to the disorganization and clutter that are causing larger issues in the lives of homeowners. In the first episode of her new show, Hilary meets Jaclyn and Ryan, who live in what is essentially a tiny home.
"It looks like a gingerbread house," says design team member Lindsey Lustrino. And that's exactly the kind of dry humor that fans have come to expect from Lindsey on the series.
Lindsey's website describes her as an interior designer, stylist, and production designer for a number of TV shows on networks. She's also worked with various large brands like HomeGoods, Jim Beam, and DirecTV.
Article continues below advertisement
Her Facebook shows that Lindsey is originally from New Jersey and she went to Manasquan High School, which is in Monmouth County, N.J. She then attended Moravian University in Bethlehem, Penn. and after graduating in 2007 with a degree in Studio Art and Design, she worked as an interior and production designer in New York City for 10 years.
Article continues below advertisement
Since 2009, Lindsey has been working for TV shows on networks like the DIY Network, A&E, National Geographic, and Bravo. Her first job for HGTV was for the first season of the show, Vacation House for Free, which aired from 2014 to 2015.
These days, Lindsey is based in Philadelphia, where she works as a designer at the design firm Oak Design Project. Lindsey's diverse educational background allows her to draw from a number of different interior styles and she's also comfortable working in multiple design mediums — from taking on a completely new construction to existing renovations, as well as tackling individual phases of residential and commercial projects.
Article continues below advertisement
Lindsey doesn't just work on the physical construction of her projects, she's also involved in the design process. She provides her clients with floor plans, choices for furniture and home equipment, while also sourcing the products and managing full installations.
Article continues below advertisement
What is Lindsey Lustrino's net worth?
With over a decade working in production for her own clients and some pretty successful TV shows, Lindsey has amassed a sizable little nest egg. Net Worth Post reports that her work as an art director and production designer has allowed her to build up a net worth of about $3 million.
Catch Linsey Lustrino on Tough Love With Hilary Farr every Monday at 9 p.m. on HGTV.