Lizzo FaceTimes an Audience Member's Ex to Tell Him He Effed up Big Time
At Madison Square Garden on October 3, Lizzo FaceTimed a fan's ex live on stage to tell him he messed up big time by not putting his former love first.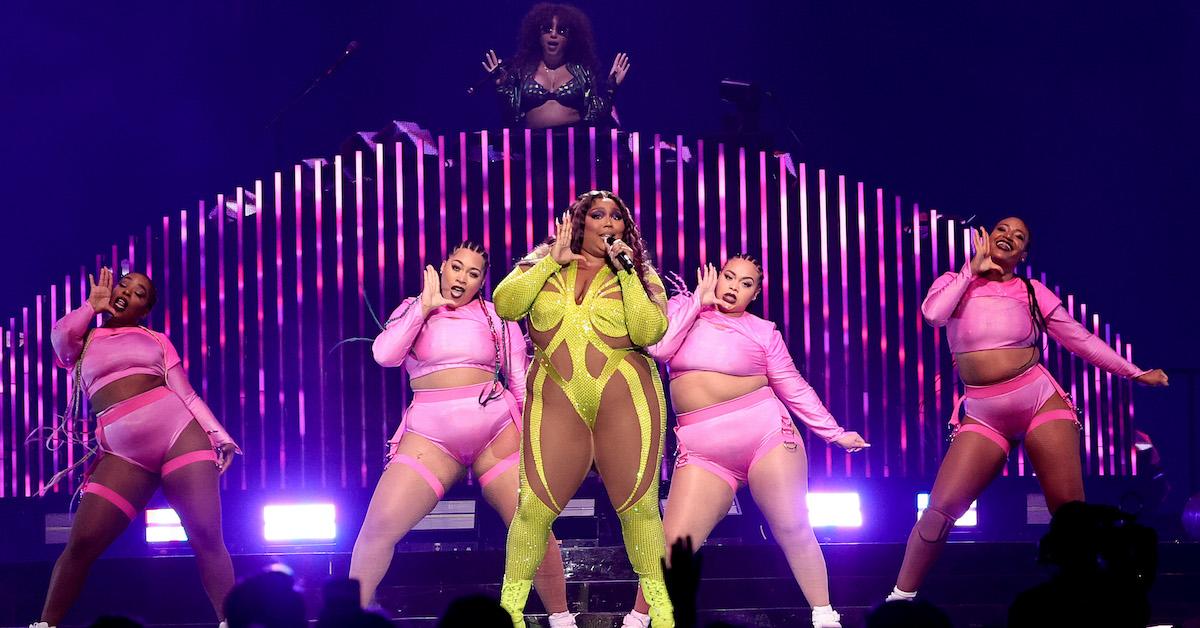 Self-love and knowing your worth are pretty much Lizzo's brand. Many of her biggest hits center on the theme of not wasting time mourning relationships with people who don't value you.
So, when a fan in the audience of her first Madison Square Garden appearance held up a sign asking the "Truth Hurts" singer to call the fan's ex for her, Lizzo took the opportunity to roast that man live on stage, right to his face.
Article continues below advertisement
First, Lizzo got the basic broad strokes from the fan of what happened in the relationship. Basically, while both parties apparently expressed love for each other, the fan (whose given name was Brittany) explained that her ex, "DJ," has a lot of jobs that interfered with their ability to spend time together. Basically, it seems work and other things came before Brittany.
Lizzo wasn't having it, and she reminded her fan that when someone truly loves you, they put you first.
Truth hurts, DJ! Lizzo let this fan's ex have it over FaceTime.
Article continues below advertisement
But she did take Brittany up on her quest to call DJ and tell him what's good. First, she placed a voice call and asked if they could FaceTime. DJ immediately recognized that it was not his ex on the phone: "Oh my god, is that Lizzo?"
"How did he know?" the "Special" singer said.
Article continues below advertisement
Once they were on FaceTime, Lizzo said, "Brittany is my homegirl, and she told me what's going on, homegirl to homegirl. So, what's the f--kin' deal? You about to miss out on a bad b---h or what?"
DJ seemed pretty much at a loss for words as he got jeered at by the singer and 15,000 fans. So Lizzo asked him to shake his ass.

Article continues below advertisement
"If he don't shake his a--, break up with him," Lizzo told Brittany. And, well, DJ either didn't understand the command or he's not willing to fight for Brittany, because he didn't comply.
"You took too long, b---h! BYE!" Lizzo said as she ended the call.
Fittingly, she segued from that call to her second biggest hit, "Good As Hell," which features the lyric, "If he don't love you anymore, then walk your fine ass out the door," which would appear to be her advice for Brittany.
Article continues below advertisement
"I'm in the league of New Yorkers who just walked out of that concert and is like, 'If she doesn't break up with him ... IF SHE DOESN'T BREAK UP WITH HIM!' said TikToker @thefuturehermit.
Article continues below advertisement
It was definitely the viral moment of the night. "If Lizzo FaceTimes you from Madison Square Garden just so your ex can tell you, "bye, b---h", how do ever recover from that in, like, life?" wrote one fan on Twitter.
Lizzo also took up another fan on their request to update their BeReal for them. "Oh God, how does this work, y'all?" she asked as she tried to figure out how it works.
The social media app, which prompts users once a day to update, is meant to counter the curated experience of apps like TikTok and Instagram.
Article continues below advertisement
When you open the app, you can't see a preview of the photo on the screen. It simultaneously takes photos with the front-facing and outward facing cameras so people who follow you can see what you look like and where you are — no filters and no redos. They're posted with a timestamp.
If you don't post within two minutes of the BeReal prompt, it warns your followers that you weren't "real" because you posted late, and you won't be able to see your friends' content for that day. A small price to have Lizzo take your BeReal for the day, though!